Here we will examine the possibilities within Giving reporting. This article will guide you through all filter options as well as some commonly searched scenarios.
How to search previously entered Giving Transactions
Navigate to "Giving > Reports."
Select the criteria you'd like to search by using the options on the top.
Results matching your criteria will automatically appear below.
Get a report of anonymous gifts
Navigate to "GIving > Reports."
In the search filters at the top, select the More dropdown and add "People" by clicking the checkbox next to it.
The last step will make this option appear in the search filters at the top. Select "People" from the search filters at the top and check the "Anonymous" box.
Set up whatever additional filters you want, i.e., date range, fund, etc.
There you have a report of your anonymous giving.
Get a report of people who have given year to date
Navigate to "Giving > Reports."
Set the date criteria.
If you want your report to include the total amounts given per person:
Select the Amount dropdown from the search filters at the top and check the "Search by Sum" box.
You can then click "Download as Excel" at the top to download this report if you'd like.
If you want a list of only names (not including the amounts given):
Below the "Date" filter at the top of the report, select the person icon.
This will give you a list, and you can click Export on the right to export that list to Excel.
Report Filters
When you go to Giving > Reports, you'll see some default filters on the top bar. Next to that, you'll see "more" with several more filters you can use to create very specific searches. We'll explain what each filter means here:

Dates: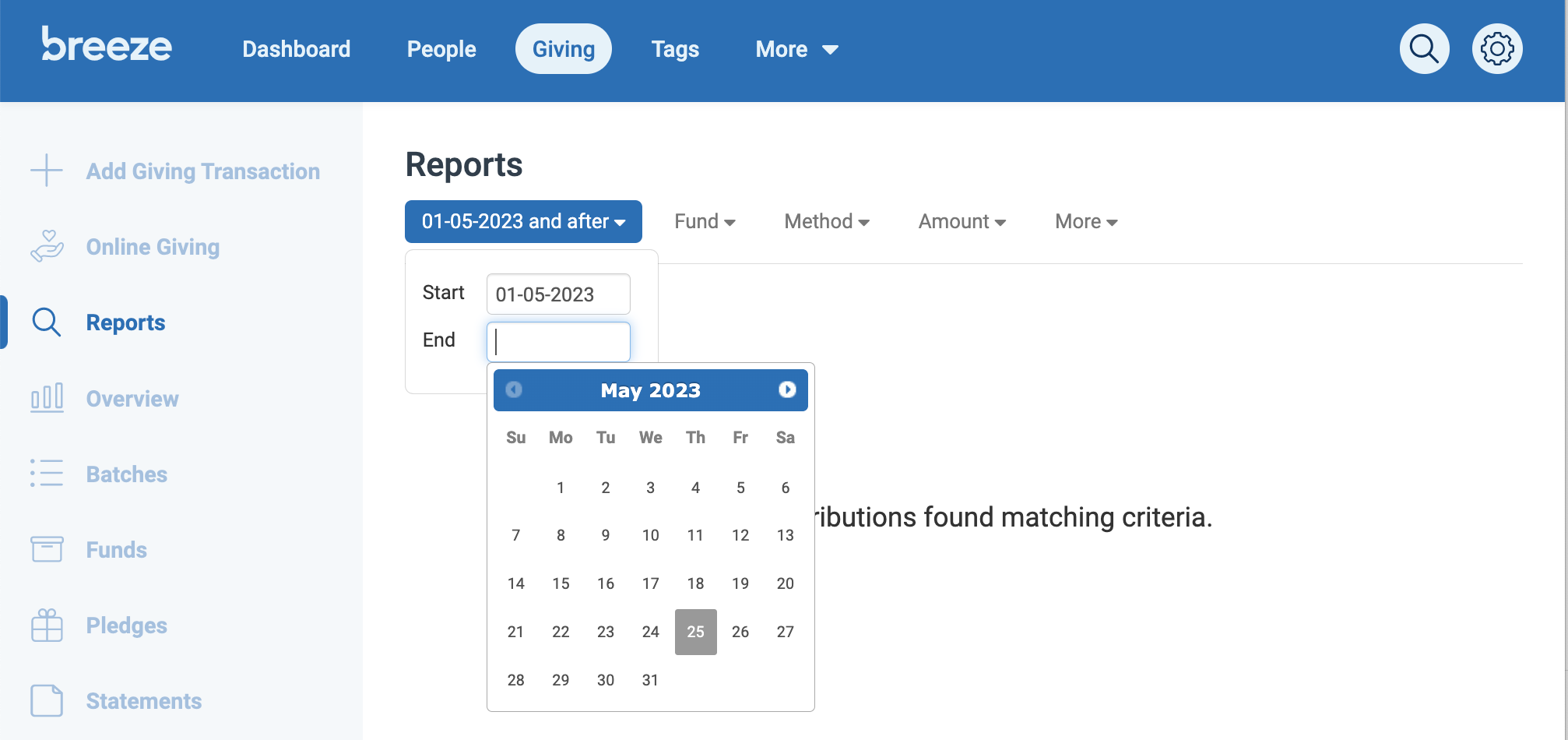 Select your date range. When you choose your date range, the report will only look at contributions added during this time period.
If you choose not to include an "end date," then the search will just look for the start date and after.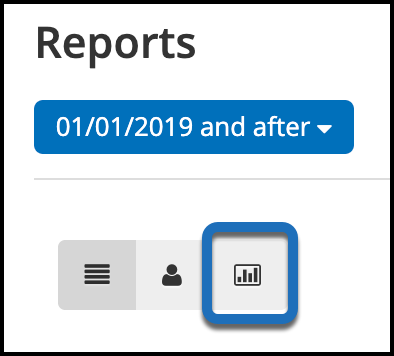 This includes in the Graph View of the reports, so graphs like "givers vs. non-givers" only look at that specific period.
If someone did not give during that period, they would appear as a "non-giver."
The only graph in this view that differs in logic is the First Time Giver graph, as it pulls individuals who have given to your church or organization for the very first time in the specified date range. So the logic actually looks at your selected date range, the number of giving transactions in that date range, and goes back an additional 5 years.
Anyone who has given for the first time in 5 years from the selected date range will appear as a new giver.
Fund:

You can specify which fund(s) you'd like to see. You can pick and choose between non-tax-deductible funds and tax-deductible funds. You can also select a fund group that would select all the funds within that group simultaneously. If no funds are selected, all funds will appear in the results.
Method:

Specify which type of giving methods you'd like to see reports on. For instance, if you only want to see people who gave through online giving, you can choose "online." Or you can view people who gave through non-cash donations.
To find out more about creating, editing, or deleting methods, check out this article.
Amount:

Create a search amount parameter.
For example, if you want to see only donations over $500, you can set the minimum to $500.
You can also specify if you want to search by sum, which will add up all the donations made by a person (or family if you check that box as well) during the specified time period and show as a sum rather than by individual donations.
Finally, you can opt to group by week, month, quarter, or year which will change the table to include the desired time period totals (only an option if searching by sum).
This is the best field to use if you're trying to create a search for your top givers.
Search for a minimum search amount, choose to search by sum and group by family. Then, click on the "amount" in the table to sort by amount. Then you'll see a list of your top givers!
The rest of the filters are found by checking their box in the "more" dropdown:

People:

Create a filter of your people (or load a saved search) to narrow down the people that will appear in your results. Check the anonymous box if you only want to see "anonymous" donors.
Envelopes:

Search for people with envelope numbers or those not assigned envelope numbers. You can also search by a range of envelope numbers. Note: This report filter option does not show unless there are assigned envelopes within your account.
To learn more about creating, viewing, editing, and deleting envelope numbers, check out this article.
Batch:

Choose which batch(es) you'd like to view. You can specify just online giving batches or manually added donations by week.
Form:

Have you used a form to collect money for an event? You can see who paid the registration, how much, and when.
Pledged To:

See who has given specifically toward a pledge. It also allows you to see "non-givers" who have pledged but have not actually given toward the pledge yet. This comes up at a $0 amount.
If you want to create a statement to send to those who have pledged to a campaign, choose the dropdown beside "Download as Excel" to print or email those statements to those individuals.
Transfers:

See a list of transfer dates and all contributions included in the transfer(s). This also includes a link to our reconciliation report article, which will instruct you on how to get more detailed information about each transfer made.
When viewing the transfers on the reports page, the dollar amounts are gross totals (before the fees are removed).
Columns: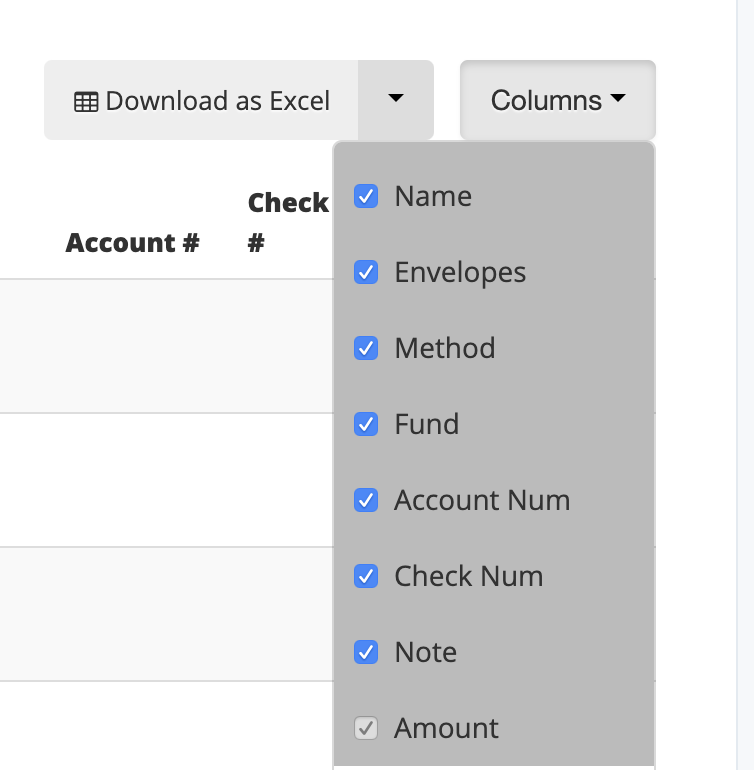 You can download these giving reports into an Excel format or select the dropdown arrow to either print or email your statements to your donors. Check out our Complete Guide to Creating Giving Statements for more information.


Using the columns tab, you can specify the information you wish to view or remove from your report by using a check mark to select the information or uncheck the information you want visible on your report.
How to View Giving on an Individual's Profile

You can view an individual or family's giving by clicking the "Giving" button to the left of their profile.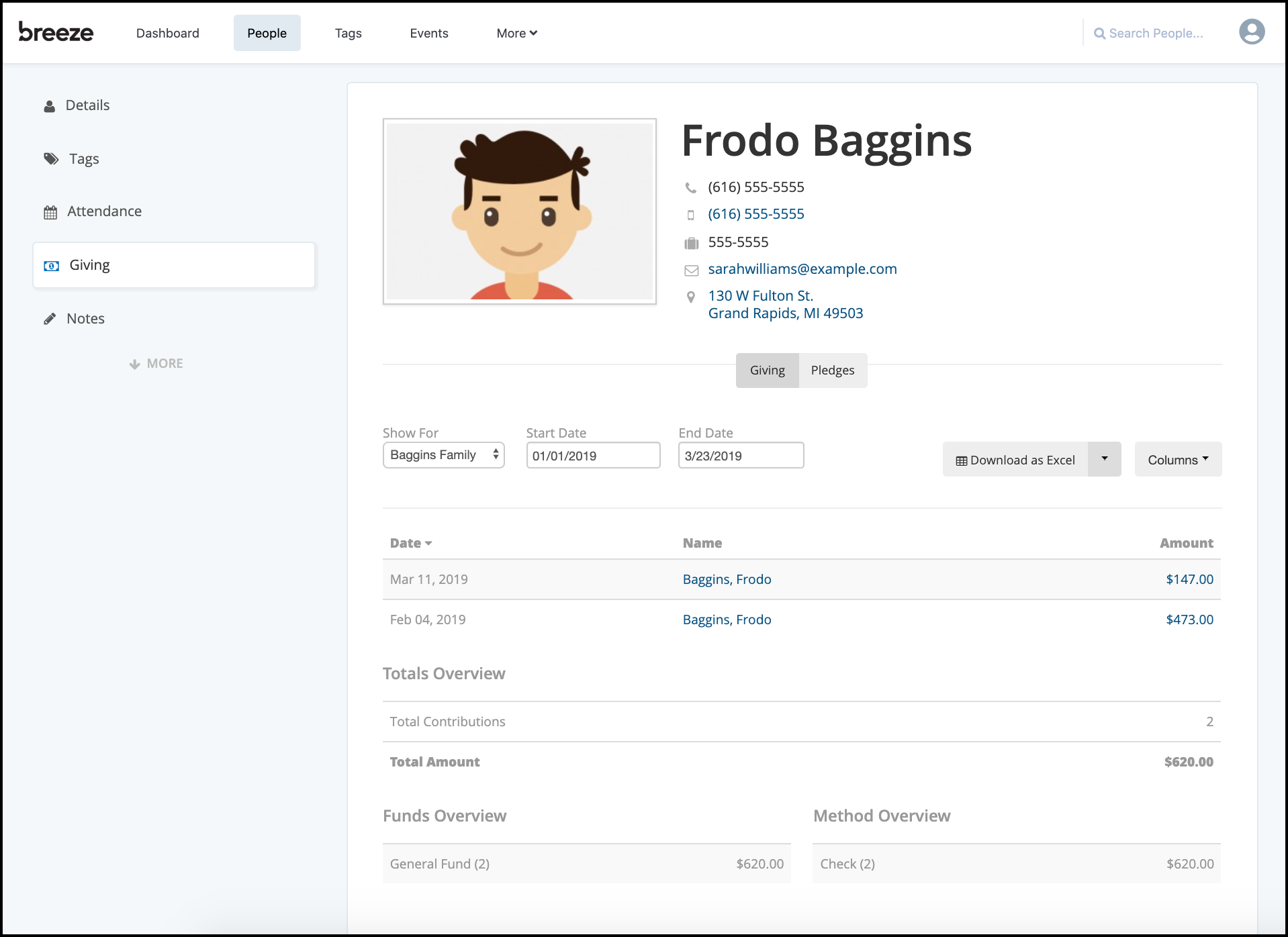 The columns that appear will be the same default columns of the reports page (Giving > Reports). You can change the default columns that appear by changing them on the reports page.