Here at Breeze, our first priority is the success of our churches! We realize that meeting the increasing needs of churches and organizations is a big challenge, and consequently, there will be moments when Breeze doesn't fully meet all of those needs.
A cancellation may be requested because "we didn't use it" or "we needed more functionality" and these are very legitimate reasons consider cancellation. However, we would like to make sure that we've given you the highest level of support by making sure you've had an opportunity to explore the reasons that may have kept you from using Breeze.
We truly believe that Breeze has the ability to revolutionize the way you do ministry and would love the opportunity to serve you with the wealth of free information our Team can provide. However, if you still feel as though canceling your Breeze account would be best for you and your church, here are the easy to follow instructions:
To cancel your account follow these directions:
Navigate to the "Account Settings" () on the top right
Select "Manage Account"
Choose "More" on the left side
Select "Cancel Account" on the left
Be sure to export your data before choosing to cancel your Breeze account
Click "Cancel Church's Entire Breeze Account"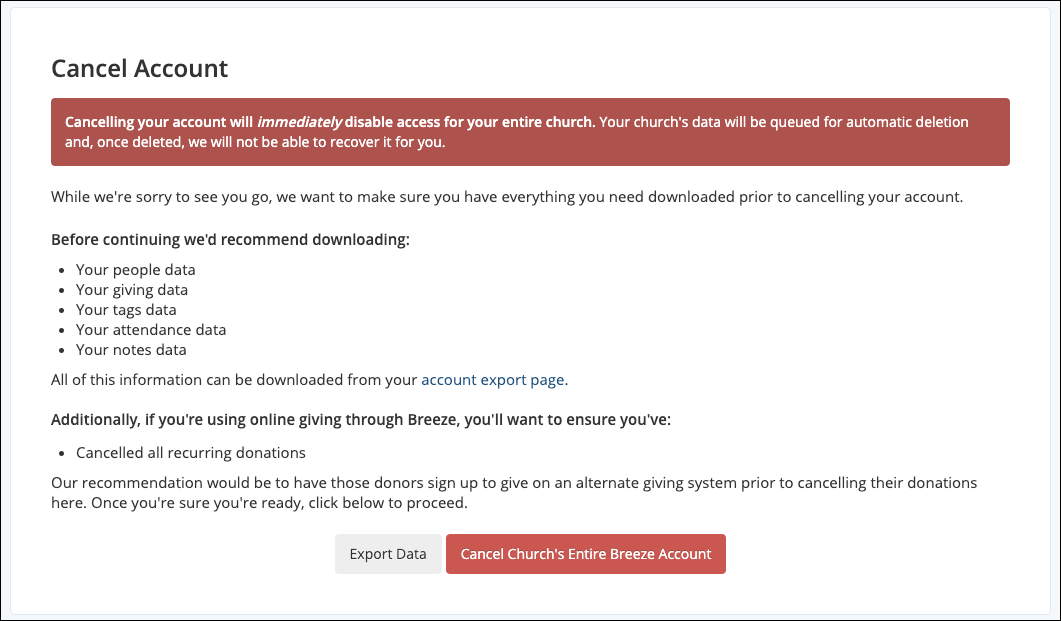 Things to note:
Only the account's primary user can shut down the account.

If the user attempting to cancel the account is not the primary user, they will receive a message telling them that this can only be done by the primary user, as well as the primary user's name and username:
If the primary user doesn't have permission to access "Account Settings", the same dialogue box will indicate that you need to adjust the primary user to an alternate role before they perform this action (and will specify which role to change them to that does have permission). This would show up as a note in red appended to the image above.
If a primary user can't be found (very rare that this would happen) a note appears asking you to Contact our Support Team to take care of it and to mention that message to our support team. This replaces the message in the window above.

You'll still receive pending transfers to your bank account after you cancel your account.
Exporting Your Data
You'll want to export your data before you cancel your account, because once you cancel, you will no longer be able to access your account.
To learn how to export your data, visit our Exporting Your Data help article.
Will The Data be Deleted?
Yes! Immediately upon cancellation your data will be queued for permanent deletion from all Breeze systems. Please ensure you export any desired data from your Breeze account prior to cancellation.
Internal Note: If a church canceled with us less than six months ago, their data may still be intact. If it was longer than six months all of their data will have been permanently deleted.