Volunteers Assign Mode allows you to assign volunteers for each of your events, set recurring schedules, send the schedules to your volunteers and so much more. This article assumes that you've already started the set up of your volunteers - if you have not yet done the set up, please view this article first.
Note: Schedules may not include all of the dates selected, as our PDF generator will cut-off dates when it reaches the end of the first page. The number of dates included are dependent on the length of volunteer names. A typical one-page schedule may include between 6-12 weeks of events (roughly).
Assigning Volunteers to Roles
After you've created your roles & teams, you'll see a blue "Add Volunteers" button to the right of each Role. We'll start by clicking there.
From this popup window you'll be given the option to type in someone's name to assign them to that role:

Choose from recent volunteers (anyone who has volunteered in this role over the past 6 months):

Or find people by tag:

Just click on the individual's name that you'd like to assign and click the "Add" button and they will be scheduled for that event.

If someone is already volunteering with another event (or a different role within this event) you'll see "Potential Conflict" written in red under their name.

If someone is already volunteering for that role in the event, their name will be grayed out and unable to be clicked with a note underneath that says "Already Volunteering".

Scheduling Recurring Volunteers
To set someone on a recurring schedule:
After they've been assigned to one event, click on their name
Choose "Set Recurrence" from the dropdown menu
Set the frequency for how often this person will volunteer
Choose the end date (will go up to 2.5 years out)
Add or remove any additional dates
Save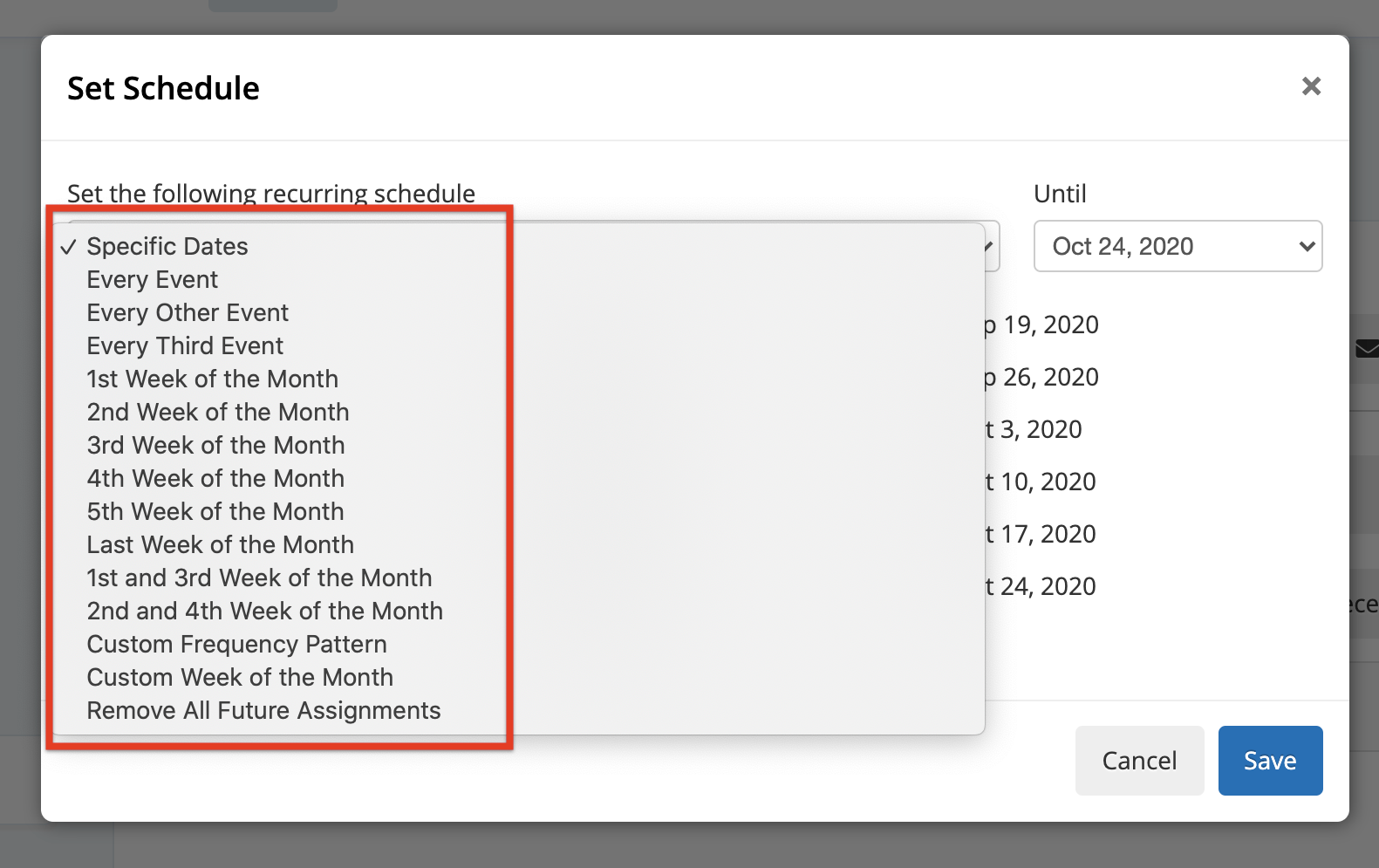 To remove someone from a recurring schedule:
Find a volunteer assignment for them and, click on their name
Choose "Set Recurrence" from the dropdown menu
Select the Remove All Future Assignments options
Save