We would Love to welcome you to the Breeze family!

To Signup
Go to Breezechms.com/signup to complete the registration (will take around 4.5 minutes; be sure to have a credit/debit card handy)
Additional Information
An important step to signing up is properly Registering your organization in the Breeze Database! When you click Sign Up from our Website, you will be prompted to do the following:
Register Your Organization Name - This should be the Full Official Name of your Organization! This is how your Organization will appear in our Breeze Database. (Example: Calvary Church of Minneapolis, Minnesota)
Choose your Web Address - The Web Address is Your Organization's Custom Login Page address. This blank should be filled with a shortened/abbreviated name of your Church. (Example: Calvary Church)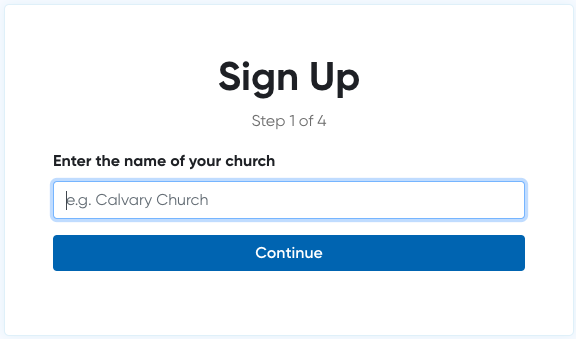 **NOTE** These first two spaces (Church Name & Web Address) should only include information about the Church/Company/Business that you're Registering and Should NOT include any Personal Names/information.
To Get Moved In
It would be our pleasure to move your data into Breeze! Just follow the instructions in the email we'll send immediately upon your signup, once we have access to your data files, it takes approximately 7 days to move you in.
Complimentary Import Process Explained
Next Steps Checklist
Getting Started Checklist

We look forward to serving you and your church!