Note: The new Donor-Covered Fees feature is still in beta and is not supported by phone and email. If you have feedback you'd like to provide, please submit it here.
Allowing Donors to Cover Processing Fees
If you'd like to allow your donors to cover processing fees for web giving, you can now turn on this feature in the settings of your Breeze Online Giving Page. This new feature not only introduces the idea of processing fees to your donor, but also allows them to take action and help offset this cost for the church.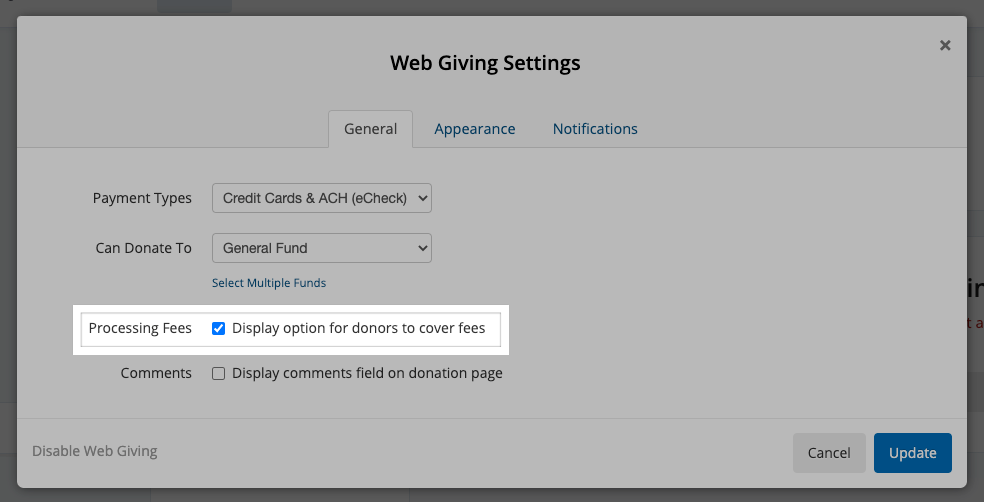 How it Works
When most donors give online they assume the amount that they are choosing to give is the amount that the church receives. In the world of online processing, this unfortunately isn't the case, as there are processing fees involved. The "Allow Donors to Cover Fees" option simply ensures that the net amount received by the church matches the amount the donor wishes to give.
In order to ensure the church receives the amount intended by the donor, we increase the gross amount given (which due to the fee percentage, increases the fee), until the net total matches the donor's desired amount.
gross = (net + .3) / (1 - .029)
Here's an example to help visualize this process. If a donor wishes to give $100 net to the church, we simply need to re-figure the gross amount in order to account for the fee percentage, and ensure that $100 is what the church receives.
gross = ($100 + .3) / (1 - .029) gross = $103.30
In this example, when giving by credit card, a gross amount of $103.30 is required for the church to receive the intended $100.
Note: To help cover rounding issues that may occur during the fee-application process, donor totals may vary by +$0.01 or -$0.01 from totals derived using the above formula.
How Donor-Covered Fees Appear in an Online Giving Report
Donations where the donor has opted to cover the fees will appear in Online Giving Reporting accompanied by a heart icon, allowing you to easily differentiate between fees the church is responsible for, and fees with which donors have chosen to help.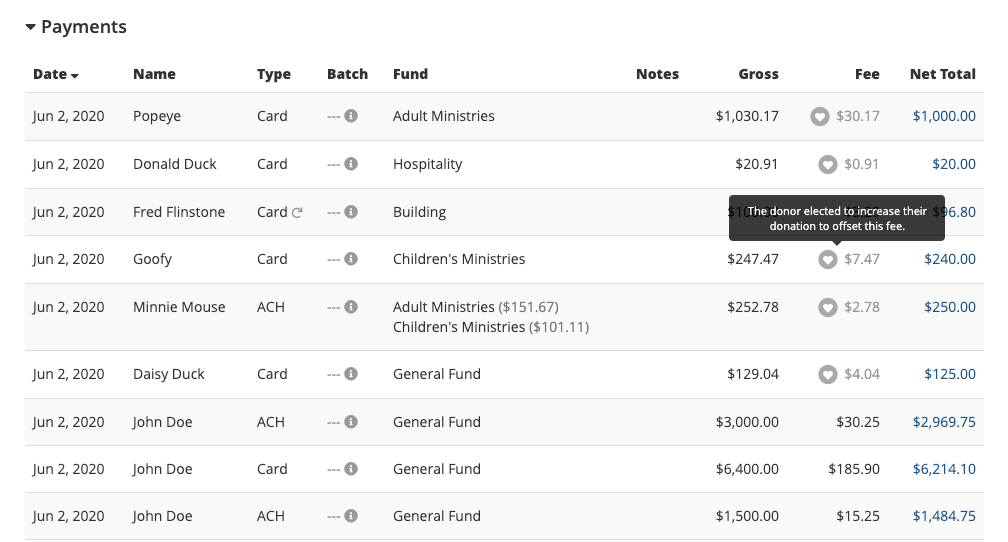 Donor-covered fees are also designated in Excel downloads.