Now, churches can craft an order of service right within Breeze! Streamlining communication with volunteers and keeping the congregation in sync.
Video Overview
Accessing Service Planning
Permissions:
The Service Planning feature is available to all organizations. Access to Service Plans is governed by the Events permissions in Breeze:
View Events Permission: Grants a user the ability to see the service plan.
Edit Events Permission: Empowers a user to modify the service plan fully.
Step-by-Step:
Event Calendar Navigation: Start on the main Event calendar.
Event Selection: Click on your desired event to view its submenu.
Service Plan Option: Here, you'll notice the "Service Plan" button. Clicking it will direct you to the planning space.

Alternative: If you click 'View Details' on an event, you can also access the "Plan" option.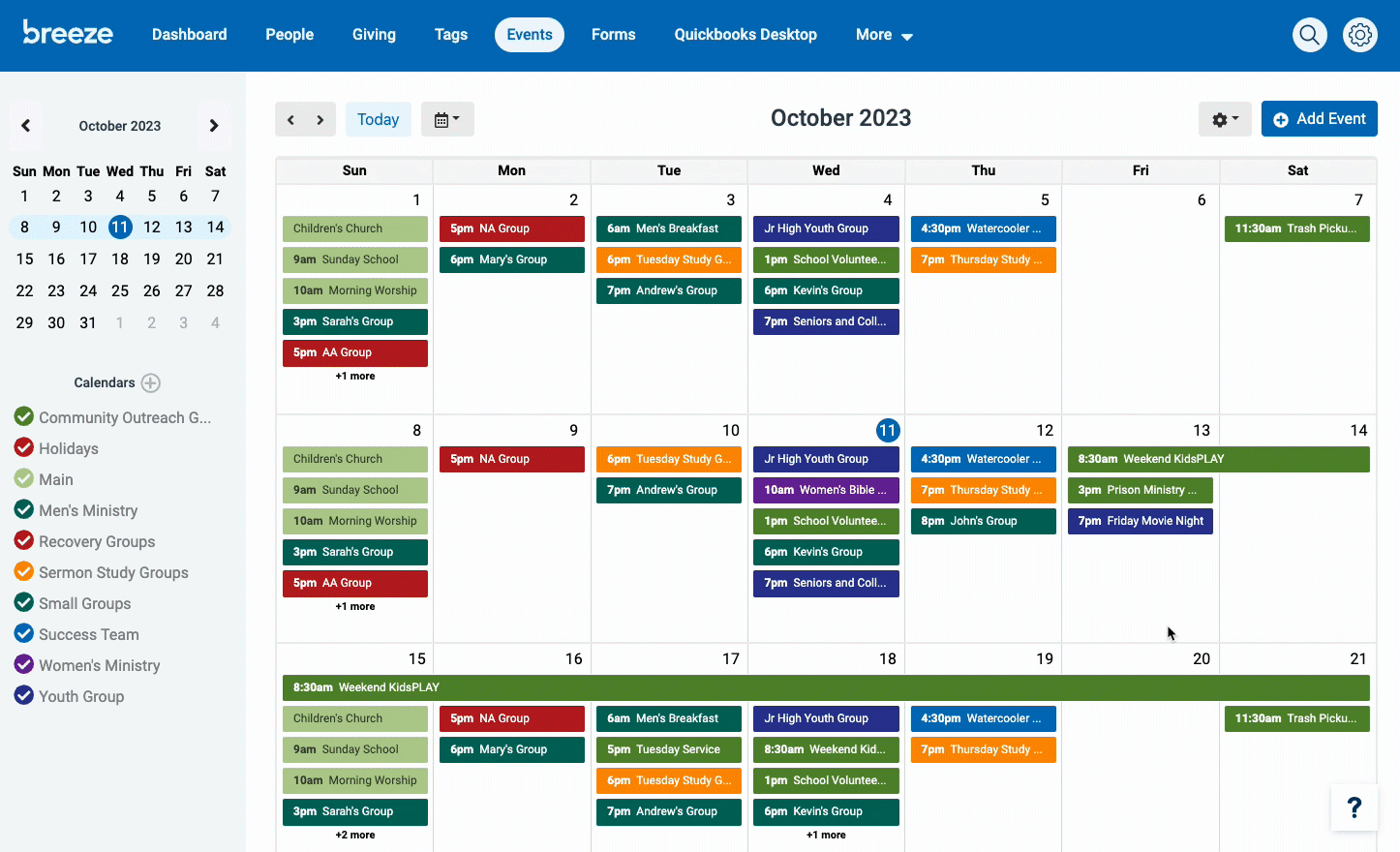 Setting up Your Service Plan
Starting Your Plan:
Creation Options:
Blank Plan: Start with a fresh canvas.
Saved Template: Utilize a previously saved template as your starting point.
Structuring Your Plan with Sections & Items:
Sections:
Act as headings to categorize your plan, e.g., "Worship," "Sermon."
Easily add or remove sections as needed.
Items: Diverse item types allow flexibility in your planning:
General Items: For any miscellaneous information.
Scripture Items: Share reading details and descriptions.
Notes: Serve as reminders or cues for the team.
Songs: Detailed song entries include title, duration, description, and key. Attach relevant documents or links to online resources.
Editing & Reordering:
Item Modification: Click on any item or section to make changes.
Reordering: Drag and drop to rearrange items or sections for optimal sequence.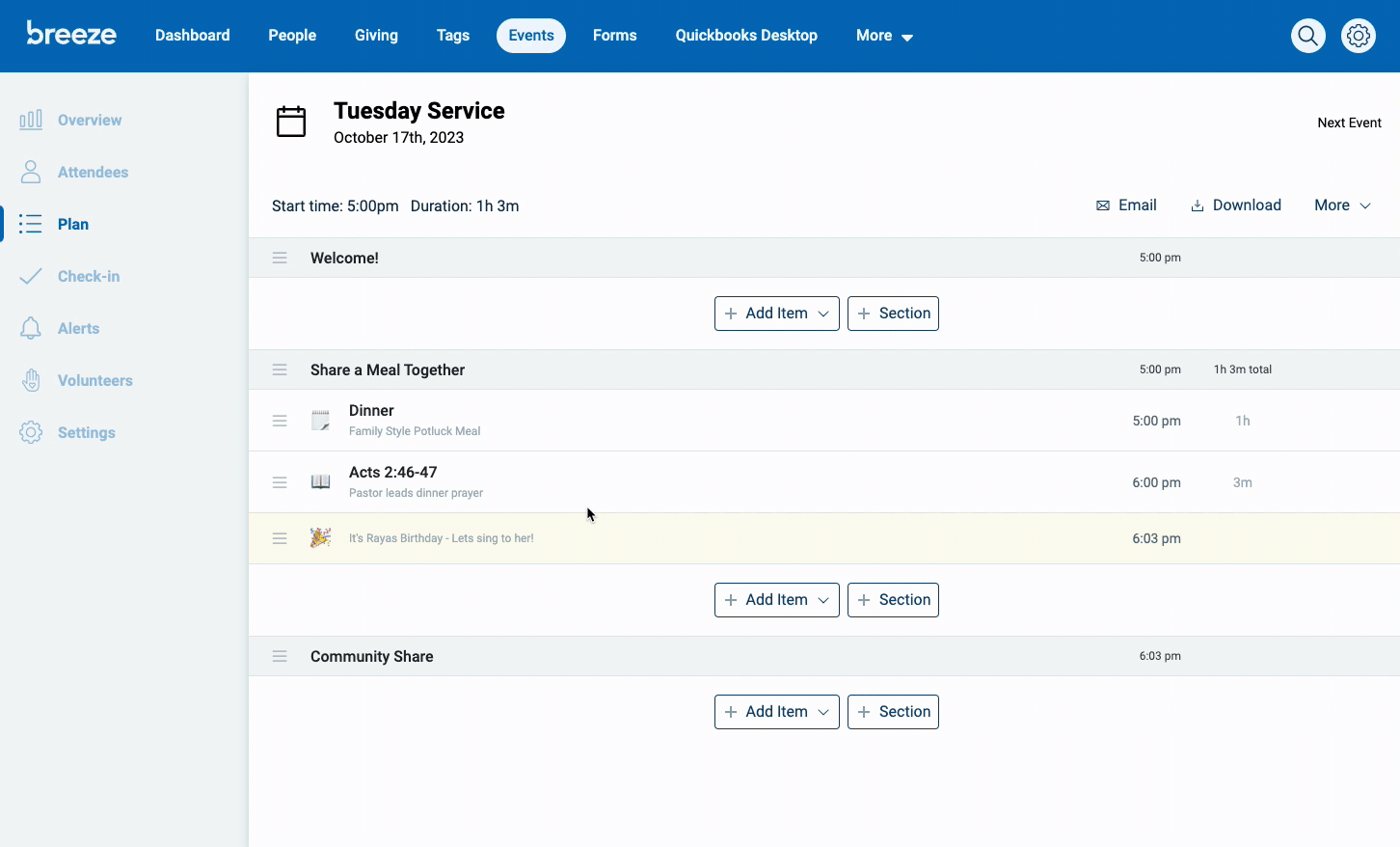 Utilizing Templates:
Saving Your Template: If you've crafted a plan that can be reused, save it as a template for quick future setups.
Using a Saved Template: Start a plan with your template, making necessary adjustments specific to the event.
Collaborating and Sharing:
Printing: Print your plan using the "more" menu for physical copies.
Email Collaboration: Share your plan with others by emailing links. They can view or edit based on the permissions you set.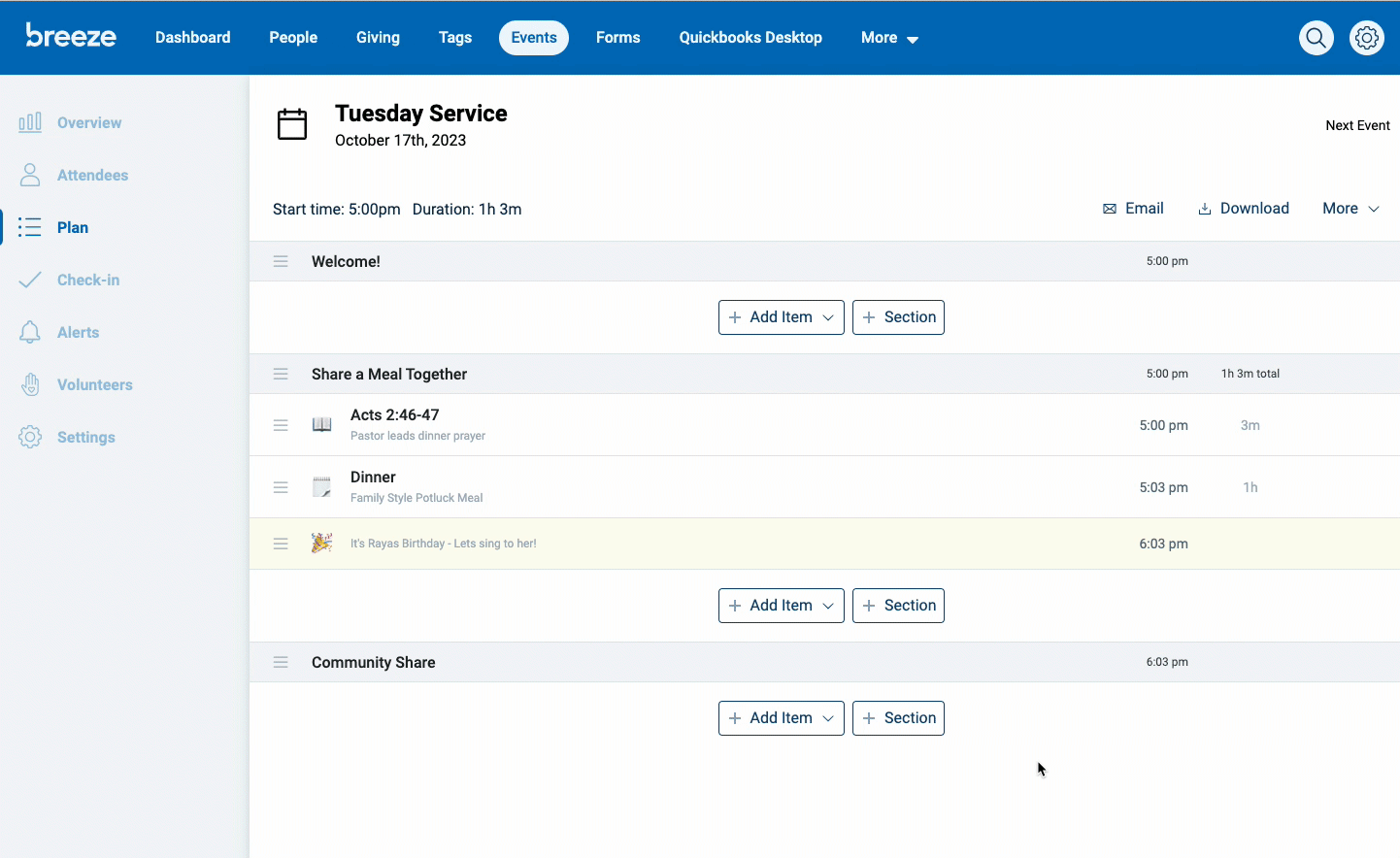 Best Practices for Effective Service Planning
Templates: Speed up the planning process for recurring services by creating and utilizing templates.
Event Timing: Remember, if an event is set as all-day, timestamps won't appear on the service plan.
Attachments: Use external storage links, such as Google Drive or Dropbox, for easy access to relevant materials.
Example of a Service Plan: