Overview
Planning Center (https://www.planningcenter.com/services/) is a powerful tool that helps churches organize services, schedule volunteers, and more.
The problem churches can face when using Planning Center along with a church management system is that they end up having to maintain two databases. One database for people within Planning Center and the other for people within their church management system.
Breeze looks to solve this by integrating with Planning Center so that changes made to people within Breeze are reflected within Planning Center. Breeze will not put all of your people into Planning Center, rather you can decide who gets synchronized and who does not. (Planning Center's pricing model is based on the number of people in your Planning Center database, so we won't add anyone unless you tell us to add them.)
The integration syncronizes with Planning Center's "People" module so that all other Planning Center modules can use the data.
How to Connect Your Planning Center Account with Breeze
To connect to your Planning Center account from Breeze:
Navigate to "Extensions > Planning Center Online."
Click the "Connect to your Planning Center Online Account" button.
If not logged in, log in with your Planning Center username and password.
You will be prompted to allow Breeze to access your Planning Center account. Grant Breeze access.
You're connected! See "Synchronize" below for how to use the integration.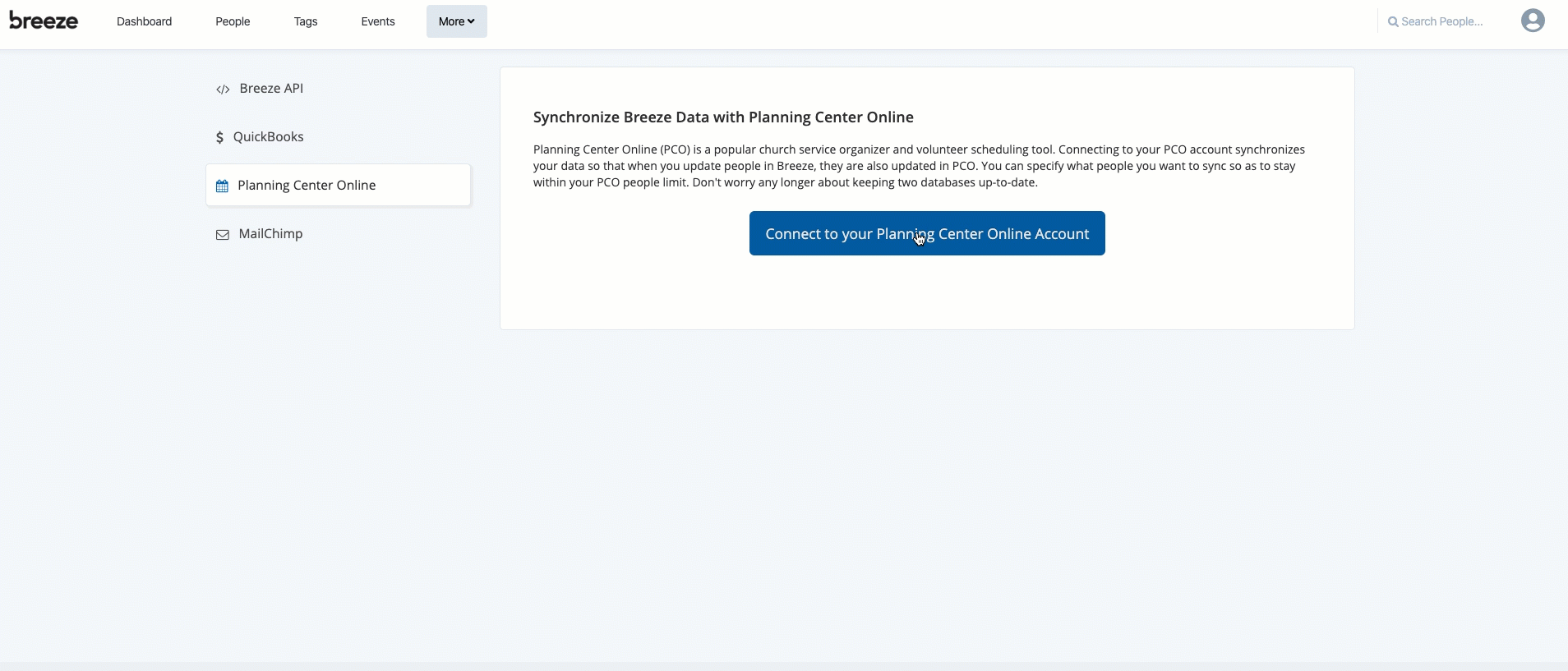 How to Synchronize Breeze Profiles with PCO People
Once you connect your Planning Center account, you'll see a list of all of the individuals in your Planning Center People module within Breeze. You are then able to select which person or people you'd like to synchronize.
Click the unlink icon () icon to the right of a name you'd like to synchronize.
Select whether or not you're synchronizing this person with a New Person* or Existing Profile in Breeze.
Save the changes.
When the Breeze profiles of synced individuals are updated, Planning Center will automatically update as well.
*If you choose to add a New Person when synchronizing from PCO to Breeze, it will only bring the first and last name over from PCO for the Breeze profile. Once additional profile information is added to the Breeze profile (in the fields outlined below), that information will show and overwrite what is in Planning Center.

How to Add Someone to PCO from Breeze
If you have someone in Breeze that you'd like to put in Planning Center's People module, have no fear, we've made it simple! All you have to do is navigate to:
Extensions > Planning Center Online
Search for the person's Breeze profile
Select "Add Person to Planning Center"
That's it! With the click of a button, they are synced and added to Planning Center.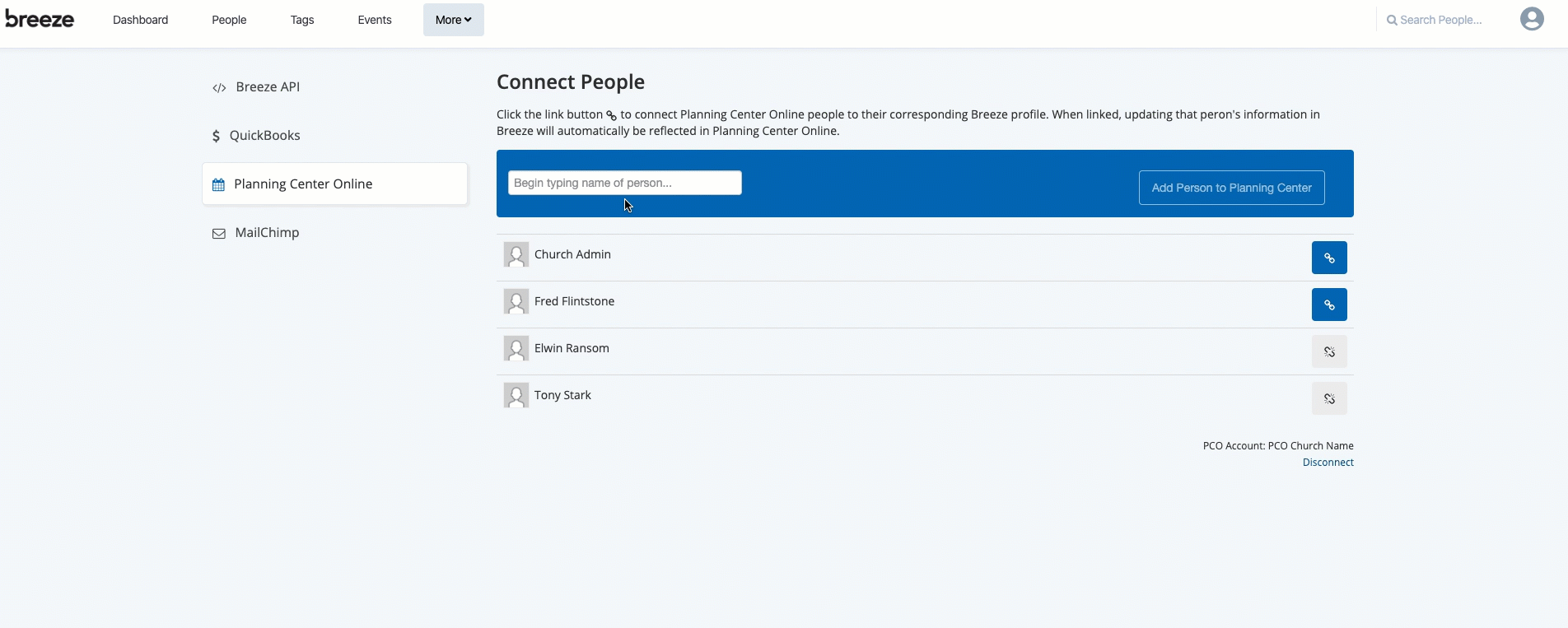 How to Unlink a Profile
If you'd like to break the connection for an individual profile, this can easily be done!
Extensions > Planning Center Online
Search for the person's Breeze profile
Select the "unlink" icon on the right-hand side and Confirm.
What Information is Shared with PCO
The list below represents the profile information that Breeze will automatically update in Planning Center Online:
First Name
Middle Name
Nick Name
Last Name
Email Address
Street/City/State/Zip
Home Phone
Mobile Phone
Work Phone
Birth Date
Graduation Year
Synchronization is one way, from Breeze to Planning Center, meaning that changes made in Breeze will be reflected in Planning Center but changes made in Planning Center will not be reflected in Breeze. We recommend using Breeze as the 'hub'.
How to Disconnect Your PCO Account from Breeze
To disconnect Planning Center from Breeze:
Navigate to "Extensions > Planning Center Online."
Click "Disconnect" in the bottom right.