Overview: There are three primary methods to access your breeze account. Through the custom URL which will take you to your Breeze landing page, by accessing the Breeze website and choosing to log-in or accessing it through the Breeze App.
Through your Church's Personal Breeze Webpage:
When your church signed up for Breeze, they created a "web address" or "subdomain". For instance, a church named Calvary Church may have chosen "calvary" as their Breeze Subdomain on sign up. So they would access Breeze at https://calvary.breezechms.com.
To log in to your church's Breeze account, enter your church's unique web address which will take you to your personal landing page where you can sign in using your username and password.
Note that the username is not necessarily an email address.
Not sure what your church subdomain is? Contact an Admin at your church to find out.
Through the Breeze Homepage:
Go to breezechms.com and click the "Log In" link in the top right corner, then enter your Church Sub Domain (e.g. "calvary" in the example above).
The button will remember churches that you are most likely logged into for easy access to those churches.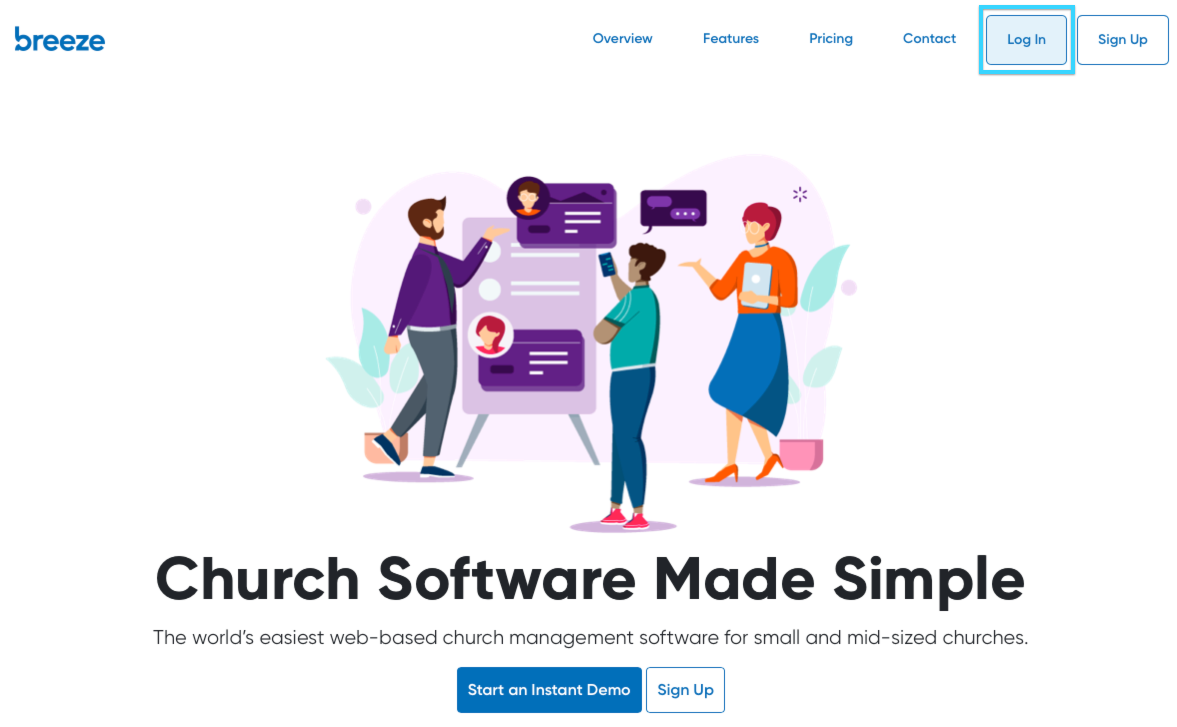 Through the App:
Breeze offers an app for iOS and Android! Here's where you can access either of these apps: https://www.breezechms.com/app
Login information: The first time you use the Breeze app you'll be prompted to enter your Church ID, this is the subdomain. Your subdomain is part of the URL that you use to log in. For instance, if you log in at cornerstone.breezechms.com, your subdomain is cornerstone. If you don't know your subdomain, please contact your church. After entering your correct subdomain, you'll be prompted to enter your login information. If the wrong subdomain is entered or you are a part of multiple churches, you can simply click "change church" on the subdomain and type in a correct subdomain.
Forgot Your Password?
Enter your church web address (as described above). Select "forgot password" below the login button. Your username and password will be sent to the email address on your Breeze user account.
Don't have an email address?
Contact your church administrator to manually change/reset your password.

If you are still unable to login to your account please contact your church administrator. They will be able to change your password and help you access your account.