When someone gives to your organization through your online giving page, a third-party integration, or a form payment, Breeze will attempt to match up that payment with an individual in your database.1 If unable to find a match, Breeze will place the transactions in a list of unassociated transactions for you to manually assign.
It is important to make sure you are associating payments with profiles so that giving statements will reflect all giving, you can easily find a payment if you need to process a refund, and it will help when running giving reports to understand who your givers are. Until you associate a payment with a profile, it will show in the "Reports" section of Giving as "Anonymous".
To associate a payment with a profile in Breeze
Navigate to "Giving" > "Online Giving".
Click on the "Associations" tab.
Type the name of the person in the Assign To box and select the individual from the drop-down list.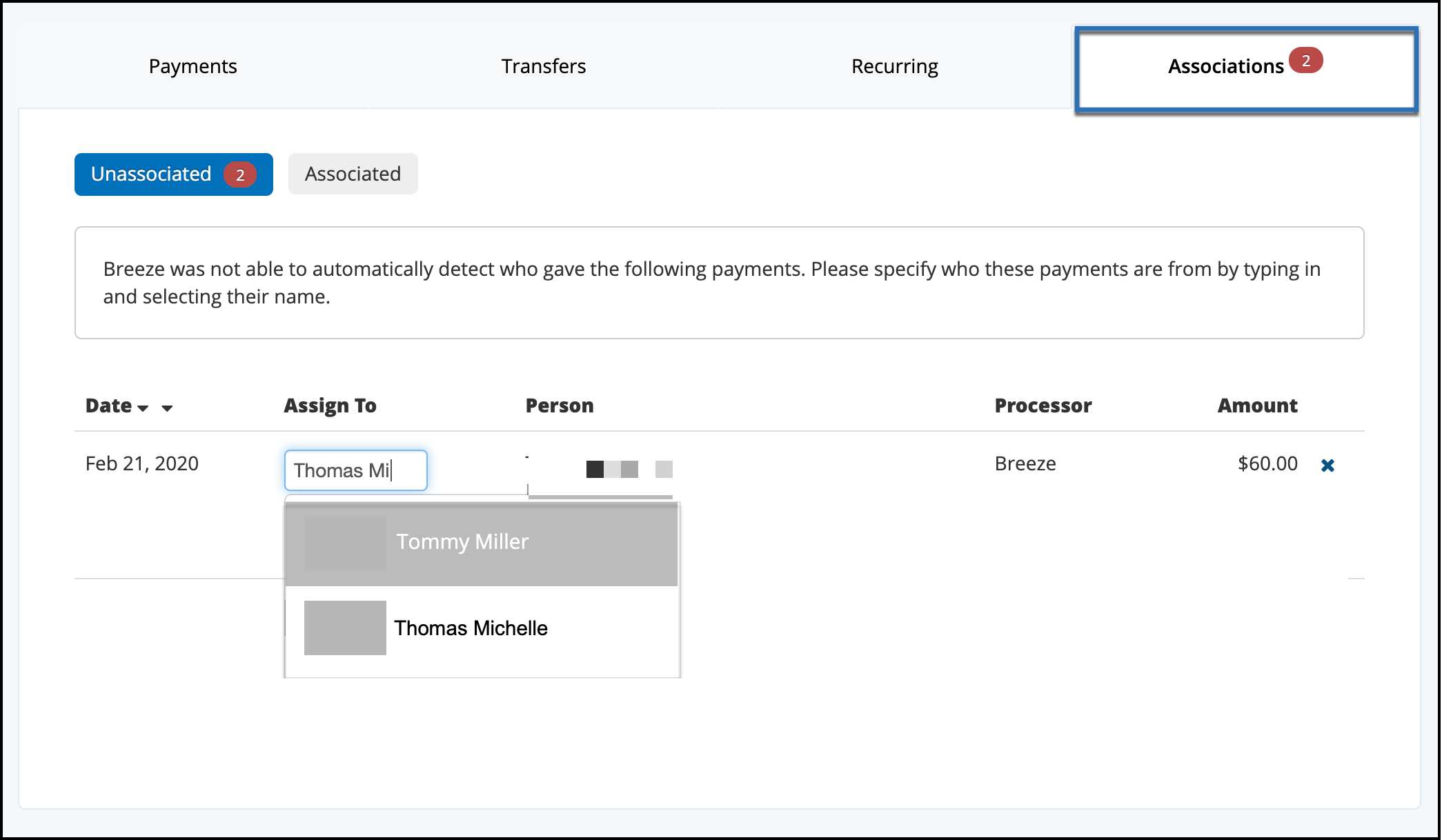 To associate a payment with a new person (not already in Breeze)
Navigate to "Giving" > "Online Giving".
Click on the "Associations" tab.
Type the name of the person in the Assign To box.
If the person is not found click "+Person Not Found - Click to Add"
Add the new person with the details you would like their profile to contain. Click Create Person.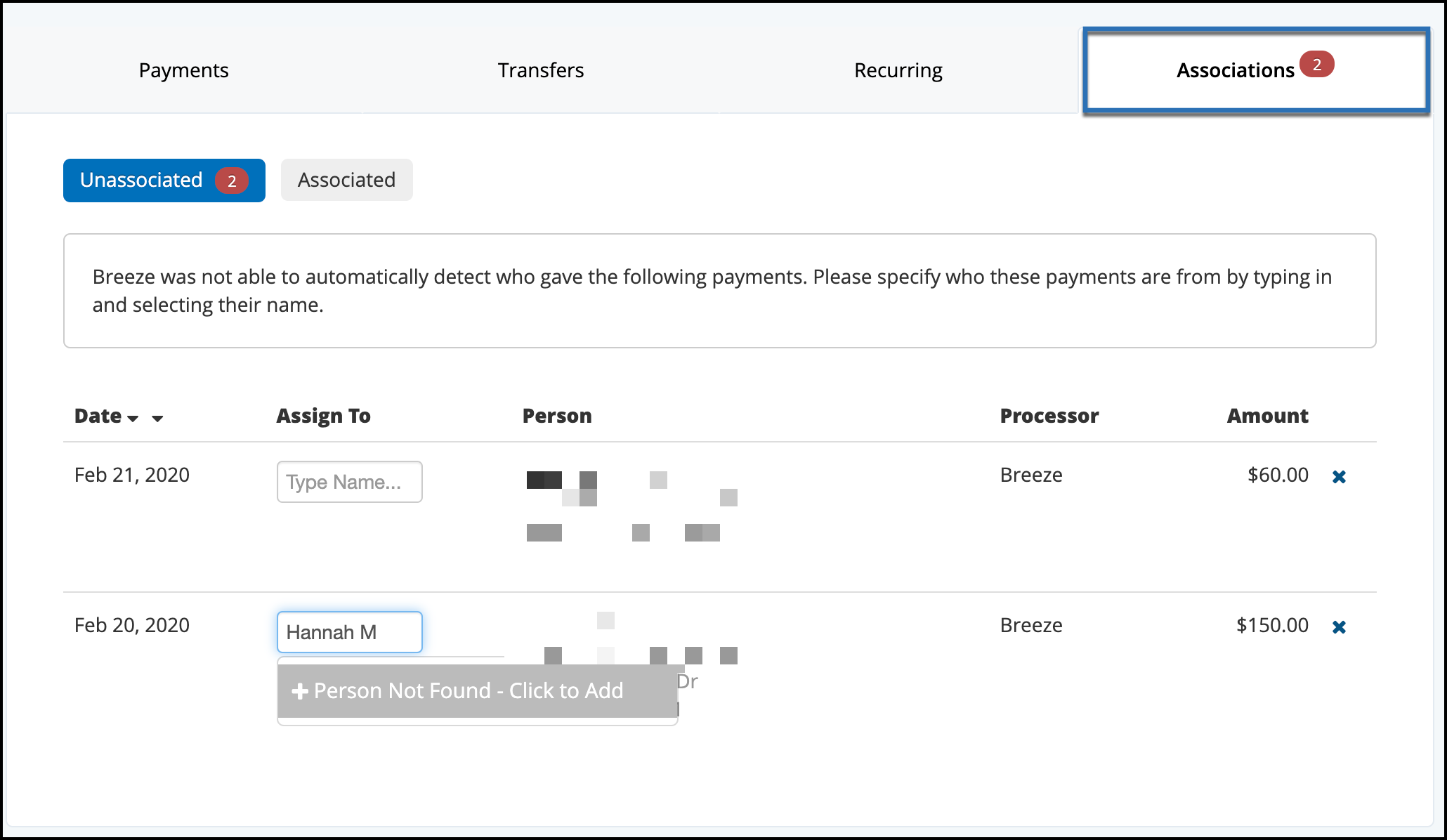 This will bring up the "add person" box where you can add any details you'd like/have on that individual. It will auto-populate with their name, email, and address based on the information that they entered at the time of the transaction.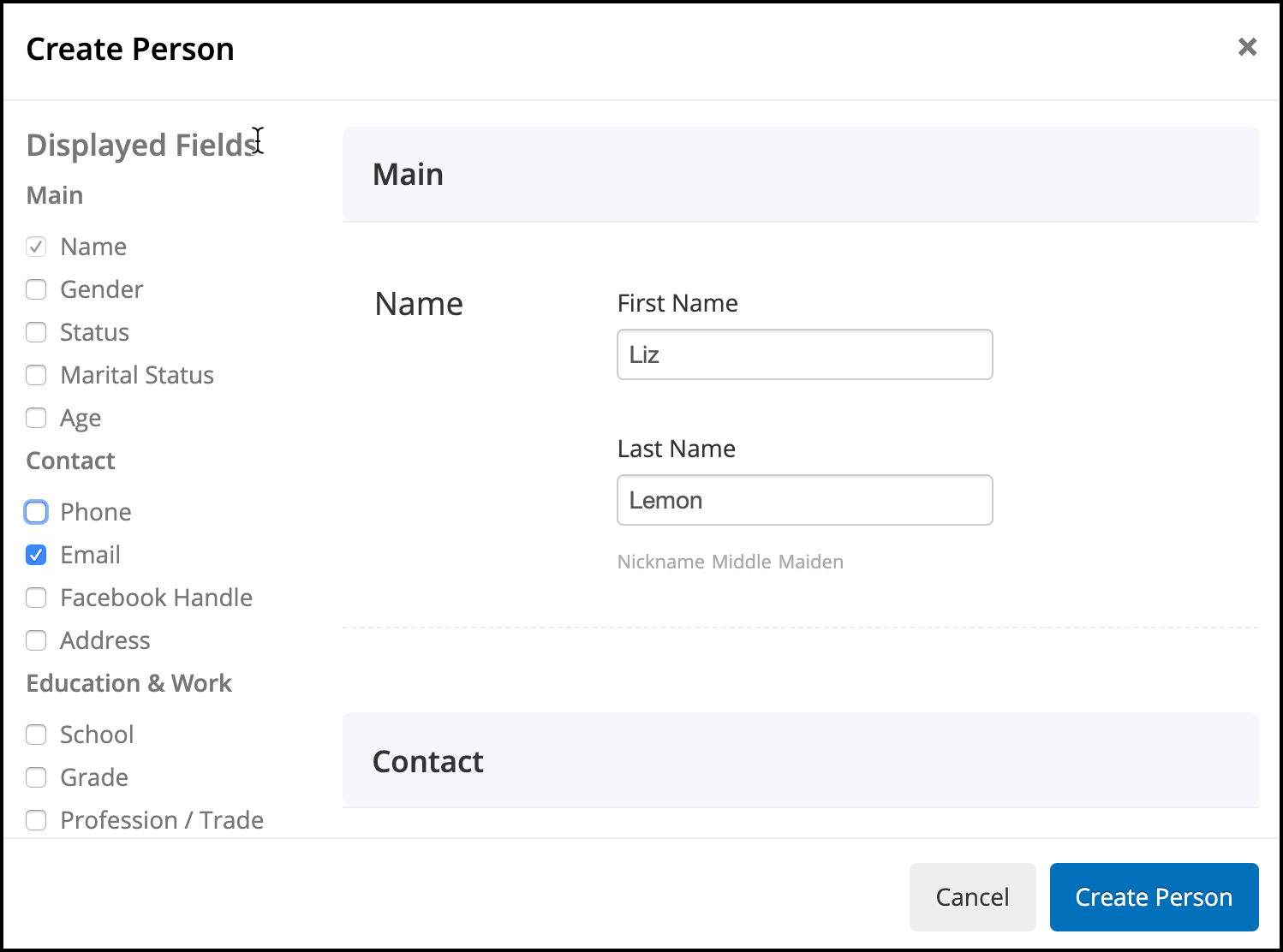 Remove Associations
Navigate to "Giving" > "Online Giving".
Click on the "Associations" tab.
Click on the "Associated" Filter
Search for a name by using Command + F (on a MAC) or Control + F (on a PC) OR use the Report Column Filters to sort data to find the association you are looking for and then click the "X" to the right of the association to cancel it.

It is important to remove associations from people when you archive them, this is to ensure that future gifts from this account or credit card number do not automatically assign to this person. This is especially important when archiving deceased individuals.
If an association was made by mistake, and you remove the association, you will also need to Edit / Move the Transaction from the profile that the gift was initially associated with. Breaking the association, only ensures that future gifts do not automatically go to this profile. The association that you removed, will not reappear in the association's tab until the giver using that method of payment gives again in the future, at which point you can associate that with the correct profile.
Removing Third Party Associations
Sometimes, you may have to edit a Third-Party Giving Association that was originally associated to a donor incorrectly. Some import formats require you to link the ID of the 3rd party payment provider with the person in Breeze that number should associate with. However, it's possible that someone at your church or organization may have associated the gift to the wrong donor.
To view or delete associations that already exist:
Navigate to the Account Settings ()> Bulk Tasks > Import Giving.
Click Manage Associations in the bottom left.
Delete any associations you'd like to remove by clicking the "X" to the right of the row.
Additional Information
Breeze will automatically match a payment to a person if it can find a profile in the database with A matching name and a matching email address or a matching street address.
If a payment automatically connects to a person, you will not see this listed in the "Associated" payments.
If their payment is automatically associated based on an address or an email matching in their profile, and they give with an email or address that is not listed on their profile, Breeze will still automatically associate the payment (based on the existing profile information), but it will not update the new information given at the time of payment onto their profile.
If a person uses a different email address, but they have a profile, i

t will not make any updates on their profile for existing people.

You can only push information from the unassociated section when you're

creating

a person from there and not when you're simply making an association with an

existing

profile.

The "Associations" tab will show you the total number (in a red circle) of unassociated payments in your Breeze Account. To learn more about why it is crucially important to associate transactions with profiles, visit End-of-Year Online Giving Associations.

Users cannot manage recurring gifts if they appear as an "Unassociated" gift. Once they have been "Associated" they will then be able to manage their recurring gifts (as long as they have user access).

Unassociated payments can also include registration or event payments from forms. For event payments or registrations, we recommend setting up a non-tax deductible fund so that you can still add the payment to an individual's profile to record that they paid for the event.

To Associate transactions, you will need the permission "Add People."
If a payment automatically connects to a person, you will not see this listed in the "Associated transaction" but rather in the modify recurring giving. Keep in mind, if you change an automatic association in the recurring giving, this does not move old giving that was "associated" with the first person. The giving will need to be edited to be moved to the new/correct association.