Bills and Payments in the manage account area allow you to see your estimated and projected upcoming bills, view the breakdown of past bills, and download Bills for accounting and reconciling purposes.
Navigate to the

"Account Settings" () on the top right
Select "Manage Account" in the dropdown
Choose "Bills and Payments" on the left-hand side of your screen
Role Permissions needed to Access Bills and Payments (Manage Account > Bills and Payments)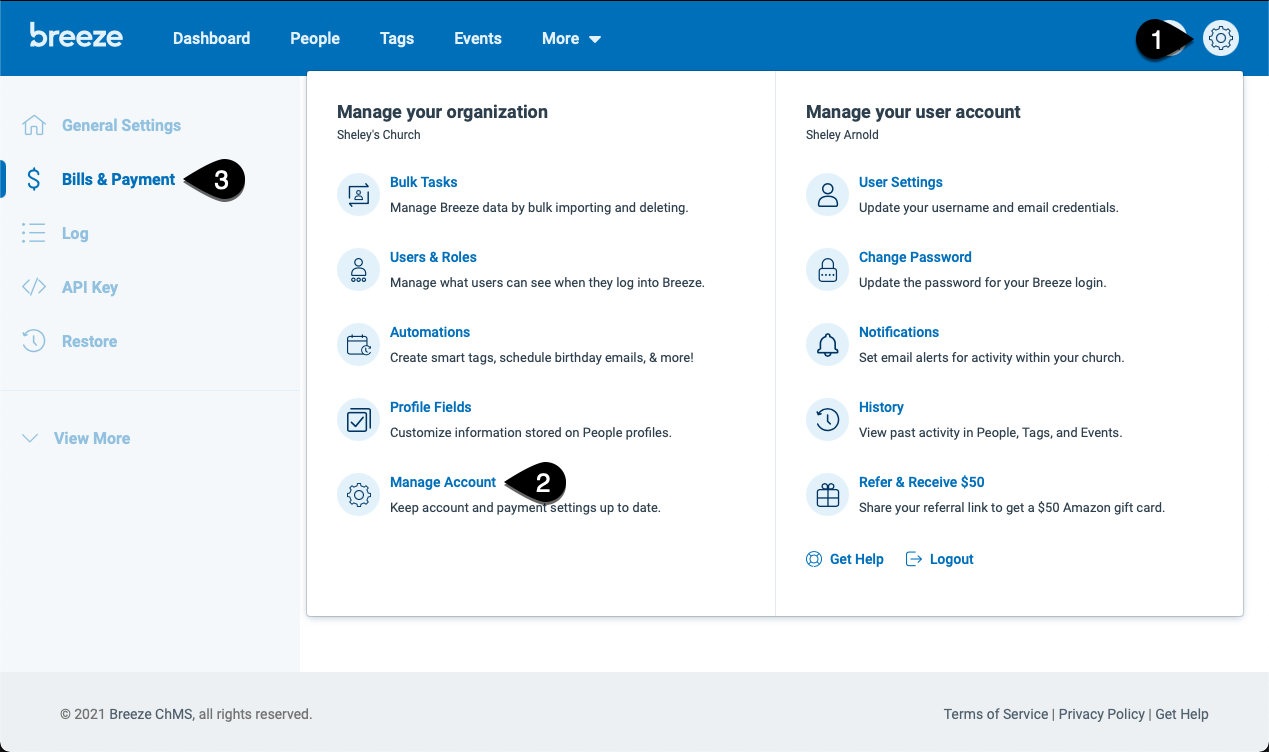 View Upcoming Bill
This will allow you to see an estimated, projected upcoming bill for your account and see the details of the makeup of the bill, as well as the next payment date.
View Payment Information
You can update the card information on file to pay your Breeze Bill.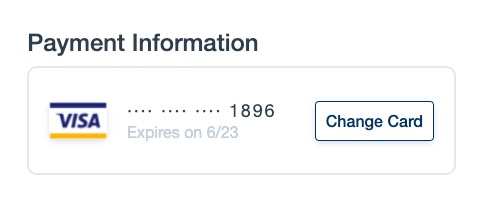 View Billing History / Invoices
In this section, you can see your past bills, and see the status of a bill (Paid, Unpaid, Partially Refunded). Simply click on a bill to see the breakdown of charges displayed, and select "download" to download a copy for your records!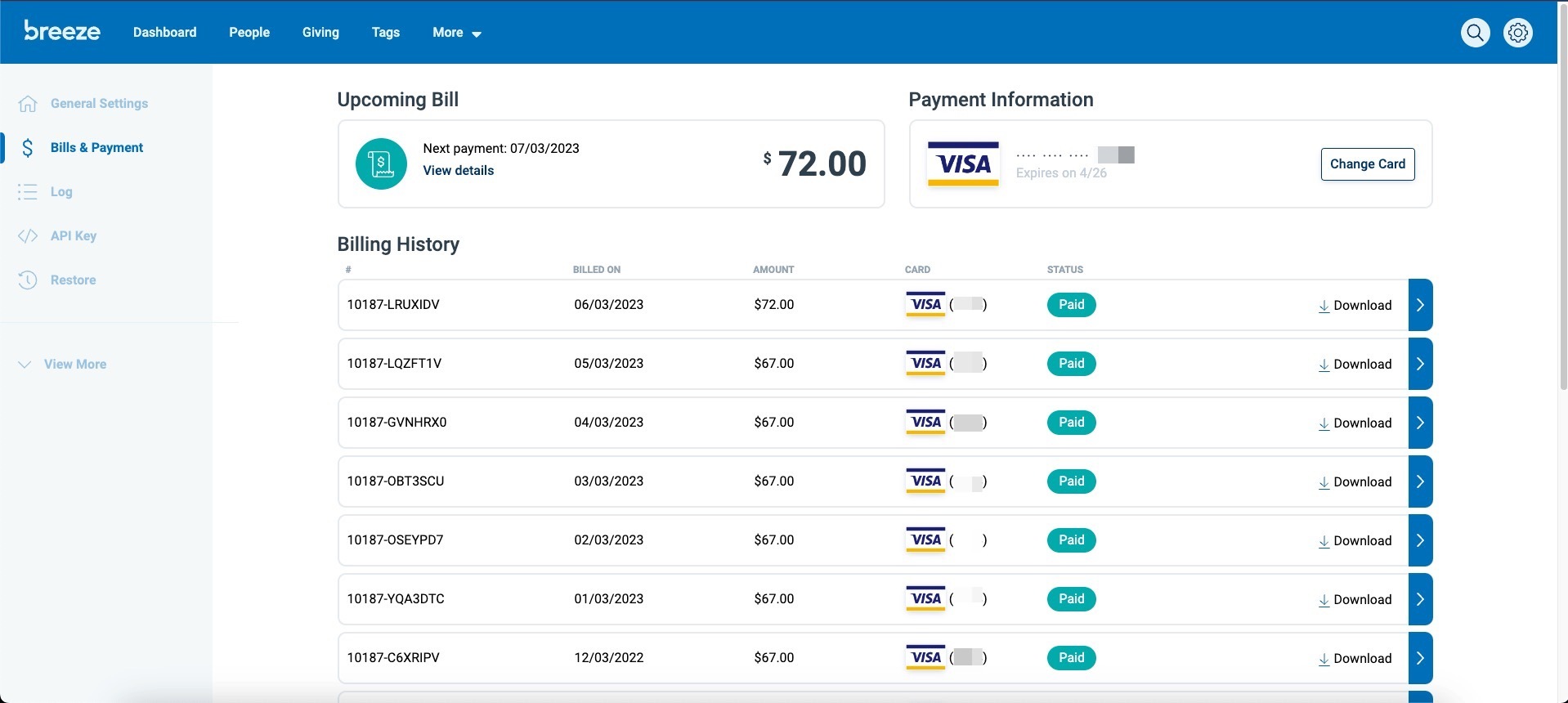 Bills may only be accessed inside your Breeze account. We do not currently provide auto-emailing of Bills.
Update Payment Method
To update the payment method on file for your billing in the account:
Navigate to

Account Settings ()

on the top right.

Choose Manage Account.
Select Bills and Payments on the left.
In the upper right, under Payment Information, click the Change Card button
Provide the new card information and click Update
Role Permissions needed for Updating the Payment Method for Breeze Bills (Manage Account > Bills and Payment)
Note: If after updating your card, you still receive a warning message that "there was a problem charging your card," please contact your bank as they can determine the cause for the issue with the card.
Failed Subscription Payment Retry Schedule
We get it; when you get a new credit card because your current one expired, got stolen, lost, cut up courtesy of Dave Ramsey, or anything else, it's a huge hassle to remember all of the places that your credit card was being used regularly! Because of that, Breeze has a systematic retry schedule to run your monthly subscription payment through auto retries before suspending your account after a failed payment. Here is the retry schedule:
Day 1 -

First Attempt (renewal day of the month)

Day 4 (3 Days Later) -

Second Attempt - if the payment has still not been updated, then you'll receive a courtesy email from us that your payment method needs updating.

Day 9 (5 Days Later) -

Third Attempt - you will get another email reminder from Breeze alerting you that your account will soon be suspended if you don't update your payment information.

Day 16 (7 Days Later)-

Fourth Attempt - If this attempt fails to process, your account will be suspended. When anyone attempts to log into Breeze it will alert the user that the account has been suspended and needs updated credit card information before accessing your data again.
If you update the payment method after a failed attempt, adding a new payment method to the Breeze Bills, Breeze will automatically re-try the card immediately, not waiting for the next scheduled attempt.
Suspended Account
Once your account is suspended, users will see one of the below messages based on their role permissions. If 5 Bills (5 months) go unpaid, the account will be removed from Breeze. The data in Breeze will be removed from our servers 6 months from this removal day.
During this time, when someone logs in to Breeze and they have the needed Role Permissions to update the payment method on file for Breeze Bills, they will see something like this: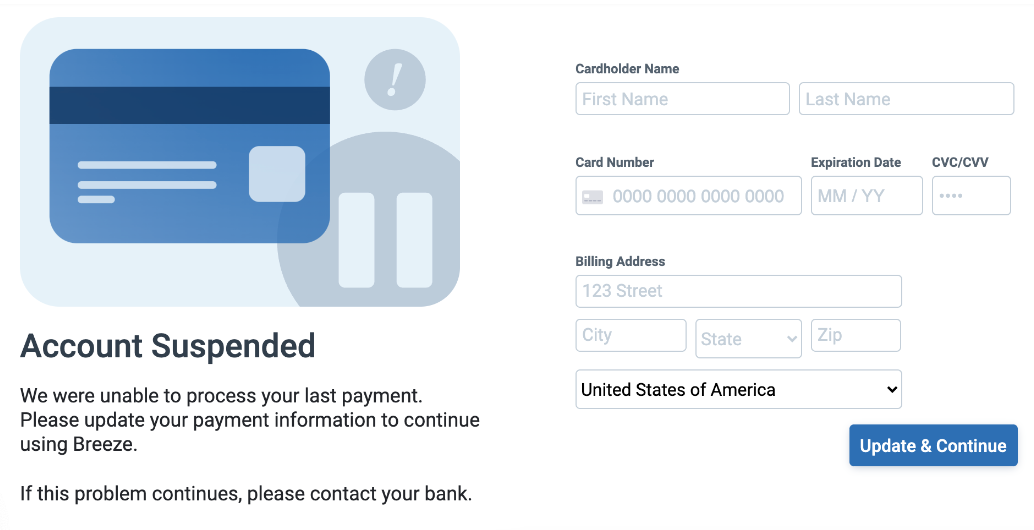 If a user logs in to Breeze without the Role Permissions needed to update the card on file, they will see a message like this: