By default, Breeze is using the calendar year system for all reports found in Contributions. As we understand many of our churches and organizations use a fiscal year (July - June), we have some helpful workarounds to be mindful of when tracking contributions using a fiscal year in Breeze.
Contribution Reports
Our reports feature allows you to customize your search with different filter options, such as the Dates filter. Here you will be able to customize the date range to your fiscal year.
Navigate to More > Contributions > Reports.
Using the options on the top, select the criteria you'd like to search by.
Results matching your criteria will automatically appear below.

You can save yourself a few clicks next time by bookmarking your Reports page once you have set your filters. Breeze will pull up that same report for you next time you click on that bookmark.
Online Giving Reporting
The Year filter in the Online Giving Reporting will default to calendar year, so the workaround will be to filter by Quarter instead. You can filter by each desired quarter, export your reports into Excel and then combine them as needed for your reconciliation purposes.
Navigate to "More" > "Contributions" > "Online Giving."
Set your desired

Filters (most recent will populate by default).

Pledges
Your pledge campaigns can be easily adjusted to a fiscal year by setting the campaign's default options to your selected date range. Any pledge entered to that campaign after the default options are set will retain the fiscal year start and end dates.
Navigate to More

> Contributions

> Pledges
Click Add Campaign

in the upper right
Enter a Campaign Name
Set the Default Start/End Date

and Default Fund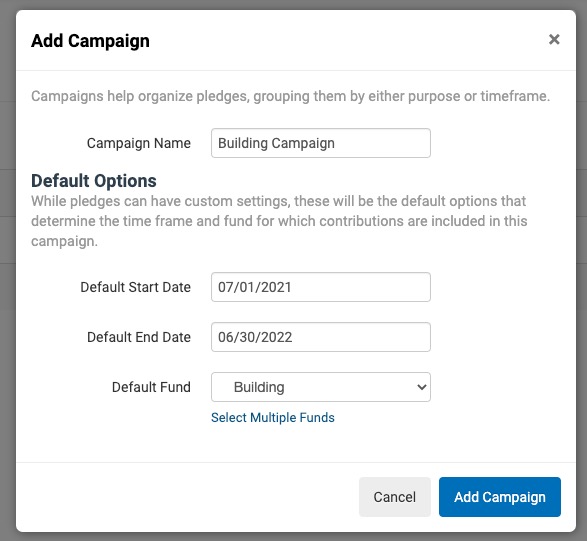 Statements
The first option you will be presented with when printing or emailing statements will be to adjust the start and end date, making it easy to set your statement criteria to being your fiscal year.
Navigate to More > Contributions > Statements.
Select Print or Email.
Set the date range to your fiscal year, if you are grouping by family, or including children.
Continue by either selecting Print Statements or Continue to Compose Message.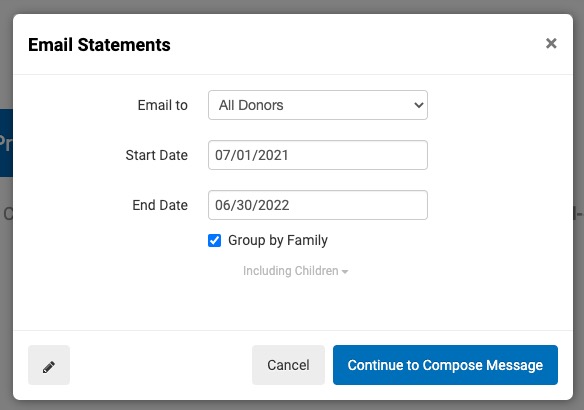 What Can't be Viewed as a Fiscal Year?
Yearly reporting in the Funds tab
The Overviews tab
The Amount > Group by Year filter in Reports
The Year report in the Online Giving Reporting