Crafting engaging emails just became a whole lot easier and more exciting with our new Design Email Editor! Follow our simple step-by-step guide below to bring your email visions to life!
Please note the new email editor is only available in the People Beta.
Getting Started
Video Overview
1. Navigating to the Email Option
Begin by navigating to the People list or any other entry point within Breeze where you can select Members to email.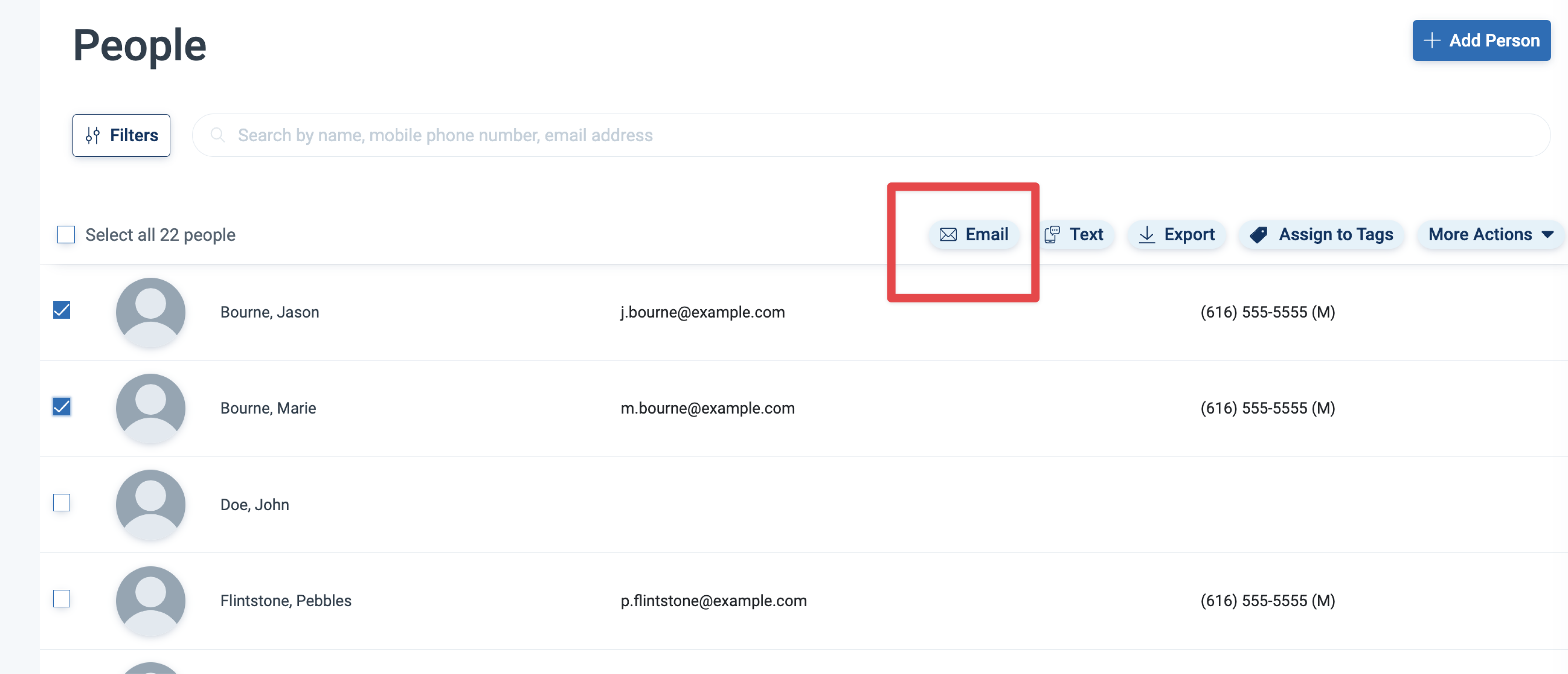 2. Choosing Your Email Experience
Upon selecting members, you'll be provided with an option to choose between:
Basic Email: This is your traditional text-based email format.
Design Email: A rich drag and drop email experience.
Click on "Design" to proceed.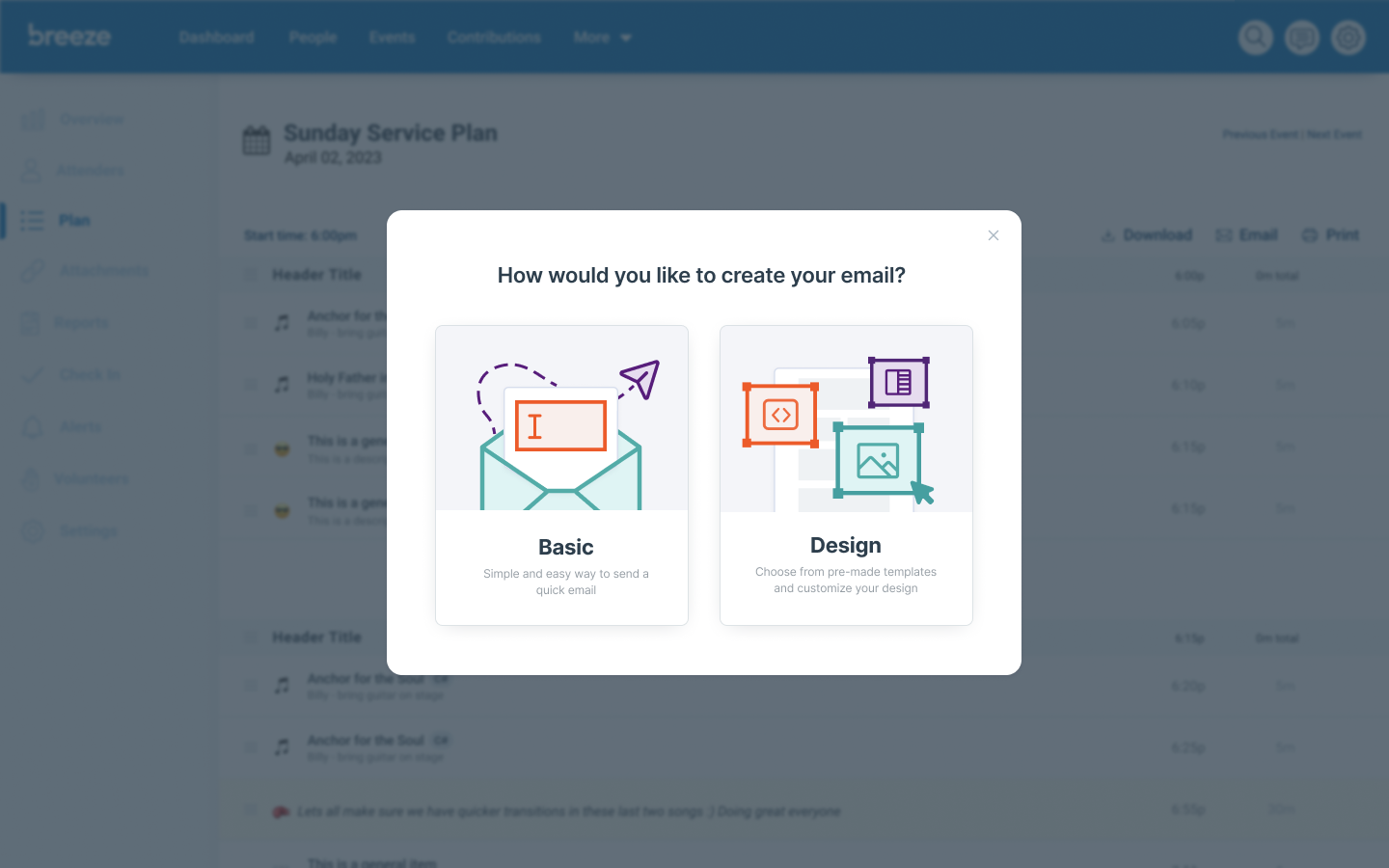 Crafting Your Email
3. Selecting an Email Template
After clicking "Design," you will be presented with a variety of email templates. These include options to:
Start Blank: Begin with a clean slate.
Use a Pre-existing Template: This could be a template you've previously created or one from Breeze's template collection.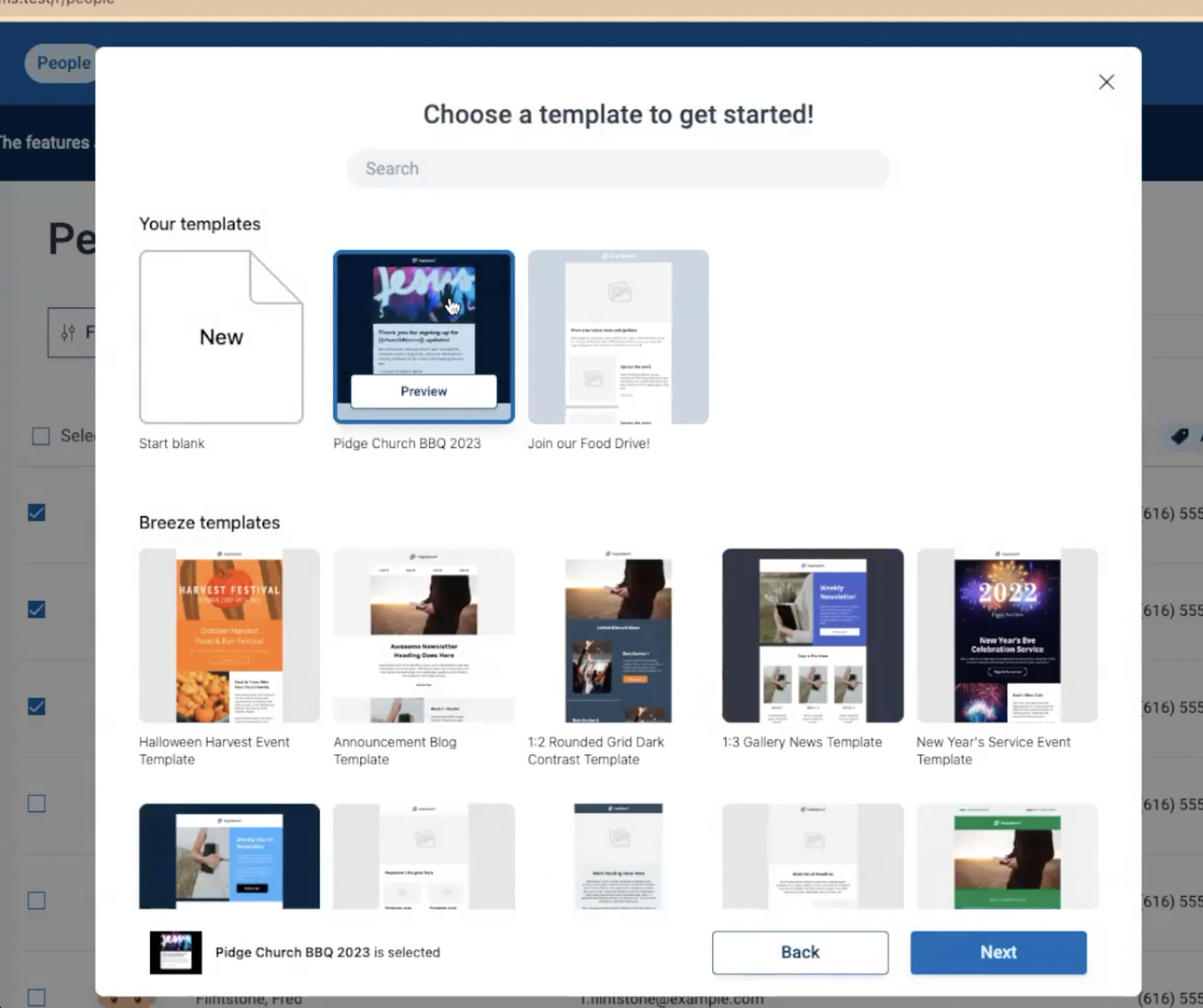 4. Previewing Your Template
Post selection, you can preview your template. Ensure it matches your requirements before proceeding. Once satisfied, hit "Next."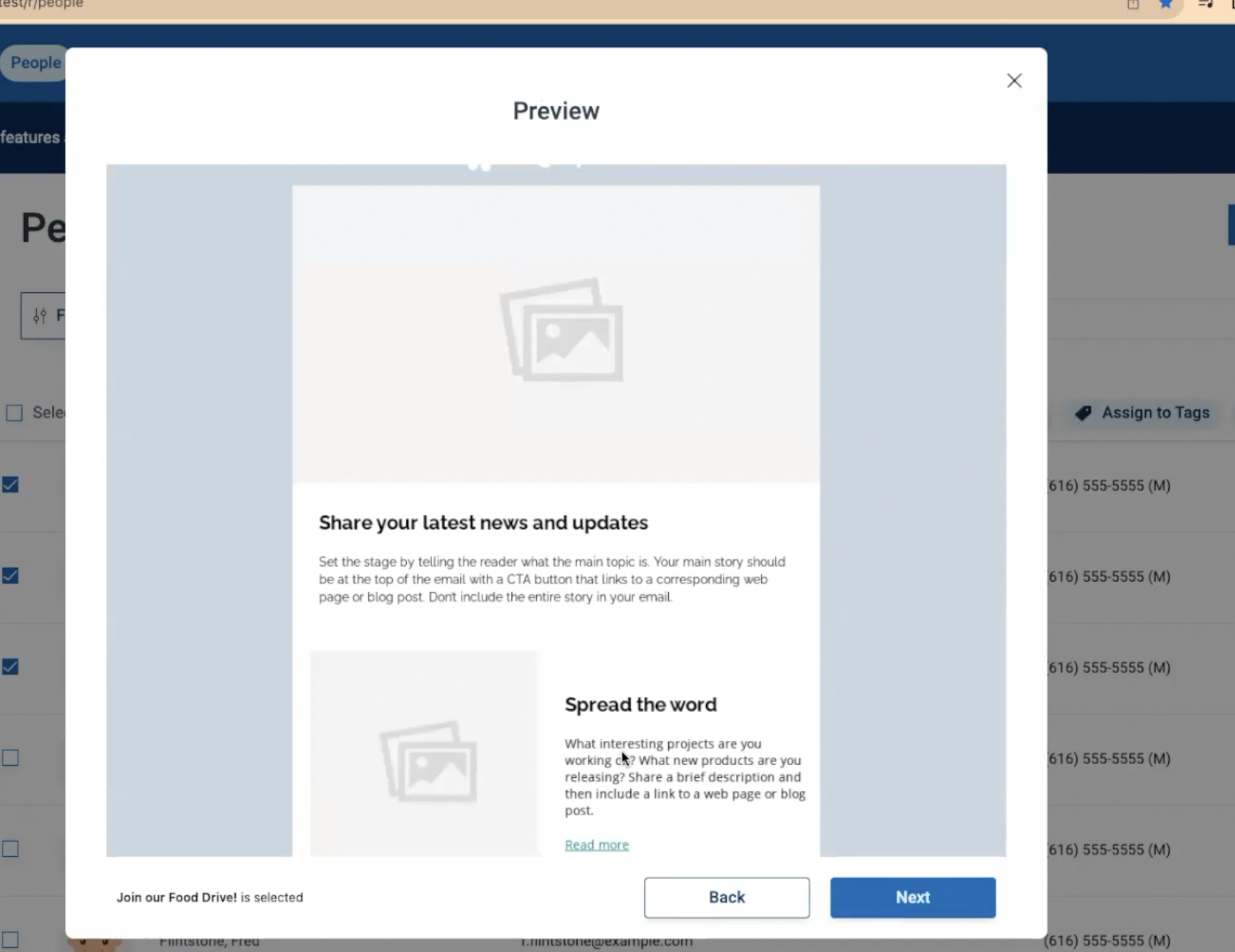 5. Designing Your Email
Within the editor, users have the flexibility to:
Add components like columns, headings, text, images, buttons, etc! 
Drag and drop any component from the right-hand panel directly into the main editor.
Edit and update text, change fonts, adjust alignments, and more to personalize your email.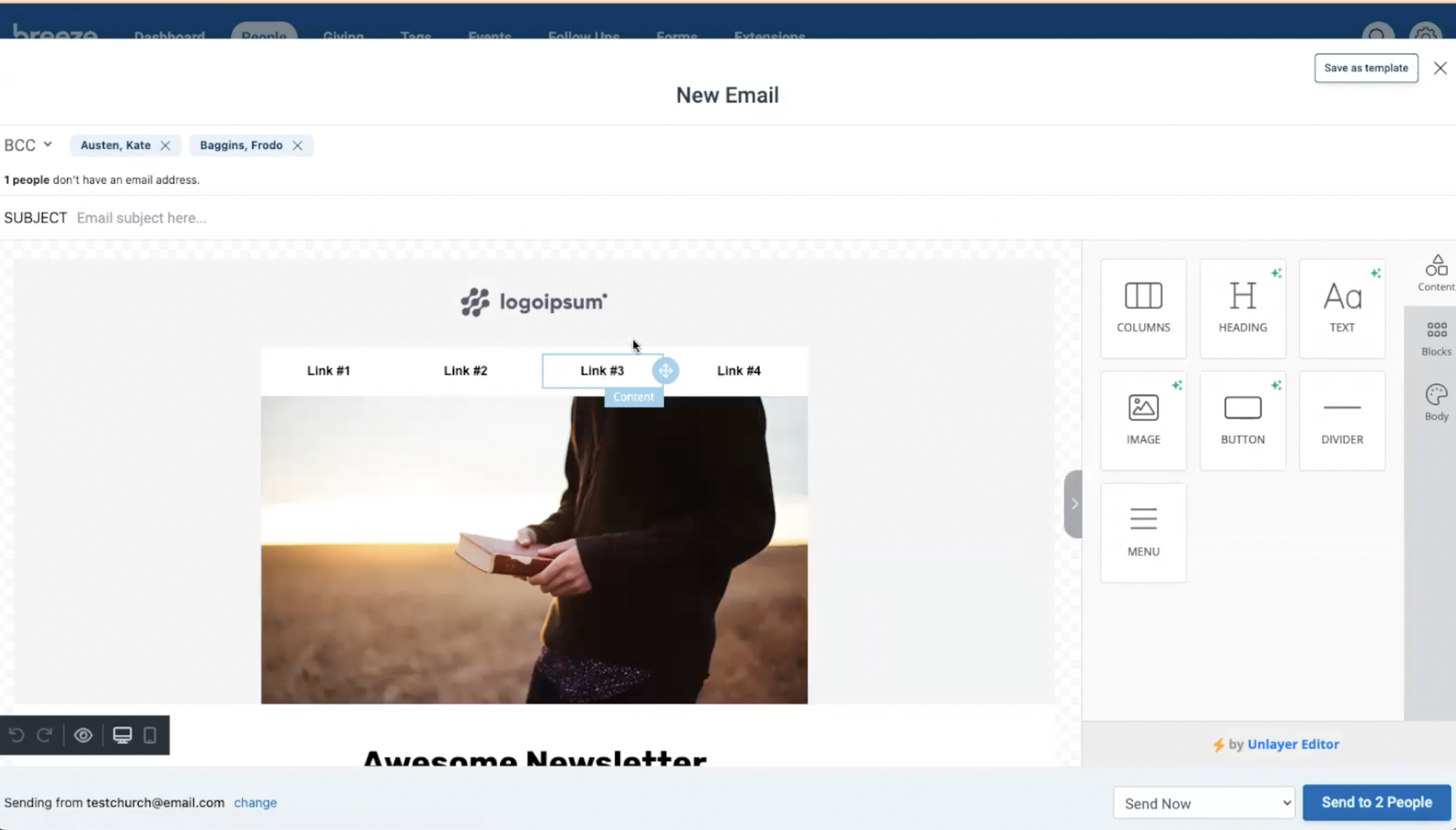 Sending and Saving Your Email
6. Deciding on a Send Time
Once you've perfected your email, you have two options:
Send Now: Dispatch your email immediately.
Schedule: Choose a specific date and time for your email to be sent out. 
7. Saving Your Creation as a Template
If you're proud of the email you've created and foresee using it again, simply click on "Save as Template."

8. Naming Your Template
A modal will pop up auto-filled with the previous template's name. You can opt to keep this name or customize it to something new.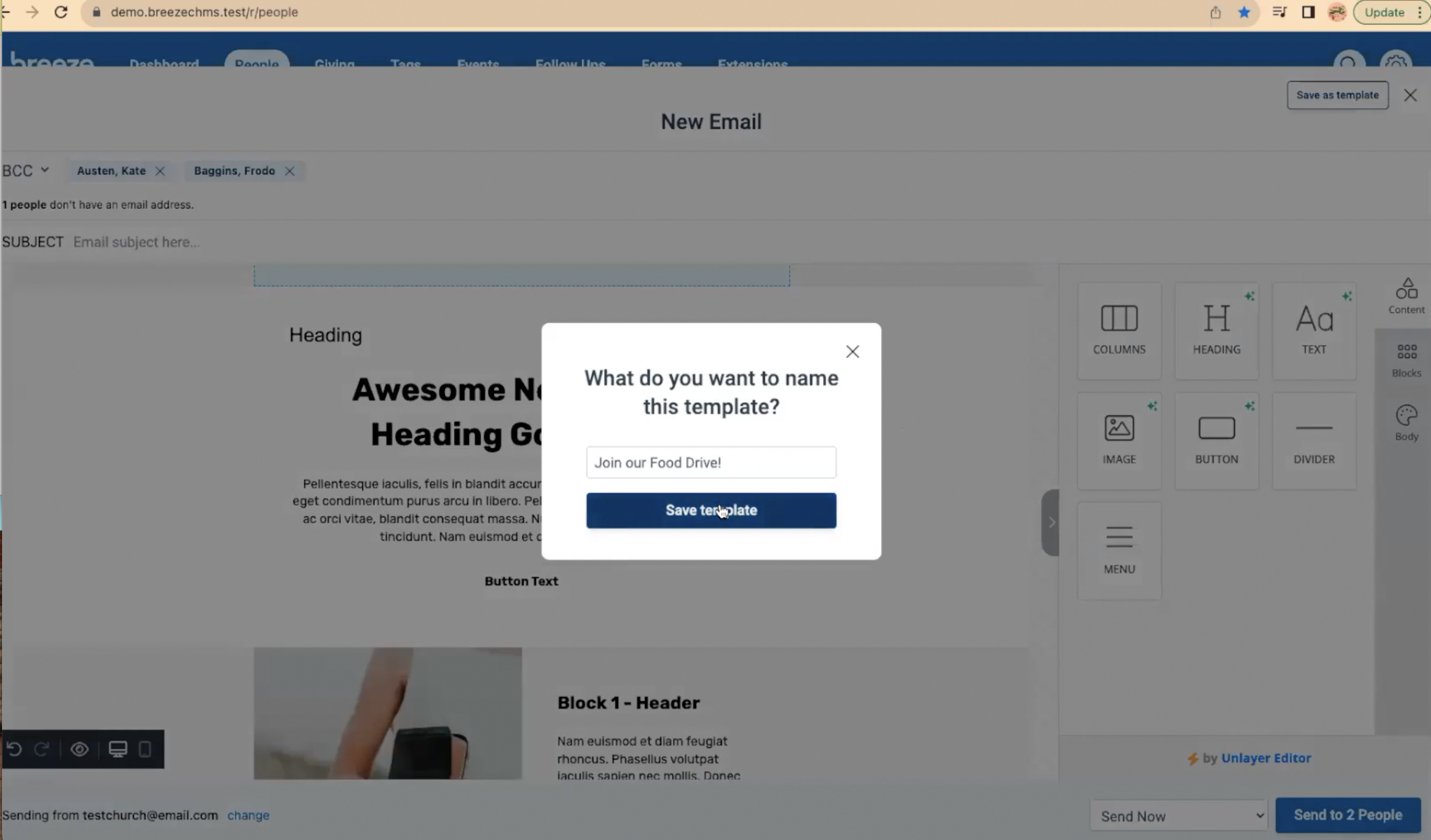 9. Overwriting a Previous Template
Should you decide to save your new template with the name of an existing one, a warning modal will inform you that you're about to replace a current template. This is a safeguard to ensure you don't unintentionally overwrite a template you might need later.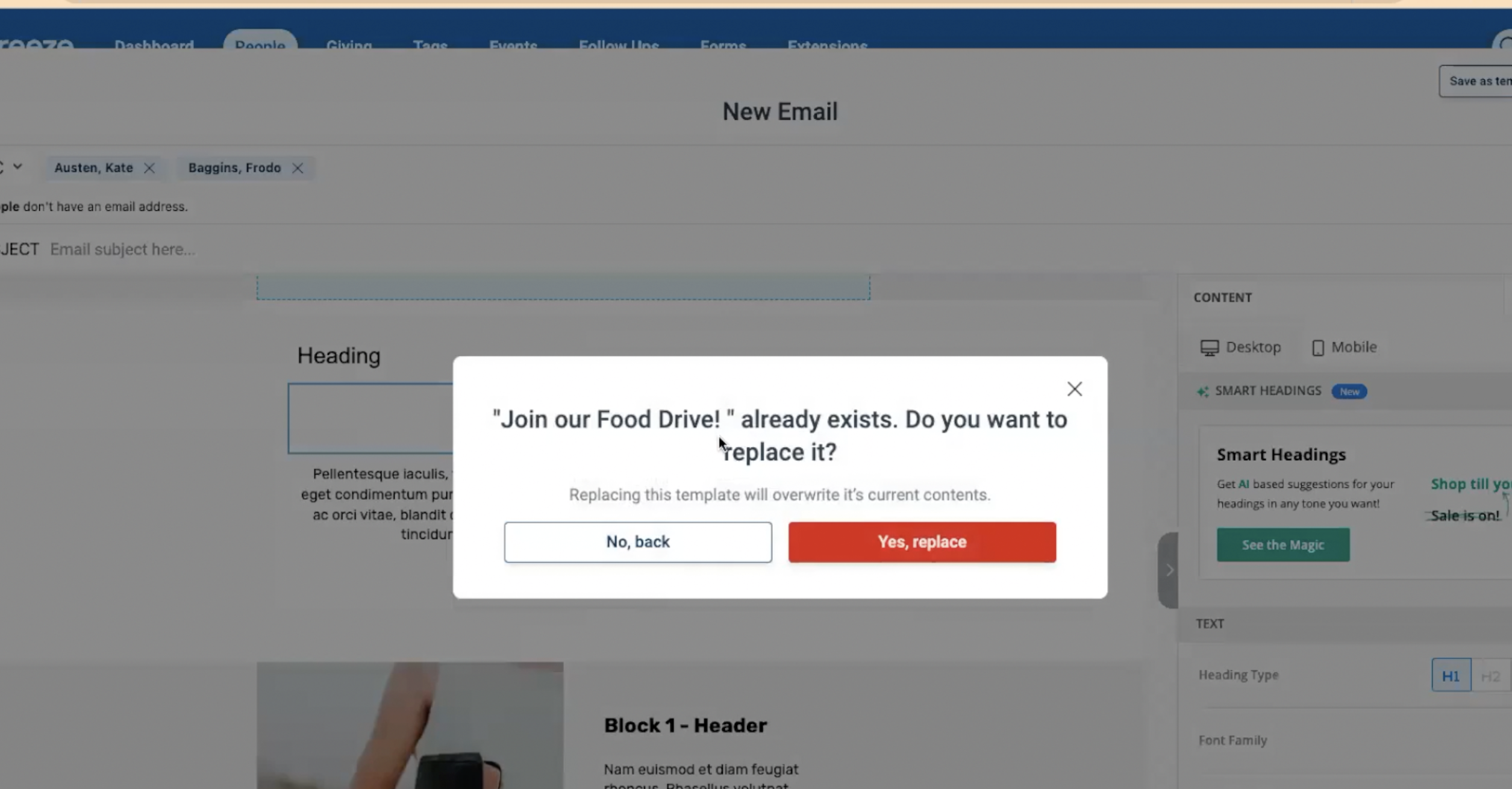 10. Template Saved
Once your template is saved, you'll return to the template selection modal, ready to start another email or continue with other tasks.
Frequently Asked Questions
Can I still use the Basic email experience if I prefer that?
Yes, when you navigate to send an email, you'll have the option to choose between the Basic email experience or the new Design email.
Can I access my old templates?
Yes, you can! While we transition to our improved email experience, your old templates are still accessible. To learn how to retrieve and utilize your previously saved templates, please refer to our article Accessing Your Old Email Templates in Breeze.
Do I have to start with a template every time I design an email?
No, you have the flexibility to start with a blank canvas or use a previously created template. The choice is yours!
What happens if I mistakenly overwrite an existing template?
Before overwriting any template, a warning modal will pop up to confirm if you want to replace the current template. It's a safety net to ensure you don't accidentally lose any important designs.
Is there any image compression when I upload to the email editor?
No, images are not compressed upon uploading. However, you can resize them from within the editor.
Can I preview my email design before sending it out?
Absolutely! Once you select a template, you'll have the opportunity to preview it before you make any edits or send it out.
How do I add components like images, headings, or text to my email?
You can easily drag and drop components from the right-hand side panel into the editor. Customize them as needed to fit your email's purpose.
Can I schedule my emails to be sent out at a later time?
Yes, when you're ready to send, you can choose to send your email immediately or schedule it for a future date and time.
Can I undo or redo actions in the email editor?
Yes! Both the Basic and Design email editors offer undo and redo options.
How can I import a template into the email editor?
Direct template imports aren't available. However, you can copy/paste content and save it as a new template within the editor.
Is there a limit to how many templates I can save in the email editor?
There's no set limit to the number of templates you can save.
Can I preview my emails on different devices?
Yes, the Design email editor lets you preview on various device sizes.
I've created an amazing email design! Can I save it for future use?
Of course! After designing your email, simply click "Save as Template." This way, you can reuse your brilliant design for future emails.
How do I provide a way for recipients to unsubscribe from our newsletters?
Creating an Unsubscribe Form for Breeze Newsletters is the guide for you to create a way for recipients to opt in and out of communication as desired.