Your ministry may wish to change your online giving transfer deposit date to a different day of the week based upon the day you receive the most of your normal giving. The default transfer date is set to Thursday, as this works for many of the churches that use Breeze, ensuring that you receive your funds as quickly as possible after being made available for transfer. By default when you activate Breeze's Online Giving the transfer date is set to Thursday.

Changing the Transfer Date is is a simple process!
How To Change The Transfer Day
Select Giving.
Select Online Giving on the left.
In the top Next Transfer Box (at the top of the screen), it will state "$XXX (amount) will transfer to BANK ACCOUNT (ending in XXXX) on Date (

change

)". Hit the word (

change

).

Adjust the Transfer Weekly on day using the dropdown.

Click Save.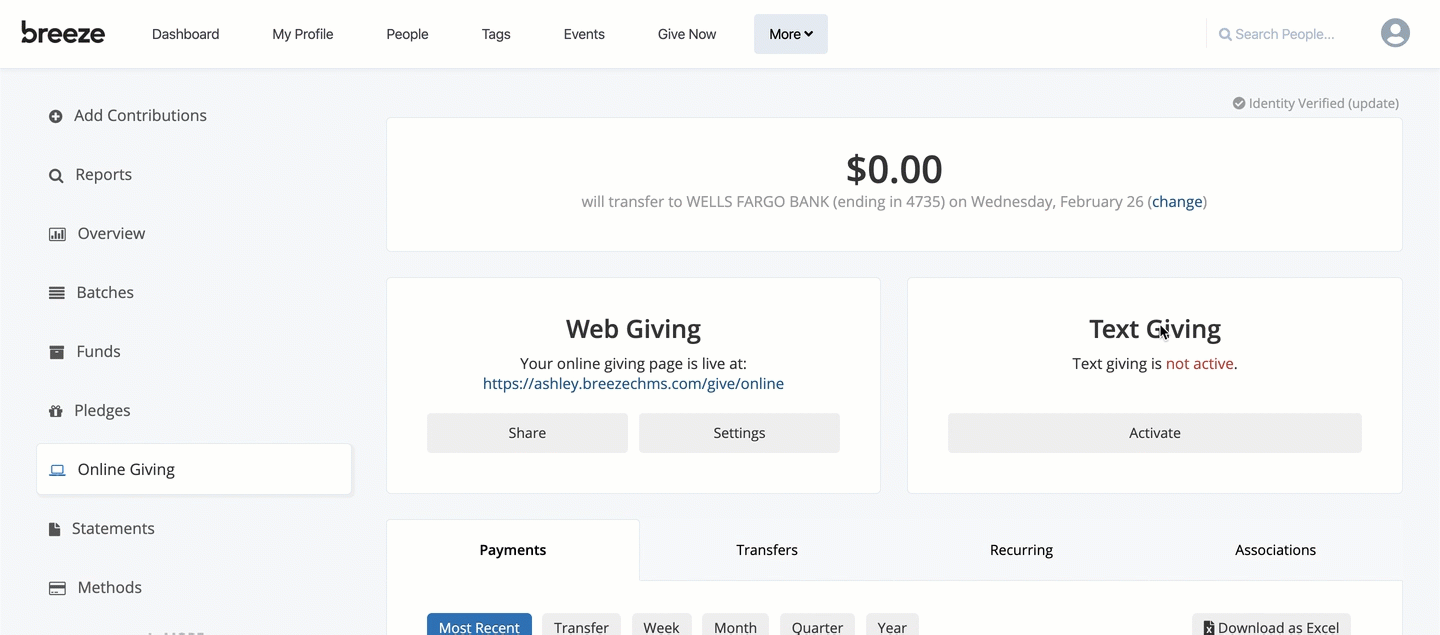 Additional Information
When changing the Transfer Day, ensure that there is a minimum of 48 hours prior to the day you are changing the transfers to, so that our processor can ensure that there won't be a delay on your pending transfers. (e.g. If I want my Transfer Day to be Thursday, I will have to make that change no later than Tuesday of that same week.)
If you change your transfer date, and the transfer gets pushed out another week into the future it means that funds are still processing and will not be available till that future date.
You should get a warning if you select a day within 48 hours of the current day, letting you know that this may cause transfer to be delayed until the next week.