Enable and Set Up Transfers
When transferring donations from where they collect in Breeze to your church/organization's bank account, you can have the money transfer either automatically on a routine schedule (highly recommended) or manually. To set up transfers to your bank account:
Navigate to "More" > "Contributions" > "Online Giving."
Click "Enable online giving."1

Provide the necessary information requested step by step on the screen.
1When you click "enable transfers" you will be prompted through steps to verify your identity. This is done for your protection to make sure that there is no fraudulent use of Breeze's Online Giving tool. Simply follow the directions that appear on the screen.
When setting up transfers, you'll have the option for the available (cleared) money to automatically be deposited into your account on a specific day each week (automatic transfers) or for you to manually push the deposit over whenever you'd like (manual transfers).
Automatic Transfers
Manual Transfers

Automatic transfers (our recommended approach) allow you to have a batch of donations automatically deposited into your church's bank account once per week. Using this method you can easily reconcile a transfer to the individual payments that make up that transfer.

Manual transfers allow you to have donations you've collected deposited into your bank account at the time of your choosing1. Using manual transfers, you have the ability to specify how much you want placed into which bank account.

Because you can select the amount of your choosing to transfer, this prevents you from seeing a specific list of payments that make up a given transfer, making reconciliation potentially more challenging.

For instance:

Church receives donation of $100
Church receives donation of $200
Church transfers $150 to their bank account

We have no way of mapping that $150 to any specific gift and so the church is not able to see what donations a given transfer consists of. Automatic transfers, in contrast, would bring over $300 and retain the link between the transfer and the donations it consists of. For this reason, we recommend Automatic Transfers for most churches.
1If an amount has not been deposited within 90 days of receiving it, it will be automatically deposited.
Viewing Previous/Upcoming Transfers
To view transfers that have already taken place or are scheduled in the future:
Navigate to "More" > "Contributions" > "Online Giving."
Towards the bottom of the screen click on the "Transfers" tab.

The Transfers tab allows you to report on transfers to your bank account.

When viewing the Most Recent Transfers, the upcoming Scheduled Transfers will be at the top of the list. Previous transfers will show below.

You can Filter Transfers further. By default, the report pulls in the Most Recent transfers, but you can also report transfers over a period of time (Week, Month, Quarter, Year) by using the filters at the top.

Use the filtering drop-down bar that corresponds with the filter you selected to more narrowly filter your options.
Use the clickable Report Columns for more advanced filtering within your results
To see individual payment details of a transfer click the "View Payments" link in the Details Column of the transfer you would like to view the details on.
Each Transfers report type has a Total Overview section that breaks out the Gross, Fees, and Net Totals for the Transfer Filters you selected, that have been successfully transferred to your bank account on file.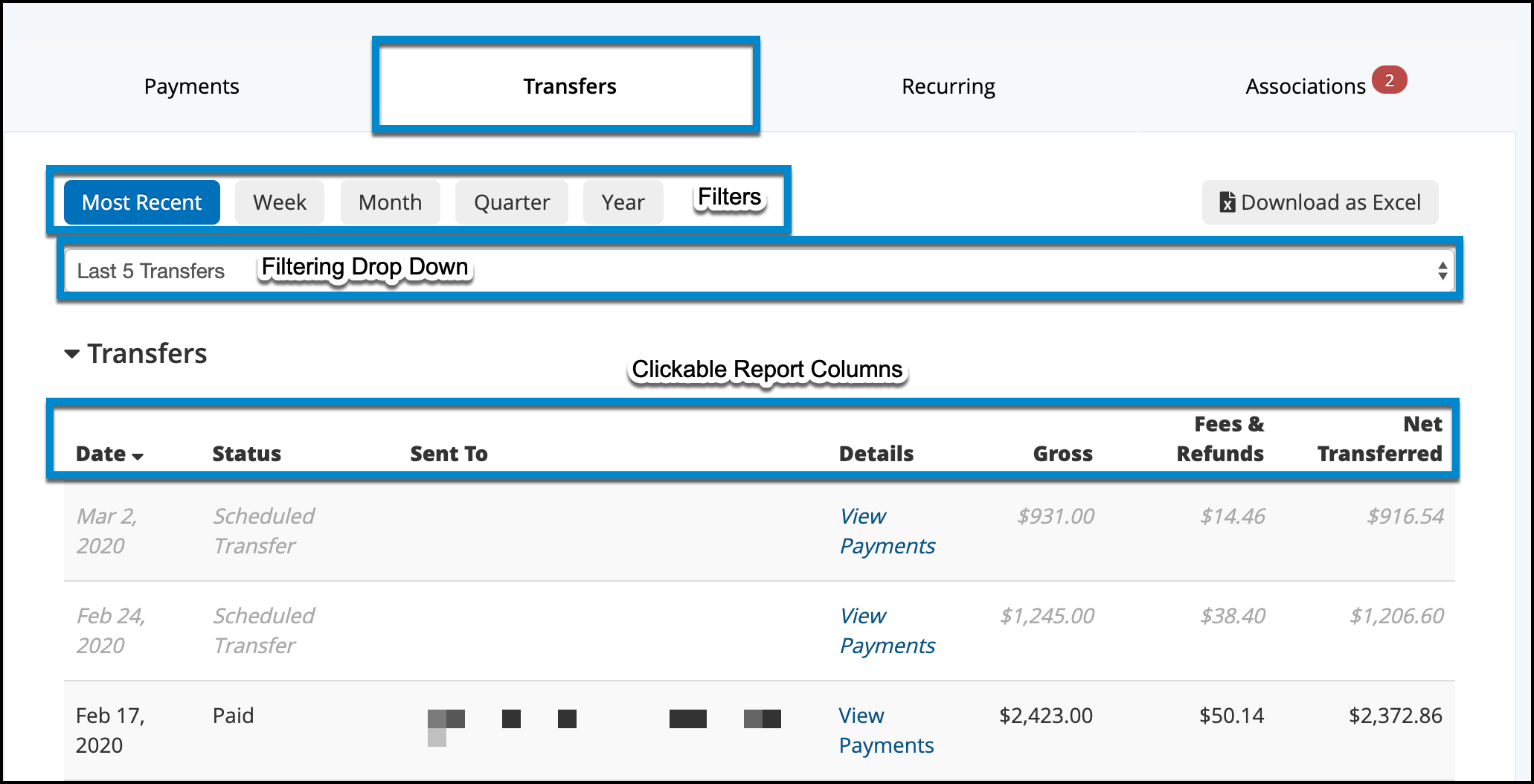 Processing Time
Each donation/payment takes time to process and clear before being available to transfer to your bank account. The processing time depends on both the type of gift (credit card, debit card, or bank transfer) as well as weekends and holidays. If the donations that your church received come in on a Holiday or Weekend, then the processing of that donation will not start until the next business day. This could cause a delay in the transfer to your bank account, depending on the day of the week that you have your transfers scheduled for. Below is a table to show how long it takes for a gift to be available to transfer to your bank account. For additional information, view our transfer timing examples.
| | |
| --- | --- |
| Payment Type | Time |
| Credit Card & Debit Card Gifts | 2 Business Days |
| ACH Bank Account Gifts | 6 to 7 Business Days |
Transfer Timing
When transferring money from Breeze to your bank account, the funds should show up in your account the day you have selected for transfer. (Some banks may take up to 24 hours to receive and post-money to your account). Note: If the Transfer occurs on a Holiday, then the Transfer will be pushed to the following day.
We typically recommend a Transfer Deposit Day of Wednesday or Thursday, as this works for many of the churches who use Breeze, ensuring that you receive your funds as quickly as possible after being made available for transfer.
Manual transfer timing note: The transfer request has to be initiated before Midnight UTC for it to occur the next day. Otherwise, it will be the next business day.
Timing Examples
Here are some specific examples of how the timing would work for different dates and different payment methods. All examples assume the church has its transfer date set to Thursday.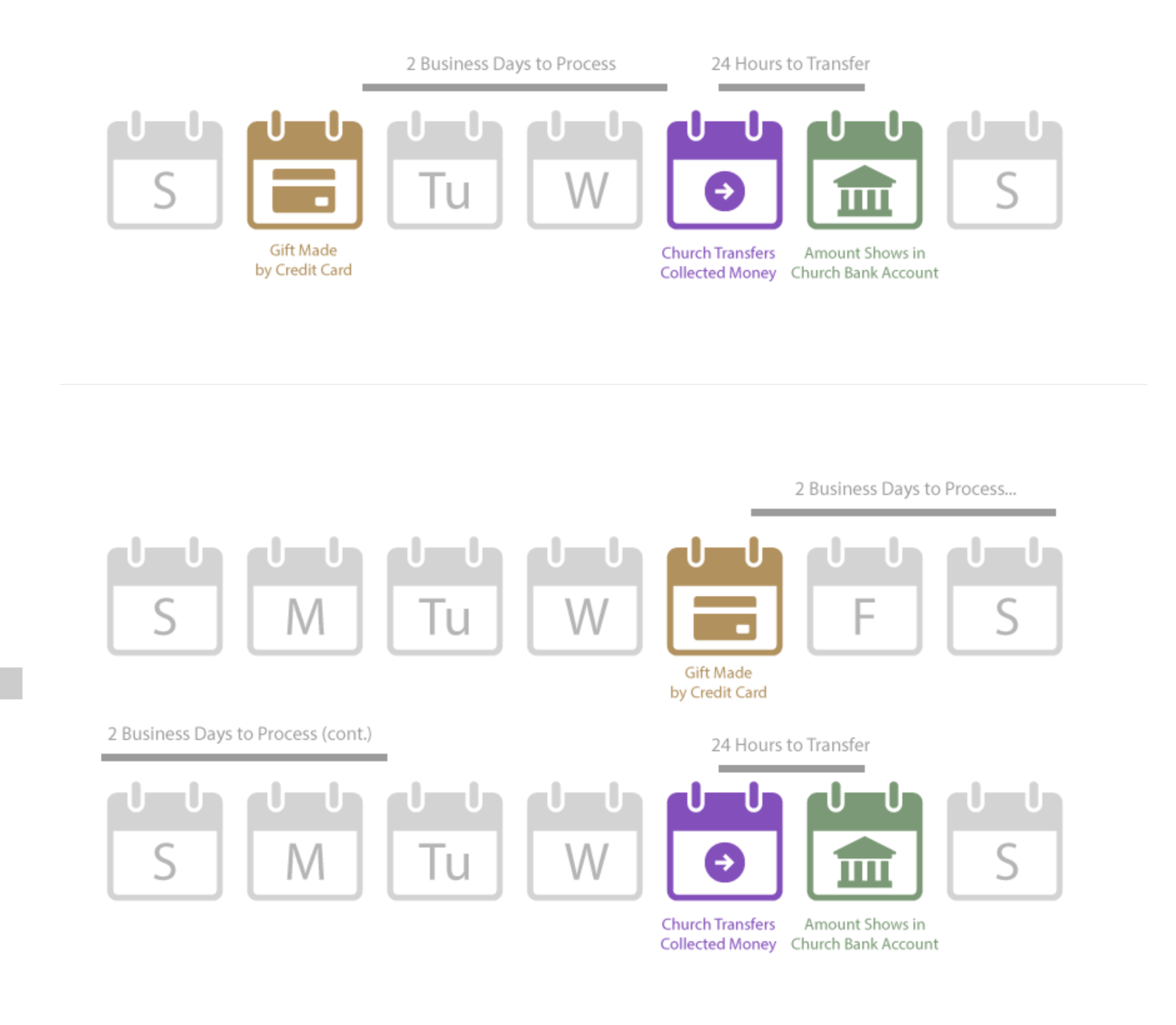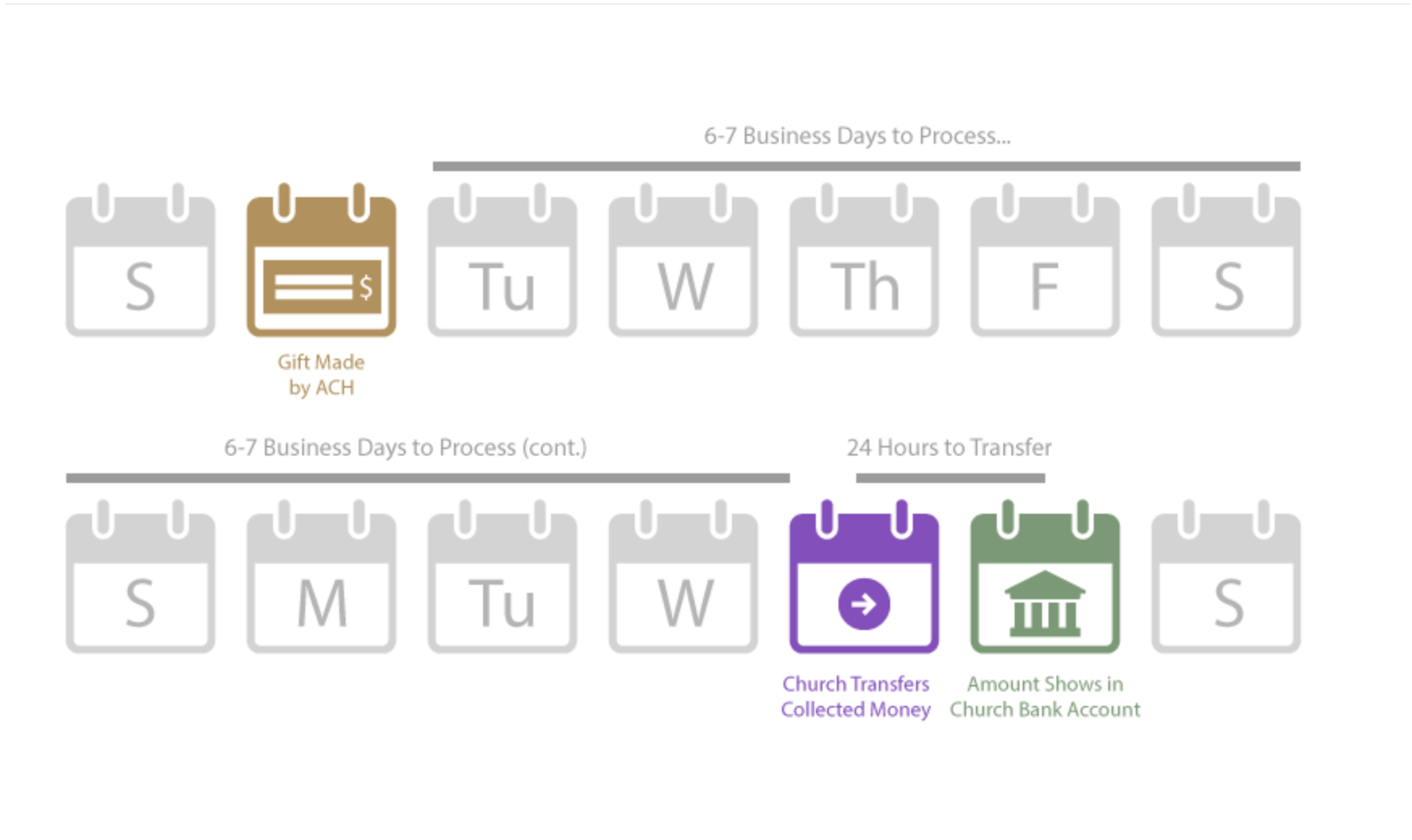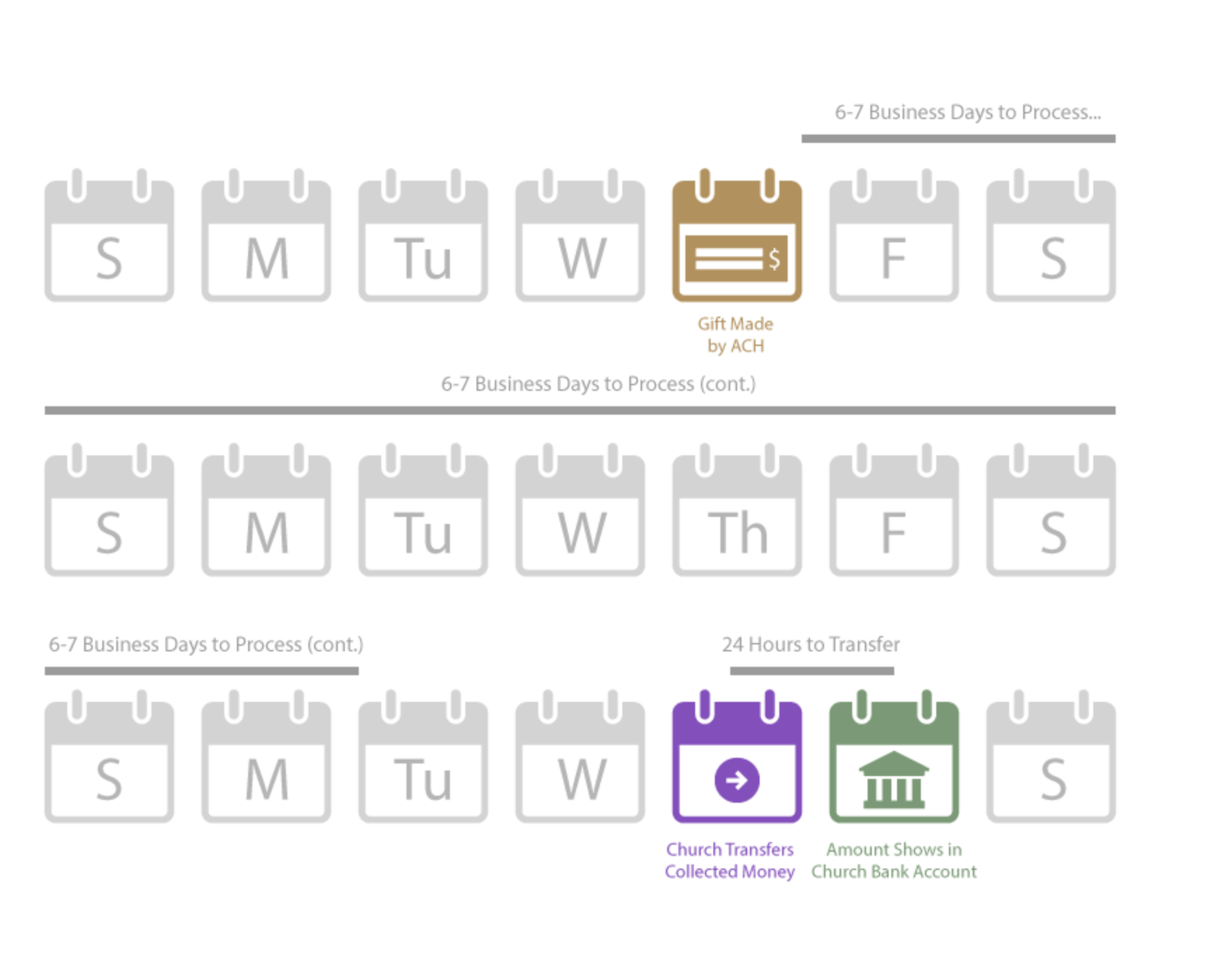 Additional Information:
When changing the date of automatic transfers, you will need to allow for at least 48 hours before the transfer can take place. 1
Breeze is designed to work with one bank account and is what we recommend as best practice.
1When changing the date of automatic transfers, you will need to allow for at least 48 hours before the transfer can take place. i.e. if it's Tuesday and you want to change your Thursday transfer to Wednesday, there is not enough time for the transfer to happen. You will get a warning in the account if there is not enough time between today and the transfer day you are selecting.
Bank holidays will only affect churches whose transfer date is set for that day. For example, if the bank holiday is on a Monday and the transfer day is set for Monday, then the church will see a delay in transfers of one business day. If viewing transfers on the bank holiday, their Breeze account will not show a transfer for this week, but they'll see that change the following business day.