Breeze allows people to donate to your church and automatically records their giving. Donors do not need to have a Breeze account to give to your church.
Setting up Online Giving
Navigate to Giving > Online Giving.
Click Enable Online Giving.

The next step in getting your online giving page setup is to provide us with the bank account information for which you'd like to receive transfers. To do this, you can follow these steps:

Click "Provide Bank Account Information" on the red banner
Enter your Routing Number and Account Number for your Church Checking Account
Click "Add Account".

After adding your bank account, you'll need to submit verification of your identity. This information is entered into and stored securely by our payment processor, Stripe. To provide this information follow these steps:

Click "Proceed to Provide Information" via the pop-up.
Follow the instructions to answer a few questions about your church, and provide information on an account representative.

After that, you'll be all set up to begin using Online Giving and Text Giving with Breeze!
You can Customize Your Online Giving Page, set up Giving by Text and then share your online giving page with donors across multiple platforms! If you were previously using a system for Online Giving before Breeze this article on Switching Online Giving Providers has helpful tips on how to make this transition smooth!
Note, you will not be able to receive payments until you have verified your identity. It is recommended to not use Internet Explorer here, as a lot of churches are not able to input bank information with that browser.
Additional Information on Verification
---
I am being redirected to an outside page, is this correct?
Yes. When you click to provide your information, you will be redirected to a new tab to update/provide/verify your information. You should land on a page that looks similar to this: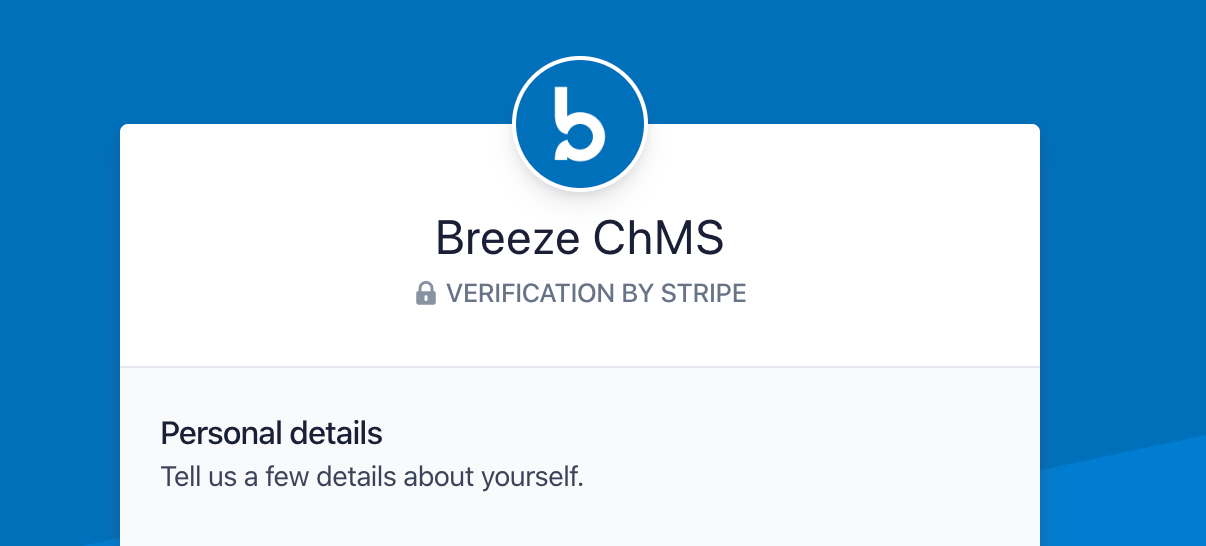 ---
Why am I being asked for information about who owns and manages my company?
In certain countries, we are required to collect, verify, and maintain information about a company's owners or directors. These requirements come from government regulators and help promote transparency and prevent financial crimes.
---
What if I need to change the information I've submitted?
If your identity has already been verified you will see a "Identify Verified" notification at the top right of your Online Giving section. If you either need to update the information that was submitted or change the account representative on file, you can do so by clicking "update".

How do I change the account representative listed on file?
We realize there may be instances where you will need to change the account representative on file. Note that if you proceed with doing this, you will need to be prepared to provide all requested information within 7 Business days of removing the current representative. Otherwise, your transfers will stop.


When in the verification summary, under the Management and Ownership section click the pencil to edit.
Scroll down towards the bottom of the Edit individual section and click the X Remove as account Representative. In the Are you sure? box, Confirm you would like to do this by clicking Remove as Representative
In the bottom of the Edit individual section now click the Remove Person... button. Confirm you would like to do this by selecting Remove in the pop up.
You will be redirected to the Verification Summary page and you will now see under Management and Ownership a red box stating "Account representative needed" click the + Add to add a new account representative. (You must add an account representative within 7 days, and the individual be verified in order to continue receiving transfers to your bank account)
Add the Legal Name and email for the individual you are adding and click Add. This should return you to the verification summary page.
On the verification summary page you may see a red box that says missing required information, if so click Update. (You must add an account representative within 7 days, and the individual be verified in order to continue receiving transfers to your bank account)
Provide all of the additional requested information for the account representative you just added. and then click Submit.
Once you see Verified on the Verification Summary page you can click Submit to be returned back to Breeze.

---
The verification process seems to be taking a long time - is this normal?
You may notice that it could take some time for the verification process to be completed all the way. Normally, this only takes 24-48 hours, but depending on the review process, you may be asked to re-enter your details - if it's not able to be verified. See below for two reasons why it could be taking a bit longer.
---
Why is it asking me for the same information I've already provided - didn't it verify it already?
We are noticing that sometimes the EIN isn't staying verified even after it looks like it's been accepted. If this is happening, you will want to ensure that the Legal Business Name (or entity name) matches exactly what you have on your SS-4 or 147C forms. The verification process looks to match up the EIN with the Legal Business Name (or entity name) with the IRS records - if they don't match, it doesn't verify properly - and you'll be asked to enter the information again. When you enter the information, make sure that you include everything that comes before the "Street Address" and enter it in all caps, to match the IRS records.
If you need a copy of your Letter 147C, you can do so by calling the IRS Business & Specialty Tax Line toll free at 1-800-829-4933.
---
Will a new EIN prevent me from being verified?
If you just filed as a new non-profit, or have requested your EIN number to be changed, you may notice that your EIN isn't being verified. Don't worry - we can help! Just email us a copy of your SS-4 or 147C forms, and we can ensure that it gets to the right people who can help get that squared away!
To set up transfers to your bank account:
Navigate to Giving > Online Giving.
Click Enable online giving in the center of the page.1
Provide the necessary information requested step by step on the screen.
1When you click "enable transfers" you will be prompted through steps to verify your identity. This is done for your protection to make sure that there is no fraudulent use of Breeze's Online Giving tool. Simply follow the directions that appear on the screen.