If you'd prefer to use an alternate payment platform (i.e. not the built-in Breeze payments system), Breeze allows churches to receive money through third-party payment providers and have those donations show up within Breeze. We have two types of integration:
Automated Integration
Automated integration means that the donations show up automatically within Breeze when the donor gives a gift. Some payment processors must be used with Breeze's Third-Party giving page. Third-parties that have automated integration are:
Third parties with this symbol, in addition to being used for online giving, can also be integrated with
Forms
to accept registration payments.
1
May not send an ACH contribution to Breeze until it clears the bank which can be up to 8 days.
2
Contributions must be given through the Breeze generated third-party giving page to show up in Breeze. If given through the processor's terminal, they will not show up in Breeze.
3
Breeze's third-party giving page is not European SCA compliant when used with Stripe or Authorize.net and should not be used by European organizations or organizations with payments originating in the EU. Paypal + Breeze Third-Party Giving Page is SCA-Compliant.
Note: PayPal Instructions. It is necessary for it to be a US based, business account. You must also insert link into the PayPal Instant Payment Notification page https://subdomain.breezechms.com/payments/ipn
Things to Know:
When you integrate from a Third Party donation system, we simply receive information from what they push over. In an effort to ensure that you receive the best support possible, if you notice any issues with your manual integration file, please reach out to them directly. They will be well equipped to assist you in this area.


Manual Integration
Manual integration means that the church can export a file from the third party donation system and import that file into Breeze (view specific steps). This can be done however often the church desires (e.g. daily, weekly, monthly, quarterly, etc). Third parties that have manual integration are:
Don't see your provider on the list?
Send us an email!
In most cases, we're able to add them in.
Setting Up a Third Party Automated Integration
Only Breeze generated third party giving pages need to be set up this way, not all third party Automated Integrations are set up this way. If using a third party integration that is a manual integration, you will use the Import Giving Tool: Import Giving
Navigate to "More" > "Contributions" > "Online Giving."
Scroll to the bottom of the Online Giving page and click "Prefer to use a third party online giving option? Switch to our third party giving page" link.
Choose your third party giving method you are wanting to enable and hit "select provider". Follow the directions for the automated processor, you're looking to integrate.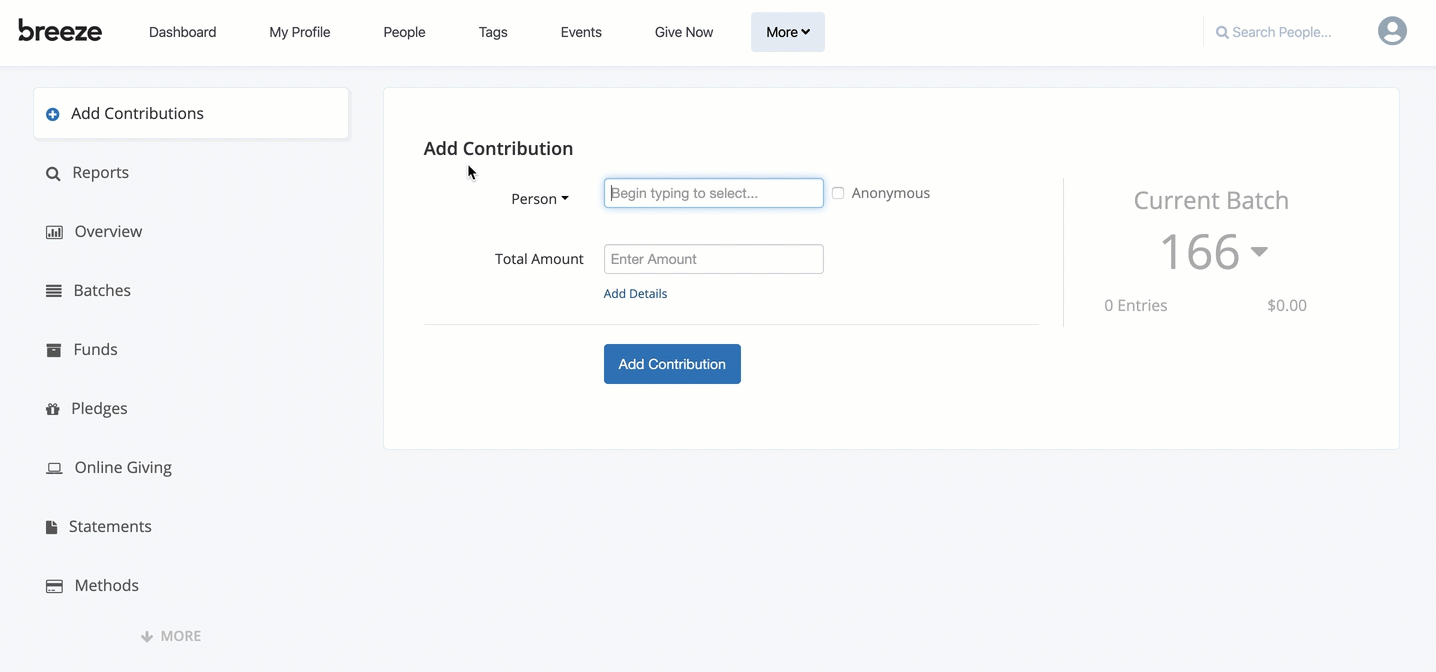 You can only connect one Stripe account or Paypal third party account to Breeze at this time. You can use Breeze's Online Giving and a third party page together.
Keep in Mind: Each Third Party Integration is slightly different in how they post or record gifts in Breeze. To find a report/gifts that were given through a third party giving platform, you can look in several places. One option is to Navigate to More > Contributions > Batches. This section will usually show the name of the third party platform posted in the name field of the batch. You can also search by date and include the Notes column or Method column to see the giving platforms name in this section. If you are having trouble locating your third party report or gifts please contact our support team.