Overview
Breeze Integrated Online Giving allows you to accept credit card, debit card, and ACH bank transfer donations from anyone over the web or by text. Simply turn on online giving and we'll create a giving page for you and you can link to it from your website, embed it within your site, send it to others by email, or share it on social media.
Donations that come in through Breeze online and text giving automatically show up within your contributions section and we attempt to match the donation with the donor. Having everything in one system makes reconciliation easy too, allowing you the ability to see exactly what donations make up a given bank deposit.
Read our setup section to get started.
Our integrated online option is currently only available for churches in the United States & Canada. For online giving options for other countries, please see our
third party integrations
.
Online Giving FAQ's
Here are some common questions we get regarding Online Giving:
1. Do we have to pay extra for Online Giving?
We love simple pricing and so there are no additional monthly fee for using online giving; rather you simply pay transaction fees (a small percentage of each donation) listed here.
For a quick reference, the Online Giving fees are 2.9% + $0.30/transaction for Credit/Debit Card payments or 1% + $0.25/transaction for ACH payments. Additional details are listed in the link above.
All New "Donor Covered Fees" Beta:
If you would like to allow your donors to cover processing fees for web giving, you can now enable this feature within the settings of your Breeze Giving page. This new feature not only introduces the idea of processing fees to your donor, but also allows them to take action and help offset this cost for the church. For more information check out Understanding Donor-Covered Fees (Beta)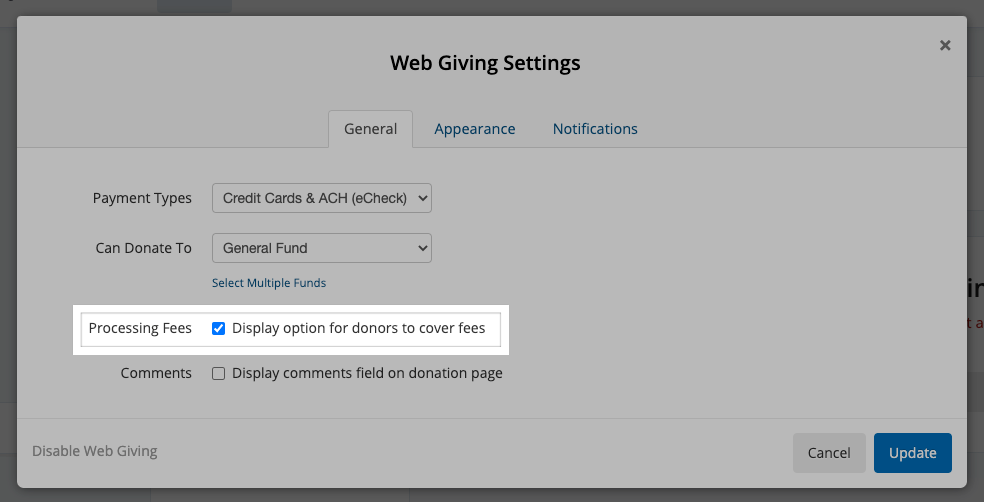 2. What methods can our donors use to give?
There are two ways to give: Give by Website and Text to Give
(Giving through our free Breeze app also routes to the "Give by Website" option as well!)
Based on the unique settings you select, Donors can give by Credit/Debit Card and/or ACH Bank Transfer(Available only in the US).
3. We don't want to allow people to donate to every fund in our system, can we pick and choose which funds are available via Online Giving?
Yes! When you click the "Settings" button in the "Web Giving Box" in the center-left of the Online Giving Page, you'll see where you can check the boxes of funds you would like to make available for where people can donate to. Additionally, you can change the default fund to the fund of your choice as well. For more information visit: Customizing Your Online Giving Page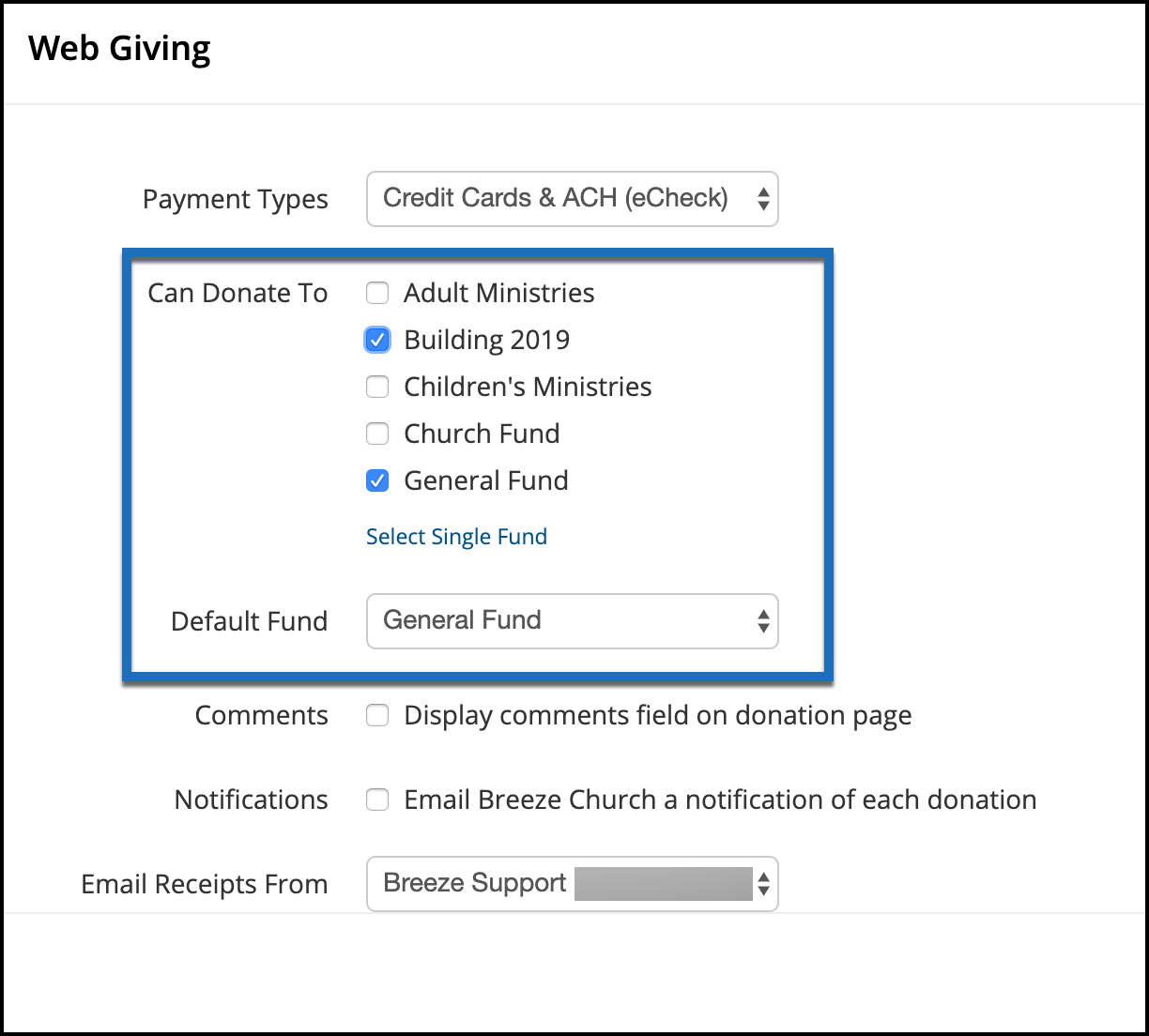 4. When will the donations reach my church's bank account?
Once a payment has reached Breeze's Online Giving, then automatic transfers occur once per week on a day of your choosing. Donations can take 2 business days to clear and reach Breeze's Online Giving for Credit/Debit Payments and 6 to 7 business days for ACH Payments to clear. For additional assistance with timing, please view our article on Transferring Online Giving to the Church.
5. Why do I have to provide the last four of my SSN or SIN?
It's a federal requirement to verify the identity of a person on the account. For additional information, please visit Stripe's Security FAQ page here.
6. How do we change a recurring gift?
View this article to learn how to view and modify recurring contributions: View and Modify Recurring Donations
7. How can I see a breakdown of Online Giving, including Gross, Fees, and Net amounts?
From the Online Giving page, click the "Transfers" tab in the bottom of the screen. From there you'll be able to filter and see a breakdown of each transfer, the overall Gross, Fees, and Net amounts. Then click on any of the descriptions to see a further breakdown of each transfer. To see more, visit Reconciling Online Giving
8. If an Online Gift doesn't go through, will it retry?
CREDIT/DEBIT
Through our payment processor, we use Smart Retries to process card gifts. Smart Retries is a tool that calculates when a card is most likely to successfully process instead of retrying it on a set schedule. Using Smart Retries, a card will be charged up to 4 times in a 28 day period, after which it will be canceled.
ACH
If the first attempt fails, then your church is charged a $1 "returned check fee" and the recurring gift is cancelled. An attempt will not be made again.
The giver and the primary user will both receive notification emails each time the payment retries/fails.
9.
If I already have a Stripe account, can I connect it through Breeze's Online Giving?
While you cannot connect directly from your Stripe Account to the Breeze Online Giving section, you can connect your Stripe account to our Third-Party Online Giving page in Breeze! This will record the information of the gift in Breeze, but all deposit information, handling refunds, and reconciliation would be found in your personal Stripe dashboard.
For more information on this topic, be sure to check out the following Help Center articles:
Online Giving Options Outside of Breeze
10. What credit cards are accepted?
Breeze Online Giving accepts all major Credit Cards (Visa, MC, Discover, AMEX) in the United States.
11. Can donors select to cover the processing fee at time of their donation?
While we do not have an exact time this feature will be available to our churches, this functionality is coming soon! Subscribe to the Breeze Update Blog to hear when this feature is released!
12.
Is there a maximum amount that can be donated online?
Breeze does not have a maximum donation limit, however your personal bank may have a cap.