Looking for year-end online giving reconciliation? See End-of-Year (or fiscal year) Online Giving Accounting Reconciliation
Overview: Breeze's Contributions Section is a Donor-Management Tool with an Online Giving Processing Platform built in. This article shows the best method to reconcile Breeze Online Giving with an Accounting System (like Quickbooks or Aplos). For a full explanation on why we don't recommend using the Batches section for reconciliation, or for more information about how Breeze and an Accounting System should interact, see: Transfer History Report vs. Batch Report and Using an Accounting System/General Ledger with Breeze.
Getting a Reconciliation Report for Online Giving
With Breeze managing your online giving, it is very easy to view the donations that make up a given deposit into your bank account.1 Breeze will show you specific details relating to each transfer such as gross amounts, transaction fees, and net amounts. To view this:
Click on "More"
Select "Contributions"
Choose "Online Giving" from the menu on the left
Click the green button in the top right corner, "Transfer History."
Find the transfer you'd like details for and click on the number of payments in that transfer to bring up the transfer's details
1You're only able to see what payments make up a given transfer if you're using automatic transfers, not manual transfers. Transfers will not necessarily align with batches as different payments may take different amounts of time to become available for transfer. Searching by "Transfer History" then becomes a better tool for reconciliation than batches.

When you click "Transfer History" a module will pop up with an overview of your transfer history.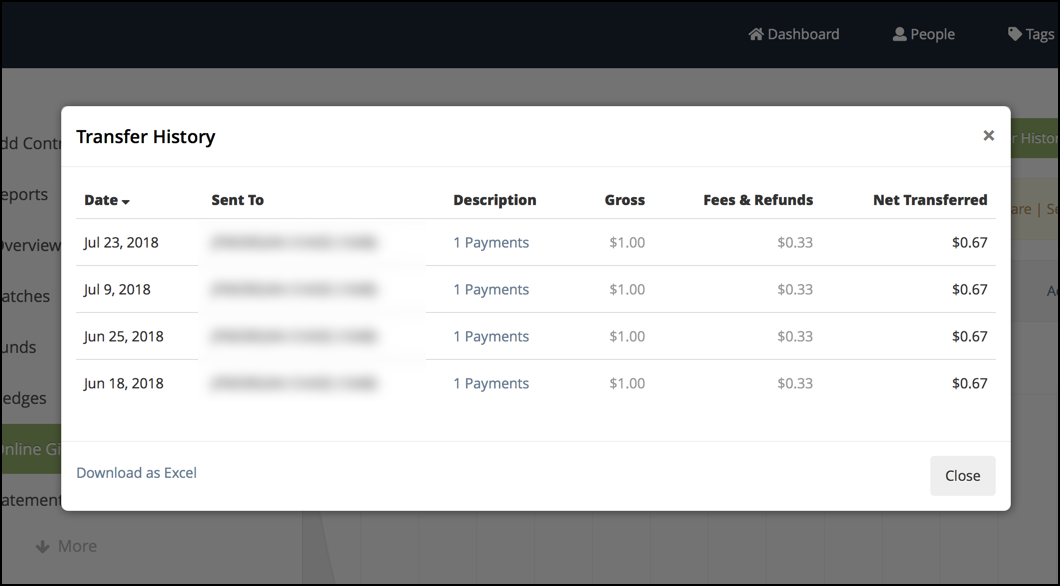 Clicking on any of the "__ Payments" link will open a new view of a breakdown of every transaction that went into that specific transfer. The number of charges, refunds that were given, fees taken out, and net totals. You'll also see a breakdown of what funds were contributed to in Gross, Fees, and Net Totals.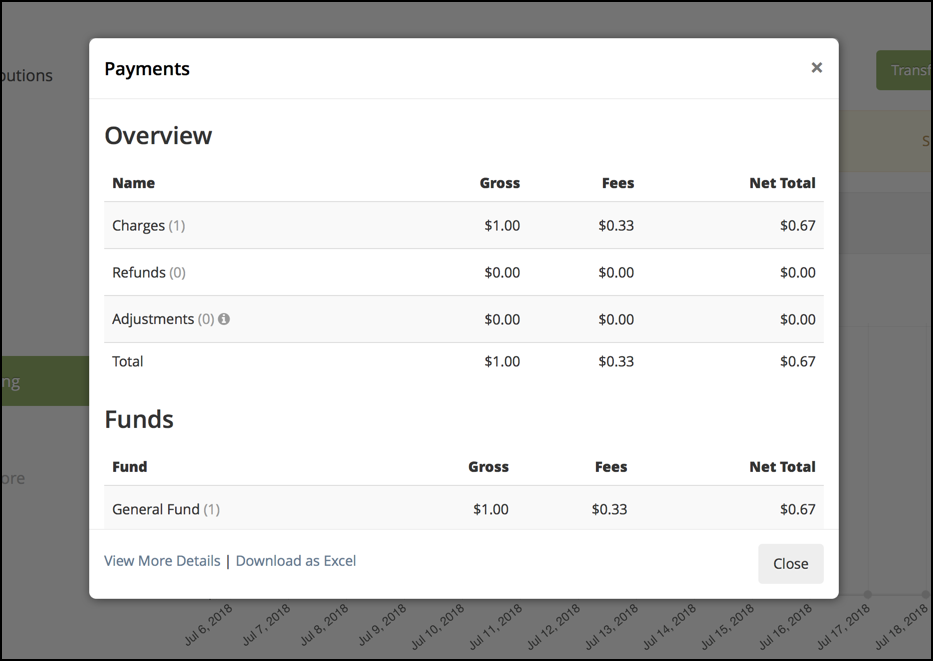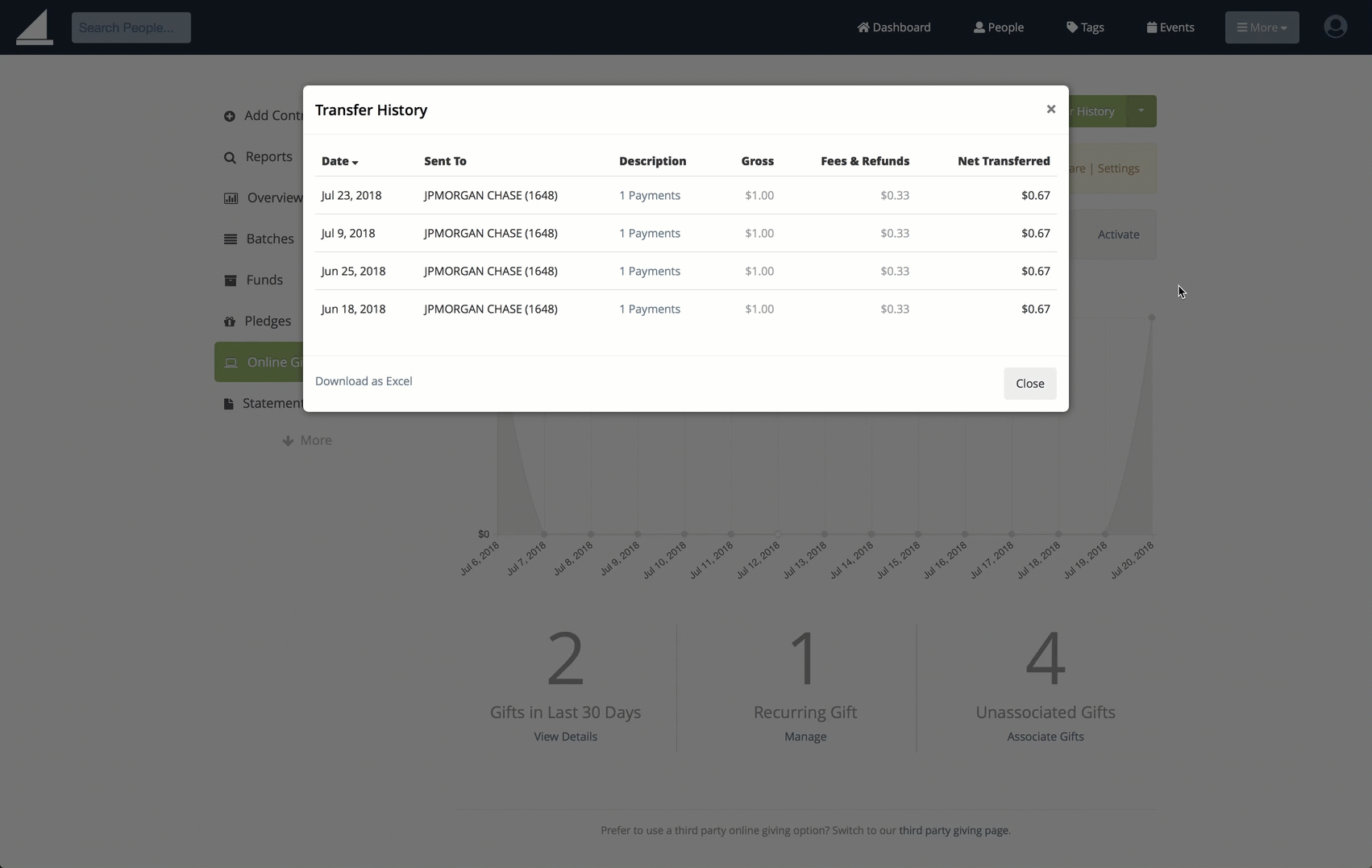 Transfer Time Zone Note: When exporting the transfer report to Excel, the report will show in UTC time zone rather than the time zone set within your Breeze account. This can cause some differences in reconciliation when donors give late in the evening causing it to be next day in UTC.
Transfer History Report vs. Batch Report
While the Transfer History Report shows total processing fees and net totals, Batch reports exclusively show gross totals. In fact, all totals found in the Reports section of Breeze (More > Contributions > Reports), are gross totals as this area is designed for donor reports and statements. This means that these reports do not figure in the Credit/Debit Card and ACH transaction fees that are taken out of the gift during processing.
Another reason we don't recommend reconciliation from Batches is because this section captures when Online/Text gifts are initiated (when the donor sent their text or filled out the Online Giving page), and not when the gifts are processed and transferred into the church's account. Because these gifts don't process immediately (learn more about processing times here), the dates shown in the Reports section will differ from the transfer date in the Transfer History Report.
Breeze's Reports section shows the gross totals and initiation date of Online/Text gifts so that quarterly/year-end statements properly reflect the totals given from donors, as well as the date that the donor made the contribution on their end.
Searching for Contributions within a Given Transfer
If you'd prefer to run a search within Breeze for certain criteria, including by transfer date, you can do the following.1
Navigate to "More > Contributions > Reports."
On the filter near the top, select "More" and add the "Transfers" search criteria to the list.
Click "Transfers" and select the transfer(s) you'd like to see details for.
The payments the transfer(s) consist of will appear in the search results (Gross-only).