Recently, Stripe made updates that require some churches to add more information about your organization for the online giving verification process beyond what was added during enrollment. If your church was selected due to those updates, you will see a pop-up message and a red banner on your Online Giving page alerting you to add the additional information.
The additional information is required to prevent your giving page from being unable to receive online donations and transfers to your bank account from being paused.
Our goal is to provide the most secure giving experience for your church. That's why we carefully chose Stripe as our in house payment processor. Stripe is a Level 1 PCI Compliant Service Provider and adheres to the payment card industry's most stringent levels of protection. 
When enrolling in Breeze's online giving, you're required to provide Identity Verification Information to Stripe to ensure you're a real person and your organization is legitimate. It's done to prevent fraud, increase safeguards, and keep all online giving users secure.
Occasionally, some organizations are alerted to provide additional information beyond the initial setup due to reasons such as missing information, incorrectly entered information, or compliance with new updates in payment regulations. 
Whatever category you fall under, here's an overview of what you need to know to ensure your account stays current and online giving transfers won't be disrupted. 
Why churches are required to provide verification information
Online security is non-negotiable when managing and accepting gifts and payments. Verifying your identity proves that you are a real person and organization. Identity Verification is part of the compliance process to ensure the highest level of security standards are met. These standards are in place to prevent fraudulent acts and strengthen the security of sensitive information. 
What type of information is needed for verification
Every organization is unique in how it's structured. That's why different organizations are asked to provide different types of information. Some common types of information that may be required are date of birth, legal name, email, address, EIN or SSN, and business tax ID. Just remember, the information requested varies based on how your organization is structured.
Important: Stripe will verify your legal entity name, entity type, EIN, and business address based on your articles of incorporation or other official documents. P.O. Box addresses are not accepted. Ensure that you provide an accurate physical address during the verification process.
Why some churches are required to provide more verification information 
We understand that churches have already entered information during the verification process when activating Breeze's built-in giving. However, there are a few reasons why you may be asked to enter additional information beyond initial online giving enrollment. 
If information is missing or inaccurate, you'll be prompted to update your verification information.
Stripe routinely audits their practices and makes updates to the information they require for processing payments to stay in compliance with Level 1 PCI security standards. At times, these updates will require you to add or update your information as well. 
How to know if your church is required to provide additional information 
When Stripe requires organizations to update or add information, you'll notice a pop-up message when navigating to your Online Giving page within Breeze.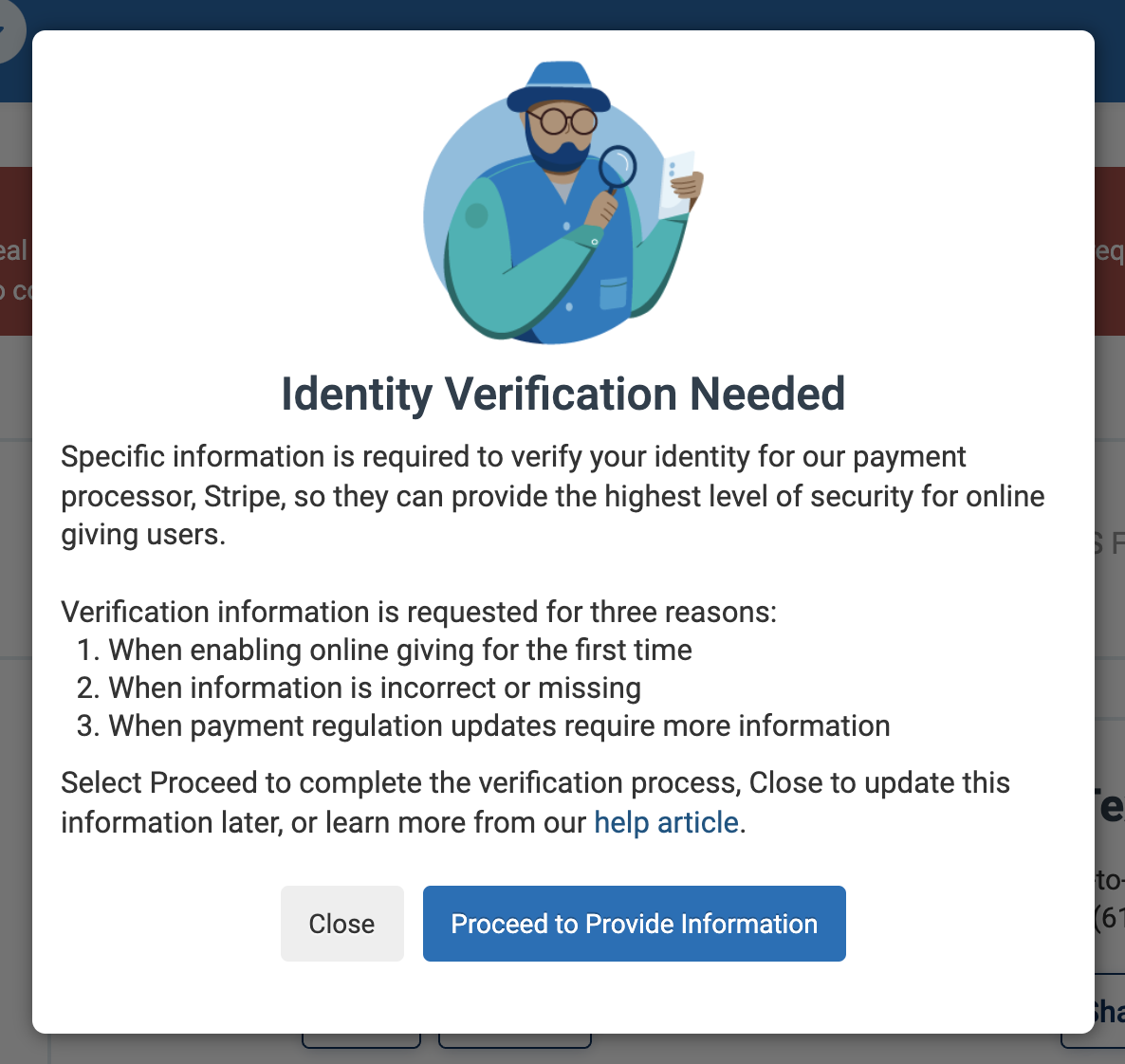 If you choose to close the pop-up message rather than proceeding to update your information, you'll see the red banner in your Breeze account at the top of your Online Giving page where you can also proceed to provide additional information. 

Once all of your information is added and verified, you'll no longer see the red banner. Instead, you'll see a checkmark showing that your identity has been verified and an option to update your current information in case you need to make changes. If you're still seeing the red banner after your information has been verified, simply refresh the page. 

Steps to add missing information and complete the verification process
Navigate to Giving > Online Giving

Either from the pop-up message or the red banner at the top of the page, click on the button "Provide Identification Information"

From here, you will be redirected to a Stripe page in a new tab

Fill out the fields that are missing information and submit the form. You will want to ensure that the information you provide for the organization matches exactly what is on your SS-4 or 147C forms.
The time it takes to see the updates in your account varies based on the review process. Normally, this will be roughly a 24-48 hour window, but if it's not able to be verified, you may be asked to re-enter the information.
Role Permissions needed to Update Verification Information (Giving > Online Giving)
If you need a copy of your Letter 147C, you can do so by calling the IRS Business & Specialty Tax Line toll-free at 1-800-829-4933.
FAQs
While the update should be quick, know that we are here to help guide you along the way. Here are some additional FAQs and you can always reach out to our team for help. 
What happens if I do not update my information by the deadline?
If you cannot update your account information by the deadline provided by Stripe, payouts to your bank account and your ability to accept payments will be paused. We want to make sure that does not happen. We encourage you to

reach out with questions

if you get stuck. 
I need more time to update my information. Can you give me an extension?
We are unable to provide extensions to any deadlines as this is a requirement enforced by our back-end payment processor, Stripe. This should be a quick update—and we are here to guide you along the way.
Why is it asking me for the same information I've already provided - didn't it verify it already?
We are noticing that sometimes the EIN isn't staying verified even after it looks like it's been accepted. If this is happening, you will want to ensure that the Legal Business Name (or entity name) matches exactly what you have on your SS-4 or 147C forms. 
The verification process looks to match up the EIN with the Legal Business Name (or entity name) with the IRS records. If they don't match, it doesn't verify properly, and you'll be asked to enter the information again. When you enter the information, make sure that you include everything that comes before the "Street Address" and enter it in all caps, to match the IRS records. 
If you need a copy of your Letter 147C, you can do so by calling the IRS Business & Specialty Tax Line toll-free at 1-800-829-4933.
Will a new EIN prevent me from being verified?
If you just filed as a new non-profit, or have requested your EIN number to be changed, you may notice that your EIN isn't being verified. Don't worry - we can help! Just email us a copy of your SS-4 or 147C forms, and we can ensure that it gets to the right people who can help get that squared away!
Why am I being asked for information about who owns and manages my company?
In certain countries, we are required to collect, verify, and maintain information about a company's owners or directors. These requirements come from government regulators and help promote transparency and prevent financial crimes.
How do I change the account representative listed? 
We realize there may be instances where you will need to change the account representative on file. Note that if you proceed with doing this, you will need to be prepared to provide all requested information within 7 Business days of removing the current representative. Otherwise, your transfers will stop. 


When in the verification summary, under the Management and Ownership section click the pencil to edit.
Scroll down towards the bottom of the Edit individual section and click the X Remove as account Representative. In the Are you sure? box, Confirm you would like to do this by clicking Remove as Representative
In the bottom of the Edit individual section now click the Remove Person... button. Confirm you would like to do this by selecting Remove in the pop up. 
You will be redirected to the Verification Summary page and you will now see under Management and Ownership a red box stating "Account representative needed" click the + Add to add a new account representative. (You must add an account representative within 7 days, and the individual be verified in order to continue receiving transfers to your bank account)
Add the Legal Name and email for the individual you are adding and click Add. This should return you to the verification summary page. 
On the verification summary page you may see a red box that says missing required information, if so click Update. (You must add an account representative within 7 days, and the individual be verified in order to continue receiving transfers to your bank account)
Provide all of the additional requested information for the account representative you just added. and then click Submit. 
Once you see Verified on the Verification Summary page you can click Submit to be returned back to Breeze.

If you need help or have additional questions, please reach out right here and we'd be more than happy to guide you along the way.