Set Up Transfers
When transferring donations from where they collect in Breeze to your church/organization's bank account, you can have the money transfer either automatically on a routine schedule (highly recommended) or manually. To set up transfers to your bank account:
Navigate to "More > Contributions > Online Giving."
Click the "Enable Transfers" button in the upper right.1
Provide the necessary information.
1When you click "enable transfers" you will be prompted to set up a scheduled meeting so that Breeze can verify your identity.  This is done for your protection to make sure that there is no fraudulent use of Breeze's Online Giving tool. Simply follow up the directions that appear on the screen to schedule your call. Note that this call will need to take place prior to being able to enter your bank account information.
When setting up transfers, you'll have the option for the collected money to automatically be deposited into your account each week (automatic transfers) or for you to manually push the deposit over whenever you'd like (manual transfers).
Automatic Transfers
Manual Transfers

Automatic transfers (our recommended approach) allow users to have donations they've collected automatically deposited into their bank account once per week. Using this method users can easily reconcile a transfer to the individual payments that make up that transfer.

Manual transfers allow users to have donations they've collected deposited into their bank account at the time of their choosing1. Using manual transfers, users have the ability to specify how much they want placed into which bank account.

Because users can select the amount of their choosing to transfer, this prevents users from seeing a specific list of payments that make up a given transfer, making reconciliation potentially more challenging. 

For instance:

Church receives donation of $100
Church receives donation of $200
Church transfers $150 to their bank account

We have no way of mapping that $150 to any specific gift and so the church is not able to see what donations a given transfer consists of. Automatic transfers in contrast would bring over $300 and retain the link between the transfer and the donations it consists of. For this reason we recommend Automatic Transfers for most users. 
1If an amount has not been deposited into a users account within 90 days of receiving it, it will be automatically deposited.
Viewing Previous/Upcoming Transfers
To view transfers that have already taken place or are scheduled in the future:
Navigate to "More > Contributions > Online Giving."
In the upper-right click the green "Transfer history" button
Processing Time
Each donation/payment takes time to process before being available to transfer to your bank account depends on both the type of gift (credit card, debit card, or bank transfer) as well as weekends and holidays. Below is a table to show how long it takes for a gift to be available to transfer to your bank account. For additional information, view our transfer timing examples.
| | |
| --- | --- |
| Payment Type | Time |
| Credit Card & Debit Card Gifts | 2 Business Days |
| ACH Bank Account Gifts | 6 to 7 Business Days |
Transfer Timing
When transferring money from Breeze to your bank account, the amount should show up in your bank account the next business day.
Timing Examples
Here are some specific examples of how the timing would work for different dates and different payment methods. All examples assume the church has their transfer date set to Thursday.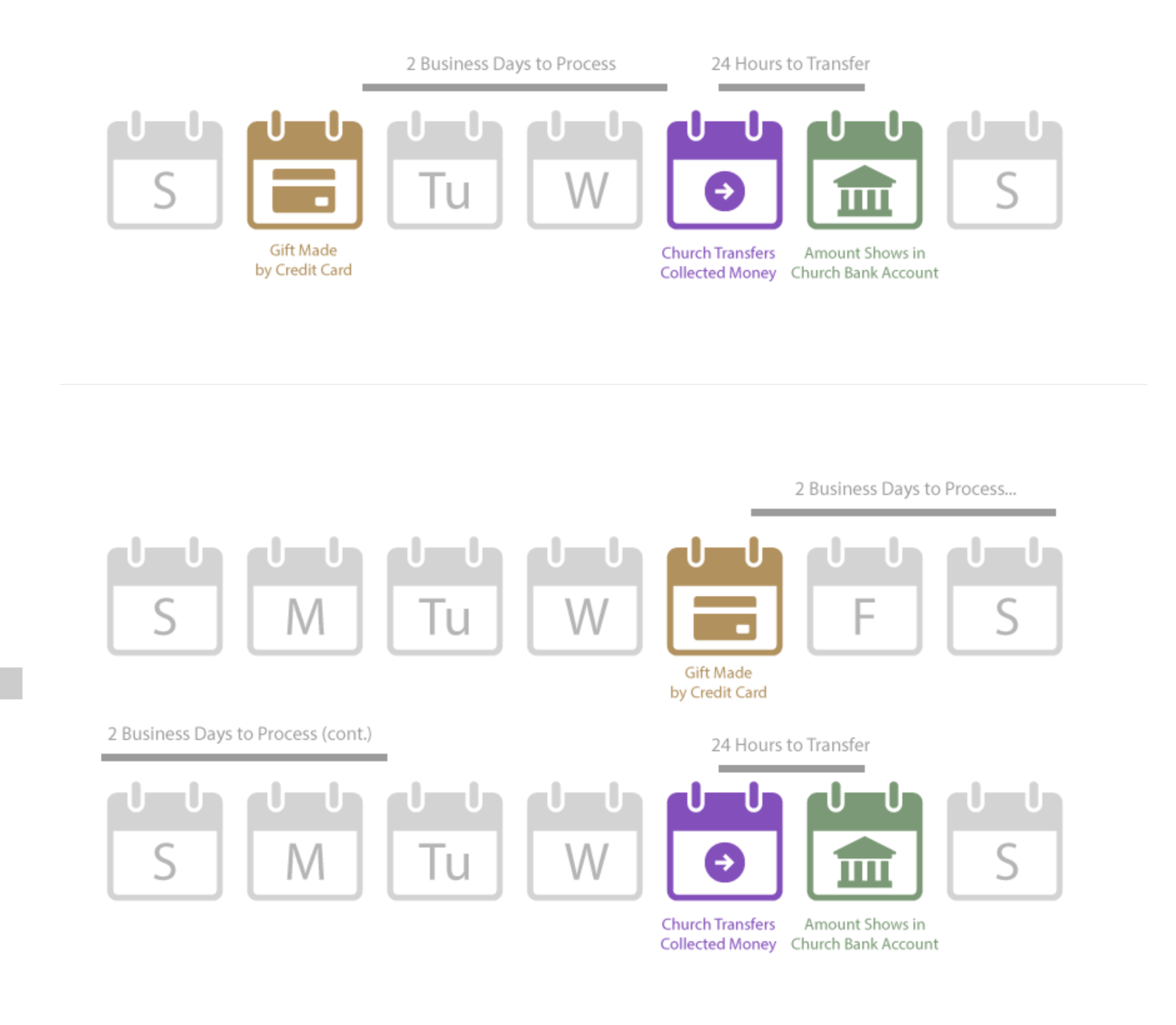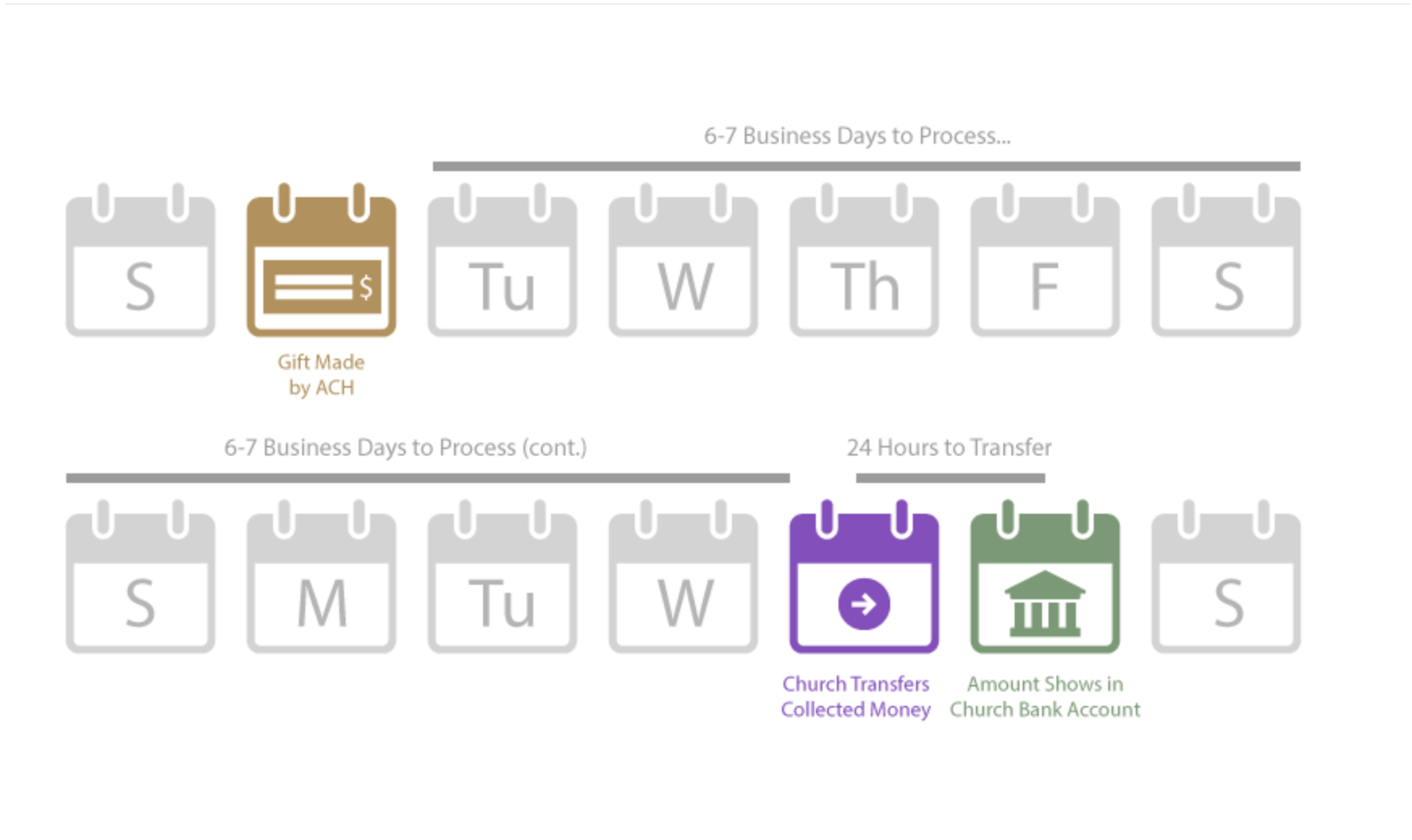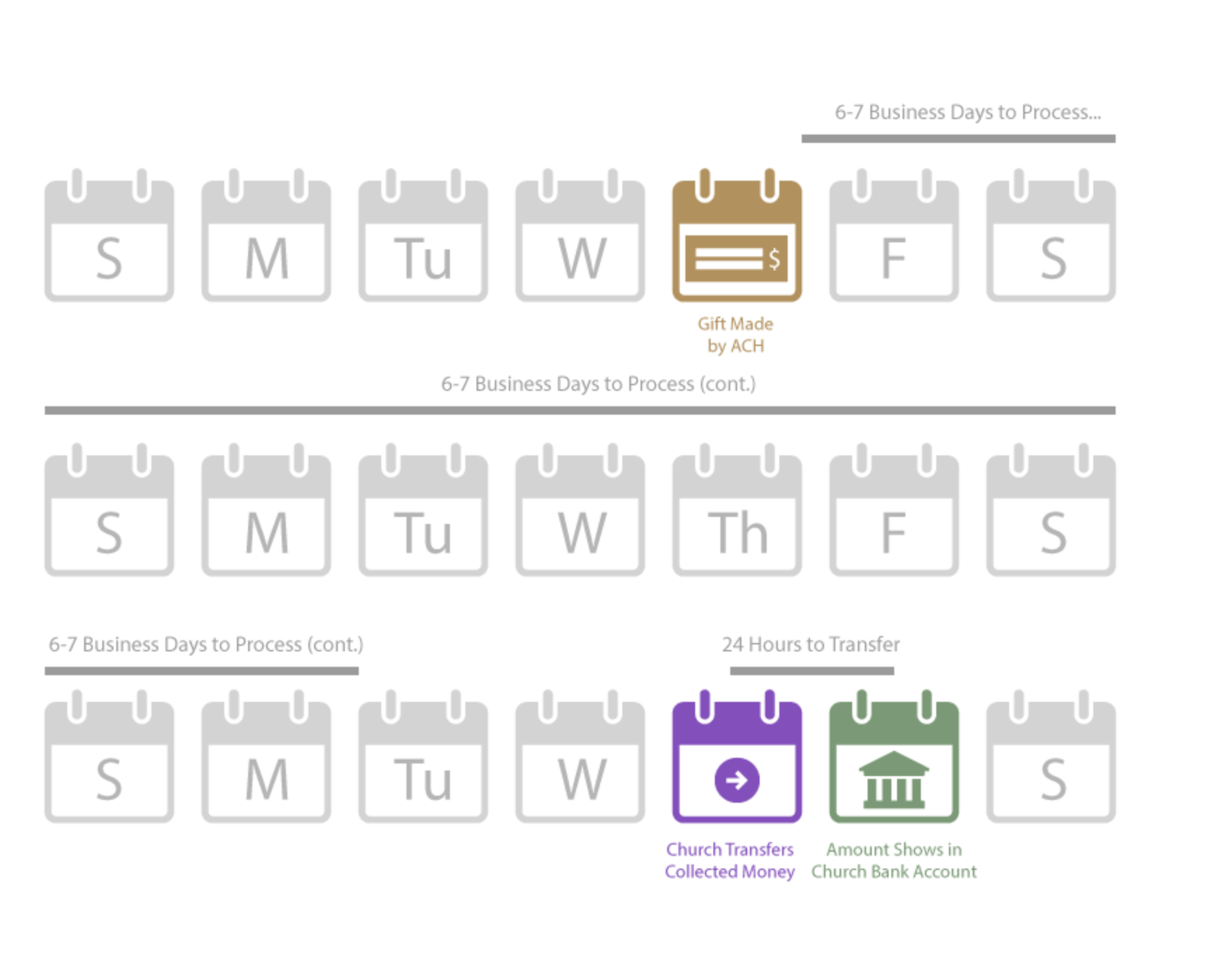 SaveSave
When changing the date of automatic transfers, you will need to allow for at least 48 hours before the transfer can take place. i.e. if it's Tuesday and you want to change your Thursday transfer to Wednesday, there is not enough time for the transfer to happen. The transfer will not occur until the following Wednesday. If it's Monday and you want to change the Tuesday transfer to Wendesday, there is enough time for that to happen without a week delay in transfer.