Managing your Breeze account is a responsibility we know you don't take lightly—especially when it involves removing individuals. That's why we've designed a secure, two-step process for deletions. First, you'll need to archive the profile. Only then can you proceed with deletion. Think of it as a safety net we've built just for you!
Benefits of Archiving Before Deletion
Choosing to archive before you delete isn't just a new requirement—it's a smart, safety-first strategy that serves several vital purposes:
Data Integrity: By archiving profiles first, you safeguard the integrity of your historical records. This allows you to keep valuable data safe, even when removing individuals from active lists.
Safety Layer: Accidents happen. Archiving offers an extra layer of protection, allowing for easier retrieval and restoration of profiles if you ever need to backtrack.
Security Measures: We've set it up so you can't delete someone without archiving them first. This isn't a hurdle—it's a carefully designed security feature. We're putting guardrails in place to prevent accidental or unauthorized deletions that could jeopardize your data.
Note: Deletion is irreversible. Please exercise caution and make informed decisions.
Step 1: Archive an Individual or Multiple Individuals
Archive an Individual from their profile
Navigate to the person's profile you wish to delete.
Locate the "ARCHIVE PERSON" button below the person's name at the top of the profile.
In the pop-up that appears, click on "Archive."
Archive an Individual or multiple people from the member list 
Navigate to the Member List and Select the individual(s) you wish to archive.
Locate and click the "Archive" button.
Once the individuals are archived, navigate to the archive page to review your actions.
Security Reminder: Archiving is a mandatory first step before deletion can be processed. When deleting one or multiple users from the member list, you will encounter a modal message that guides you through the process. This modal emphasizes the importance of archiving people's data before deletion.
Step 2: Delete an Archived Individual or Multiple Individuals
Locate Archived Profile(s)
Return to the Person search screen. Avoid using the "Filter by Name" text box.
Click on "↓ Show More Filter Options" located just below the "Filter by Name" box.
Scroll down the menu and choose "Archived" from the list.
Delete Archived Profile(s)
All archived profiles will be displayed. Check the box (✓) to the left of each name for profiles you wish to delete permanently.
Click on "More Actions" on the screen's right-hand side.
Choose "Delete People" from the dropdown.
In the Delete People pop-up, confirm that you wish to delete the selected profiles permanently.
Note on Giving Records: Deleting an individual will not remove their giving history but will mark those gifts as coming from "Anonymous."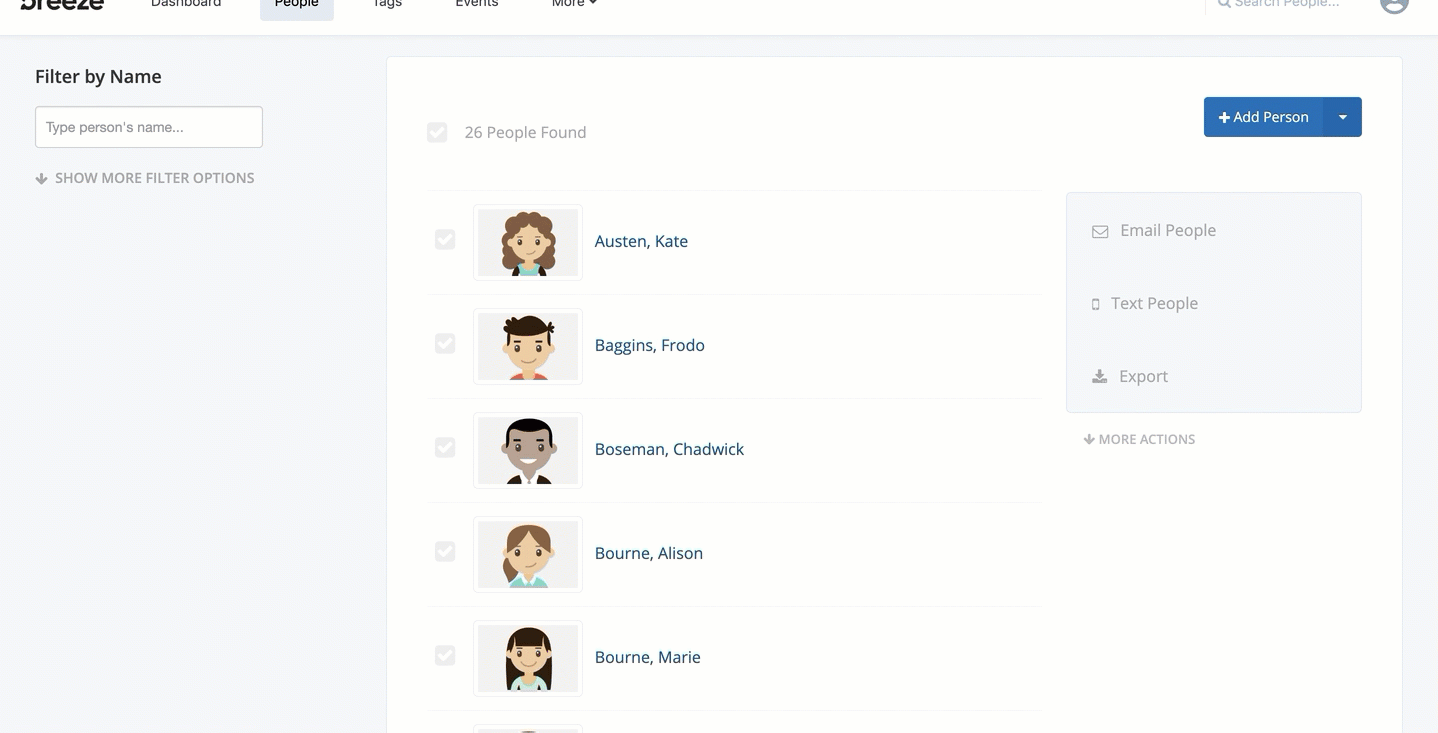 You can restore an unintentional deletion up to 30 days from the action.  See Recovering Deleted Data for more information.