General Information
Breeze allows users to text one or more people at a time for quick communication. The texting tool is meant for one-way communication to Mobile numbers and cannot receive replies. Churches can send 250 text messages per month at no additional charge. While we do pay for each text (and so need to have boundaries at some point), you're welcomed to enable unlimited texting1 to exceed the 250 monthly limit. It's just one penny per text after the first 250.

On the technical side, when a text message is sent to a group of people, Breeze sends individual text messages to each person in the group. If, for instance, you send a text to 30 people, Breeze will send out 30 individual texts, all containing the same message, one text being sent to each number (and counting as 30 texts toward your limit). By way of another example, if you send one message to 200 people, that counts as 200 texts toward your limit. Breeze will automatically filter out duplicates (if multiple people have the same mobile phone number) and only send one text per phone number (and only apply as one toward your limit).
Note: The character limit for a single SMS message is 160 characters, this is an industry set limit and there is no way to increase the limit at this time.
How many texts do I have left?
To see how many remaining texts are left each month, you can open the text compose box, and at the bottom, to the left of the cancel tab, it will show you how many remaining texts you have.

At this time the phone number that sends texts cannot be changed. Replies cannot be sent to this number, as it is a one-way text. Please note that text messages will only send out to numbers in the mobile field. If a mobile number is in the 'Home' field, the message will not send to the mobile device.
Individual Texts
Navigate to a specific person.
Click on that person's mobile phone number to bring up the compose text window.
Compose your text and click "Send Text Message."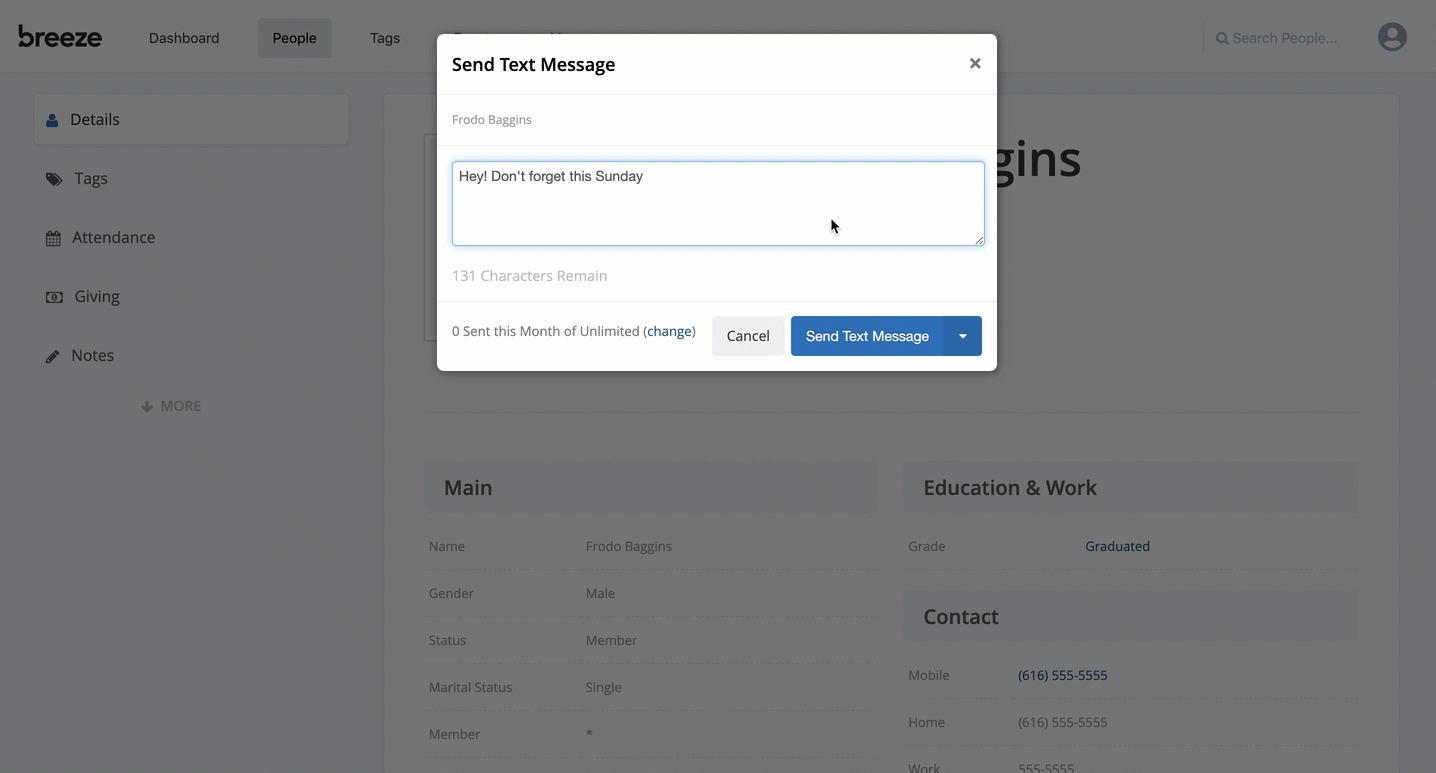 Group Texts
Pull up the list of people you'd like to text (by running an advanced search, searching by tag, or another method).
On the right, select "Text People."
Compose your text and click "Send Text Message."
1
By default, texting is limited to 250 messages per month. To exceed this limit, enable "Unlimited Texting" within
General Settings
.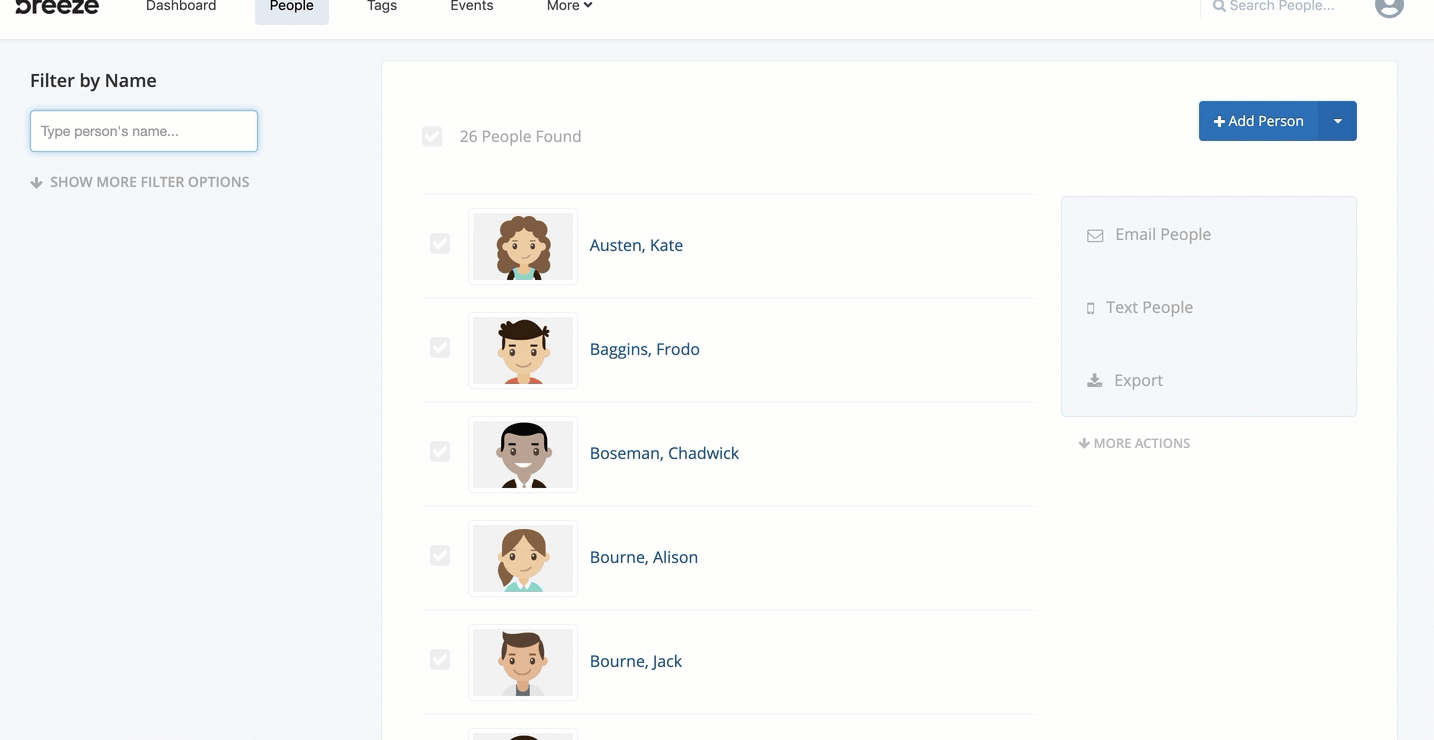 Scheduling Texts
While by default text messages will send right away to the list of recipients, users can also schedule a text to be sent at some point in the future. To do so:
Compose your text message to an individual or a group as you normally would.
Instead of clicking "Send Text Message," click the arrow just to the right of the "Send Text Message" button and select one of the available options1 to send the message in the future.
If you'd like to see what's scheduled to be sent in the future, when it's scheduled, or remove a message before it's sent, you can access your scheduled messages within your text history. To access text history:
This needs to be changed to Account Settings > Manage Account > General Settings.

Select a text to view its details. The details screen will also provide a way to unschedule/remove the message if desired.
1
All times are in your local timezone as specified within your account's
Gene
ral Settings.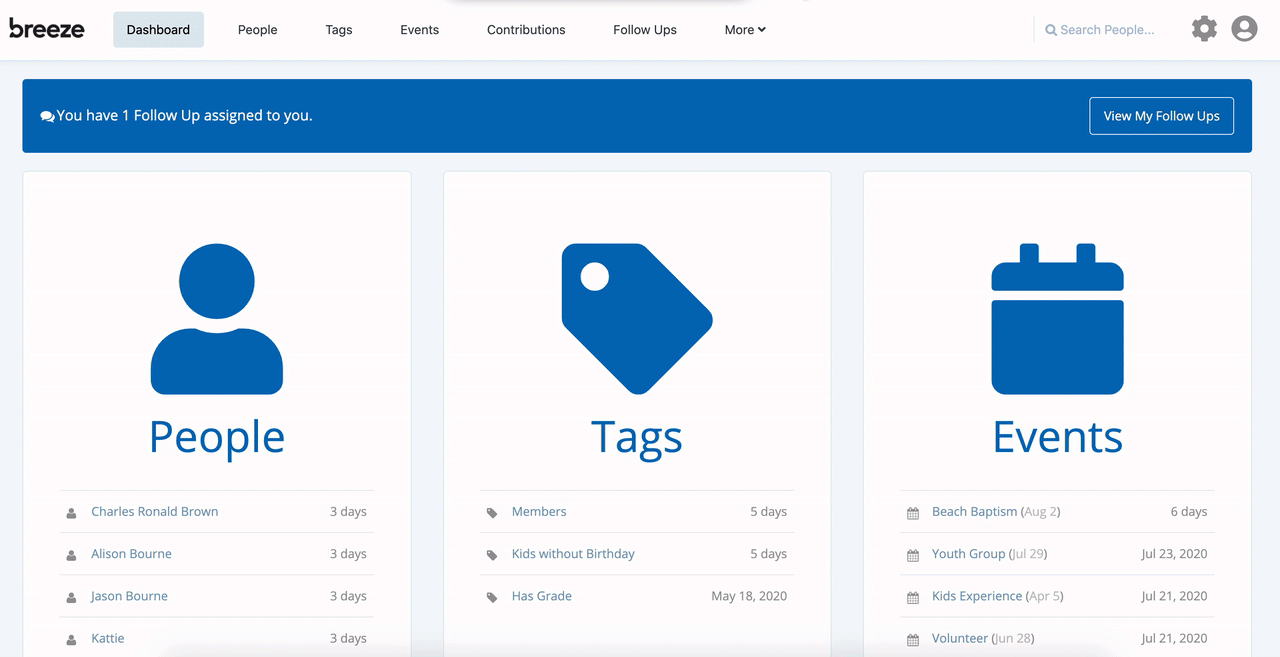 Restricting Texts
People who do not want to receive text messages from Breeze can either:
Reply to a text message with the word "STOP" (this will disable all text messages from Breeze)
Have their mobile phone marked as "Do Not Text." This setting is available by navigating to their profile and clicking to edit their phone field. (This will prevent the profile in question from receiving group text messages sent through Breeze but they will still be able to receive individual text messages from Breeze.

Including Volunteer Reminders which are sent as individual messages.)
Short-Code Number Sent from US Texts
874-47
We'll help you inform your members about their messaging options by automatically sending them the first time they receive a text message from your Breeze account. This message is sent just before we pass along your message or reminder.
Things to know:
Breeze handles this automatically and there's no action required on your end.

This first-time confirmation message, sent only once to each number, is free to the church and

will not

go against the free 250 messages per month count.

This message will include the name of your church and information on how they can opt-out of texts if desired.

Texting the word "START" will allow them to start receiving texts again
Number Sent from Non-US Countries
Canada and the UK have a long phone number with the code from their country.
All other countries will have texts that come from a 415 Area Code (US San Francisco).
Billing
While the subscription is billed from "anniversary day-of-the-month," text messaging is billed by Calendar month. Your 250 free text messages will reset on the 1st of each month.
Providers
Breeze uses two different providers to send text messages, depending on whether it's text giving, US, or international accounts:
Nexmo
International Long Number
Some early text-to-give accounts
Twilio
US Shortcode number: 874-47
The remaining text giving accounts
Texting Outside the US
By default, Breeze will assume that all phone numbers are in the same country as your church.1 When preparing to send a text, we'll automatically format it according to your country so it sends correctly.

However, if you are attempting to send texts internationally, you will need to include the plus symbol along with the country code so that Breeze doesn't attempt to reformat the text according to your own country's specifications.

For example, if your church is located in the United States and you want to send a text to someone in the United Kingdom, you would want to format phone numbers similar to:

+44 20 5555 5555


However, if your church is located in the United Kingdom, you can simply use your local format such as:
Below you will find what countries are supported for texting within Breeze and their corresponding country codes.2


| | |
| --- | --- |
| Australia | +61 |
| Bahamas | +1 |
| Brazil | +55 |
| Canada | +1 |
| Colombia | +57 |
| Dominican Republic | +99 |
| Ecuador | +593 |
| Finland | +358 |
| India | +91 |
| Ireland | +353 |
| Malaysia | +60 |
| Mauritius | +230 |
| Mexico | +521 |
| New Zealand | +64 |
| Nicaragua | +505 |
| Nigeria | +234 |
| Norway | +47 |
| Philippines | +63 |
| Singapore | +65 |
| Slovenia | +386 |
| South Africa | +27 |
| Thailand | +66 |
| The Netherlands | +31 |
| United Arab Emirates | +971 |
| United Kingdom | +44 |
| United States of America | +1 |
| Vietnam | +84 |
1
Your country can be set within Account Settings >
General Settings
.
2
If you don't see your country on the list, please
email us
as we may be able to add it to the country code list.
Note that Breeze may use a different
sending
number depending upon the destination of the text. For example, a text to Vancouver, Canada will come from a US/Canada phone number while a text to London, England will come from a United Kingdom number.