Oftentimes, we've found that churches will want their pastors and staff to have maximum access in Breeze without access to Giving information. This is possible in Breeze! You'll want to start by Creating a New Role.
Customize a Role
For this example, we will copy the Admin Role that Breeze gives you and remove all access to Giving.
Navigate to the Account Settings () on the top right > Select Users and Roles
On the left-hand side, select Roles.
Copy the Admin role by selecting the Copy button (it looks like two pieces of paper) on the righthand side of the role.
By default, the name will be "Copy of Admin," which you can edit for whatever you'd like. Perhaps a name like "Staff-Level" or "Admin minus Financials"
Enter a Description of your new Role. This can be similar to the name of the role.
Uncheck the following permissions:
Giving

Note: You can leave "Reports > View Reports" if you want to grant access to Giving data without names being attached. This may be useful for tracking giving trends and budgeting regularly.

Users & Roles
Account Settings > Export
Account Settings > Log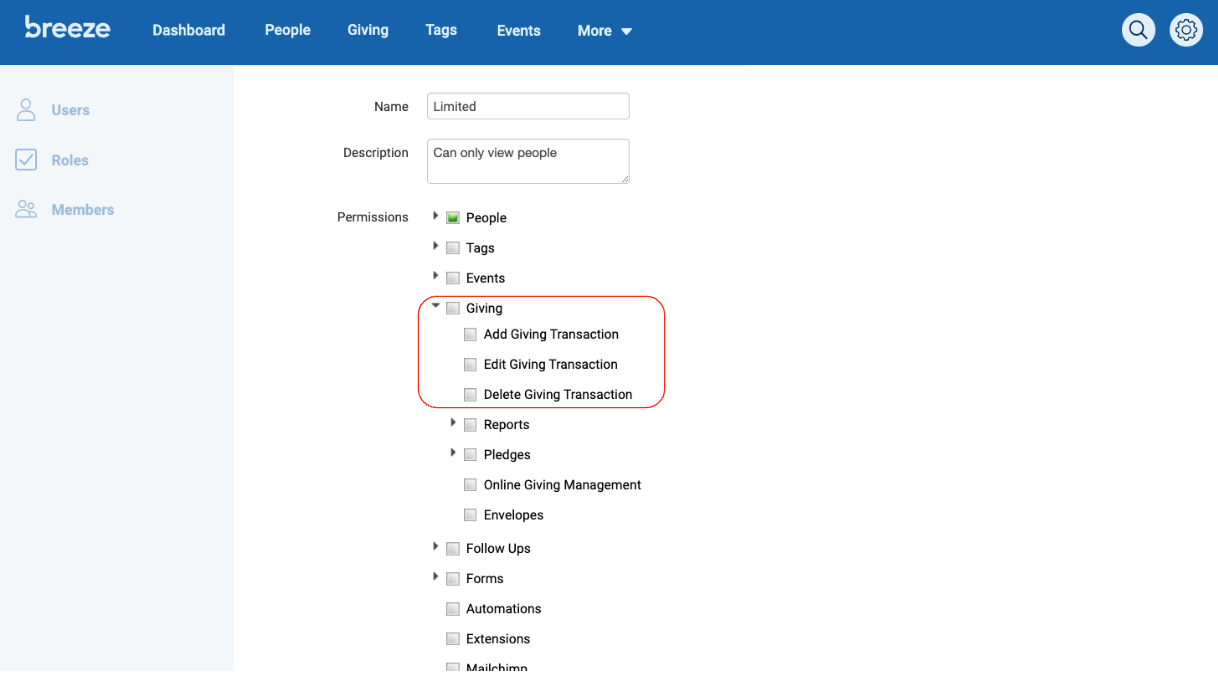 Assign a User to the New Role
You'll then want to Create a New User or Edit an Existing User and ensure they receive this new role.
Go to the Account Settings ()
Click Users & Roles
Select Users from the left side column (this is selected by default)
Click the pencil icon next to the user you want to edit and assign the new role.
Select Update User.