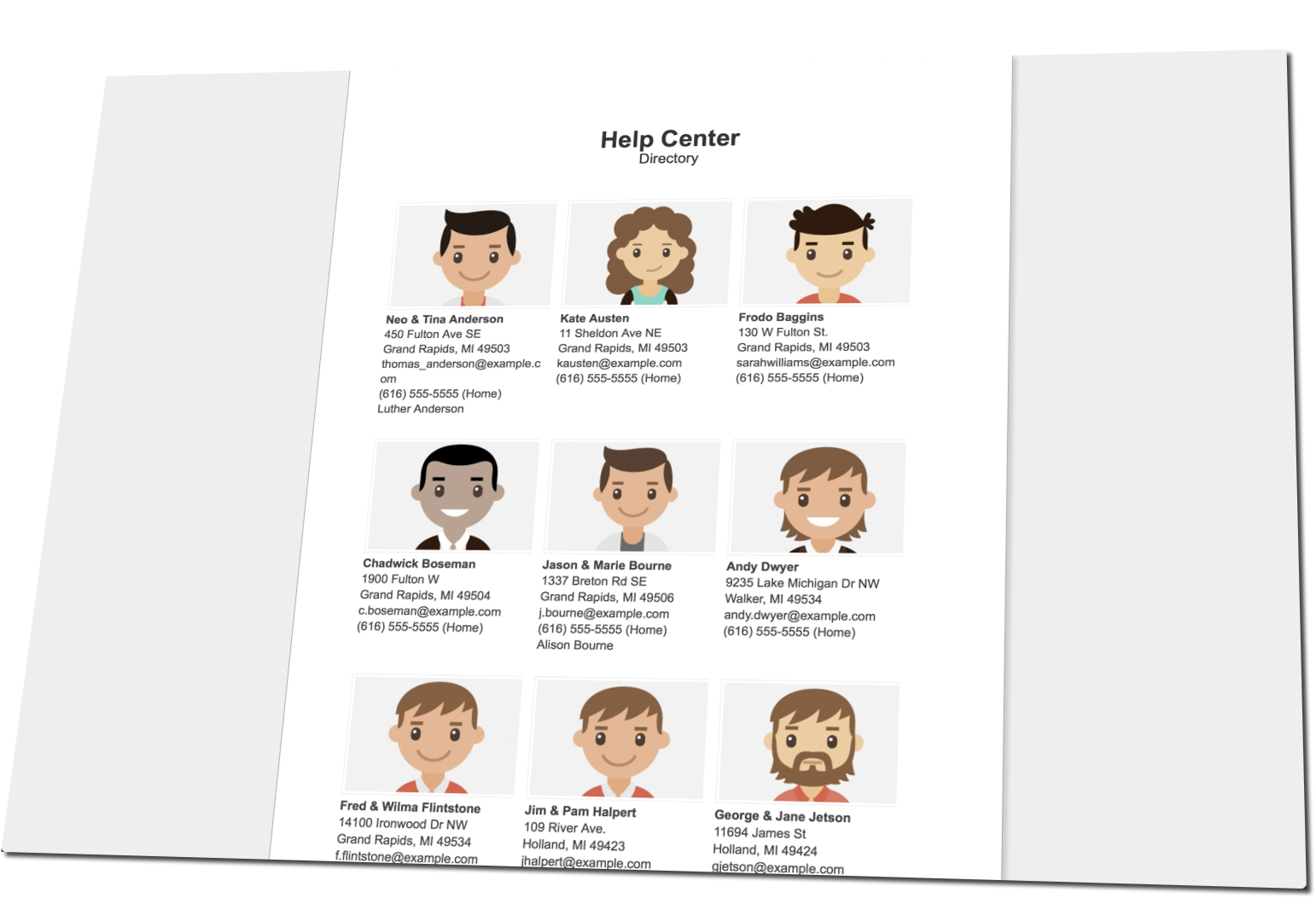 Create a Print Directory
Pull up the list of people by running an advanced search.
On the right, click "Export."
Select "Directory" from the dropdown list.
Check your desired options and click "Download."
Now you can print your Directory from your Browser!
Customize Directory
Pull up the list of people by running an advanced search.
On the right, click "Export."
Select "Directory" from the dropdown list.
Click the pencil icon in the lower left corner of the window.
Select an alternate template format or choose "Custom" to create your own format, including exactly the information you want. If choosing the custom option, you'll be able to use the toolbar above the edit window to select which fields you would like to include.
After modifying the format, you may (optionally) save it for later use by clicking the drop-down arrow in the bottom right (next to the "Download" button) and selecting "Save as New Template."
Once your directory is generated, you can modify any of the information prior to printing simply by clicking on that information.
Frequently Asked Questions
1. How to list children by age instead of name
When customizing your directory, scroll down to the "children" section and choose to sort by "age" instead of "name".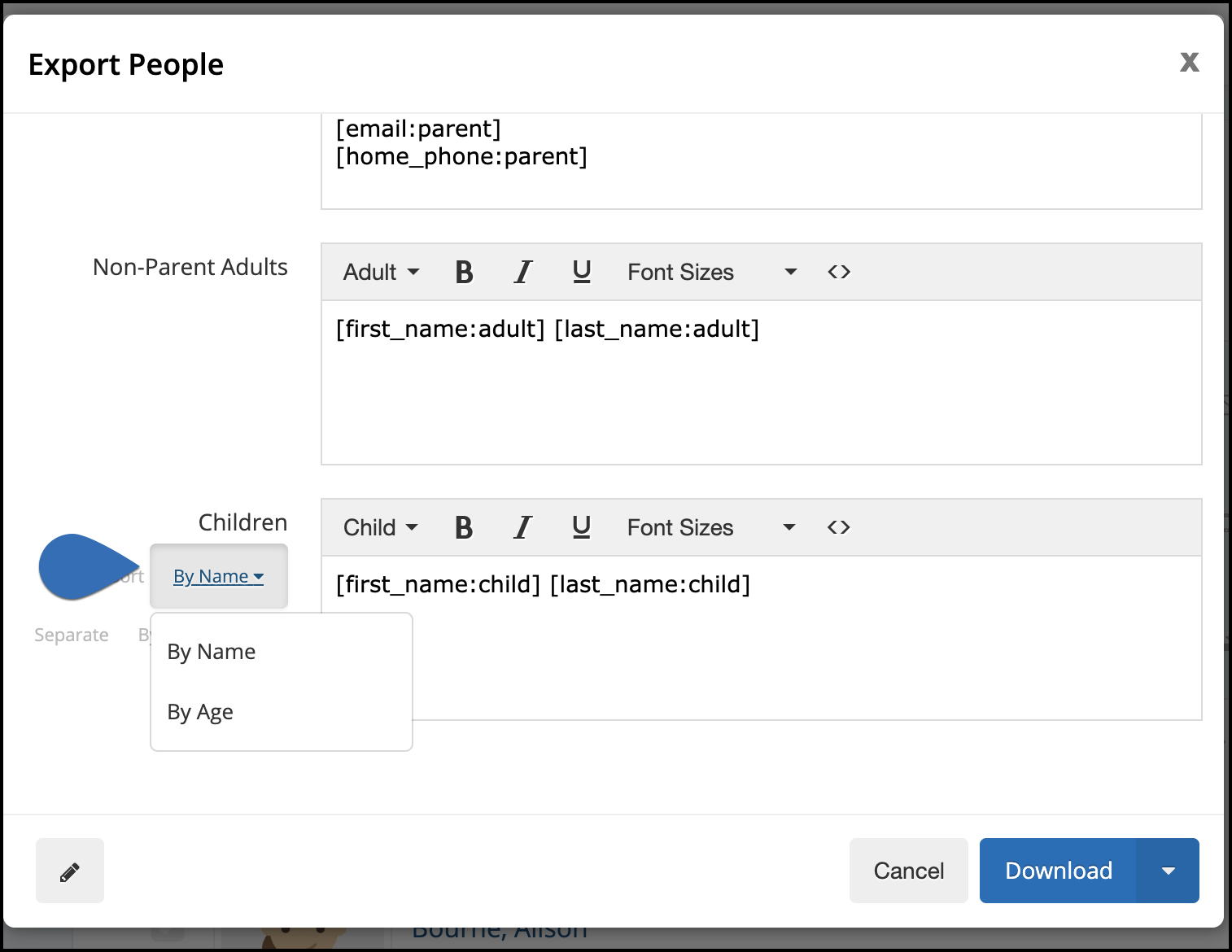 2. Why people are listed in the directory who weren't in my search result
If you run an advanced search and also select "group by family" when exporting your directory, even if the family members do not appear in the advanced search results, they will be included in the directory export.
3. How to prevent people from showing up who weren't in my search result
As noted in the previous field, individuals who weren't in the search results can still appear if you choose to "group by family". If there are people who you do not want to show up, there are three primary options to prevent that from happening.
Temporarily archive those individuals. Individuals who are archived will not appear with the family. You can archive those individuals and then un-archive them when you've finished your export.
Delete them after you've exported the directory. Once you've exported the directory, you can still go into each family's window and delete unwanted information. If it's a child listed, you can quickly and easily delete their name from the list
Block access from the group of people who should not be listed. If there is a large quantity of people (say a group of children) who you don't want included in your directory then you can create a tag called "do not list" or something along those lines and then put all of those people in the tag. Then you can temporarily edit your role to not be able to view that tag. If you can't view that tag, then those individuals will not show up in the result.
4. How to make couples with different last names show up under each last name
Couples with different last names can be listed twice. This is particularly useful if an individual has kept their maiden name. Under Parents/Couples choose to either list once or twice.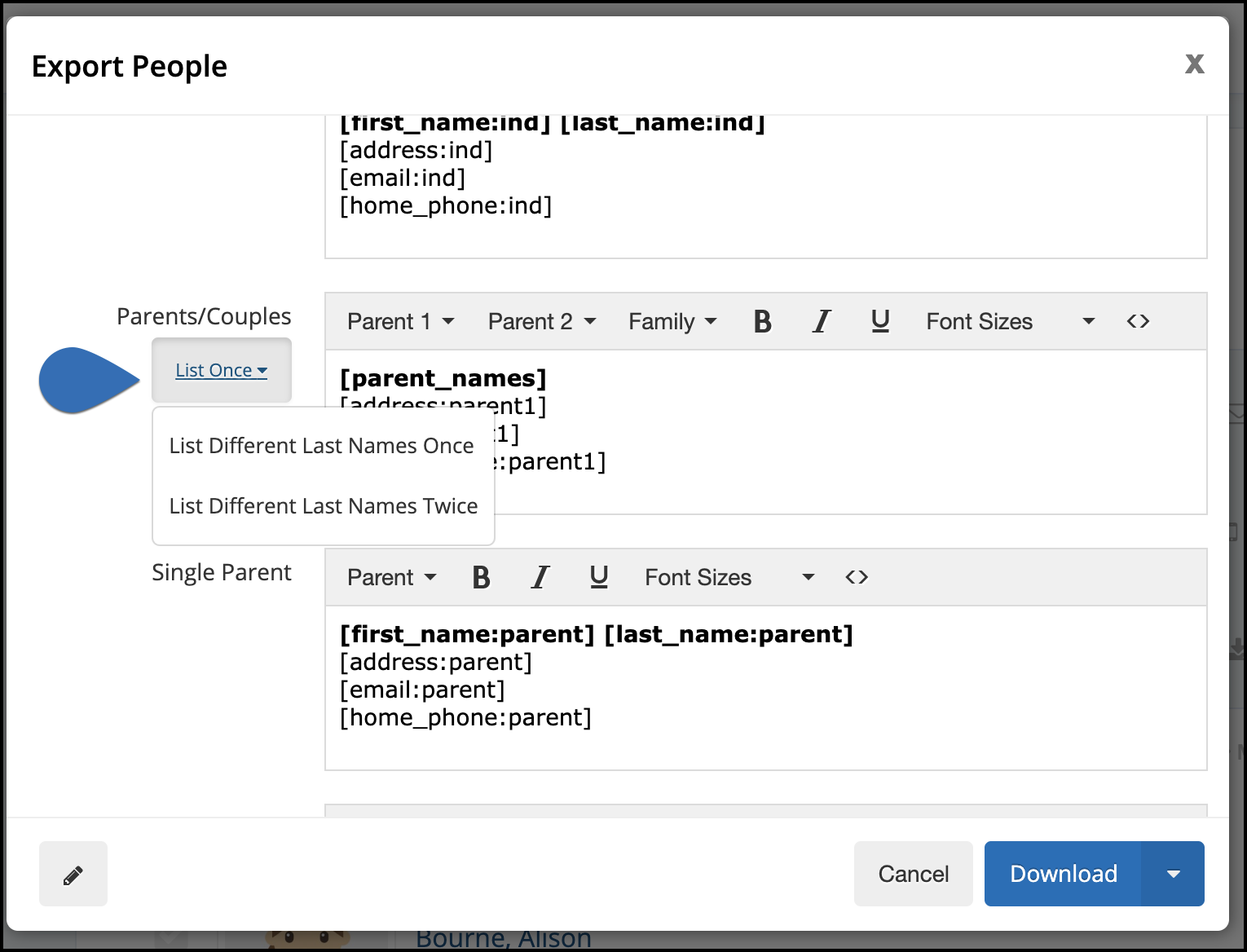 5. Can I change the text color?
Just click on the text box whose color you would like to change and you can either change the text color or create a colored border around it.
6. Can I change the layout to two columns instead of three?
The design works best and fits best with three columns so at this time, Breeze has made three columns the standard. We are always working toward making things more customizable, though, so it's very possible that we'll allow for two columns in the future!
7. What's the order for people being listed?
It's alphabetized by last name. If a couple has two different last names, they will be listed twice, once in each spot.
8. Creating a Directory of Kids
Run a search of kids from the "People" tab, whether from age, grade, tag, or however you have them sorted. Then click to export to a directory. Make sure not to group by family or the parents will be included as well.
9. Can I create a directory of just one group of people (i.e. just the ladies)?
Use the People tab to search for a specific group, i.e. "females". You can narrow it down by age and include only adult females. Then click "export" and choose "directory". Make sure not to group by family or the rest of the family will be included as well.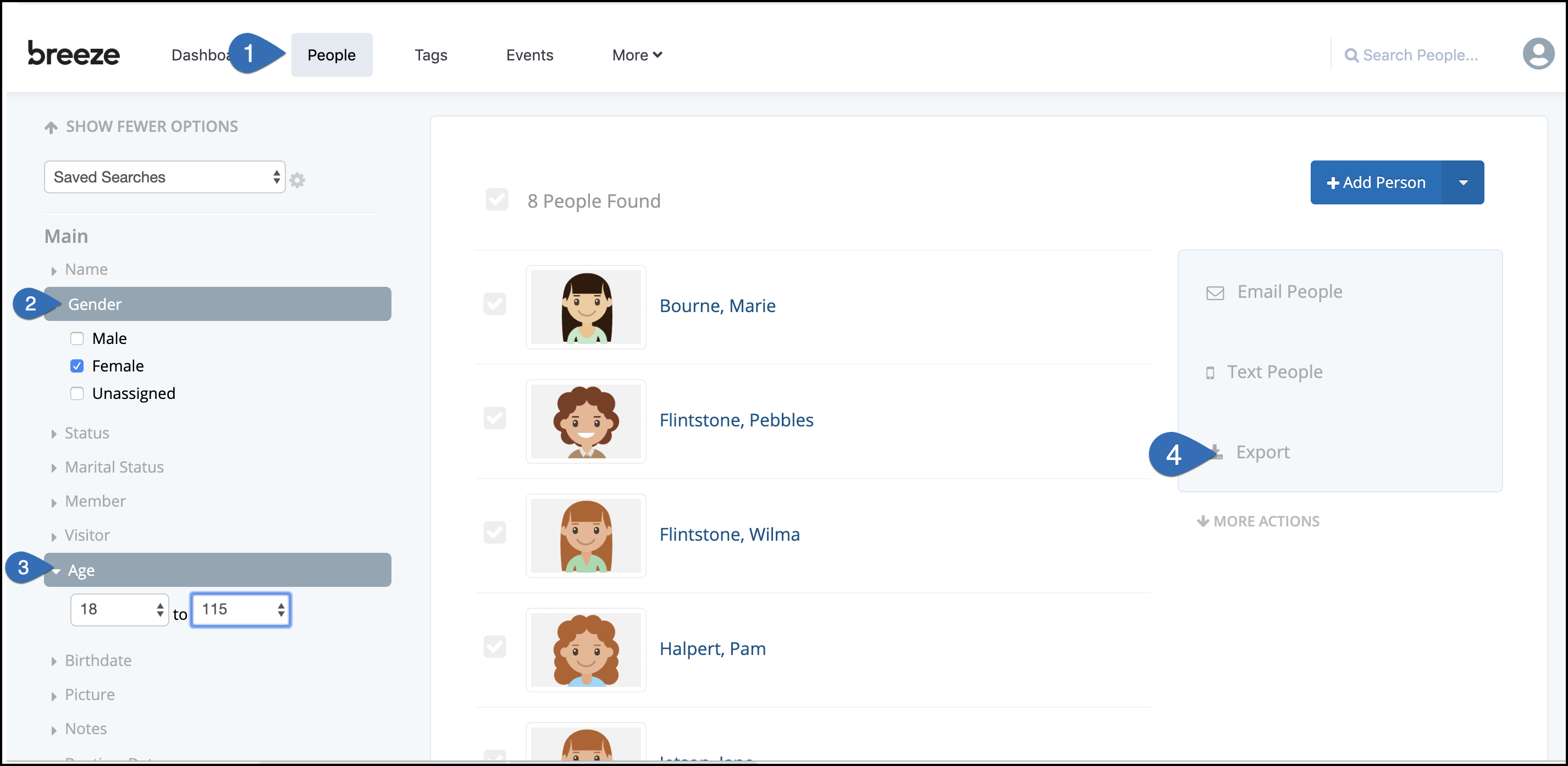 10. Just the men who have April birthdays?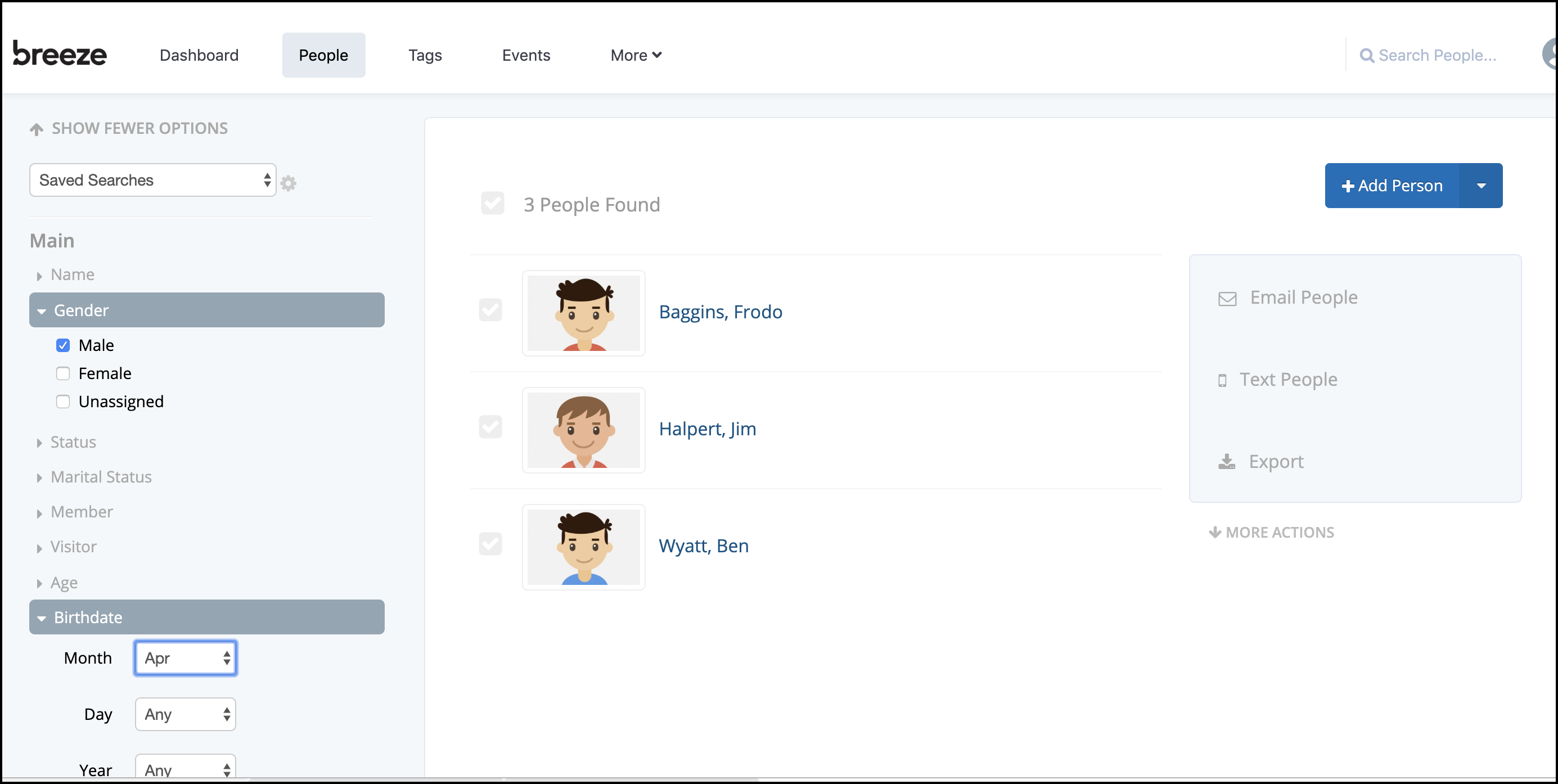 11. If both spouses have the same email in their profiles and I have both emails set to display, can it display only one of them?
Breeze can't tell that both emails are the same, so if you ask for both to be listed, even if they're the same, both will be listed.
After exporting and downloading the directory (just before you're ready to print it), navigate to the family containing the duplicate email addresses. Click on the family. Highlight and delete the duplicate email. Click 'Save' - and now your directory is ready to be printed!
12. Can you make it show "The Halpert Family"
When you're creating the custom directory output options, change where it lists the parent(s) names to "The [use parent dropdown to select 'last name'] Family.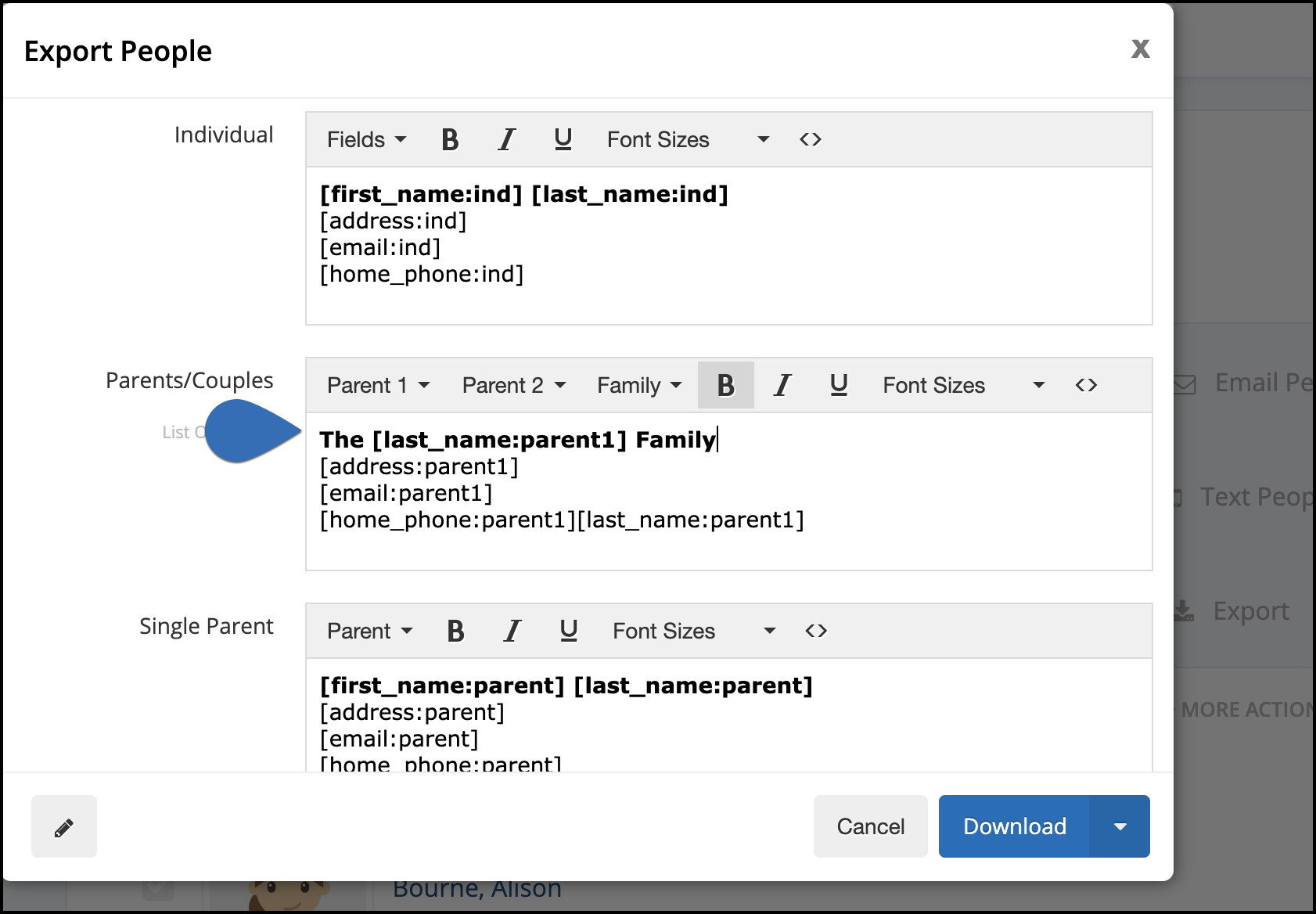 13. How to create a directory based on form results
If you click "view entries" under the form you're looking for you'll see the action panel to the right. Choose "export" and you'll be able to export anyone who has been connected to a profile.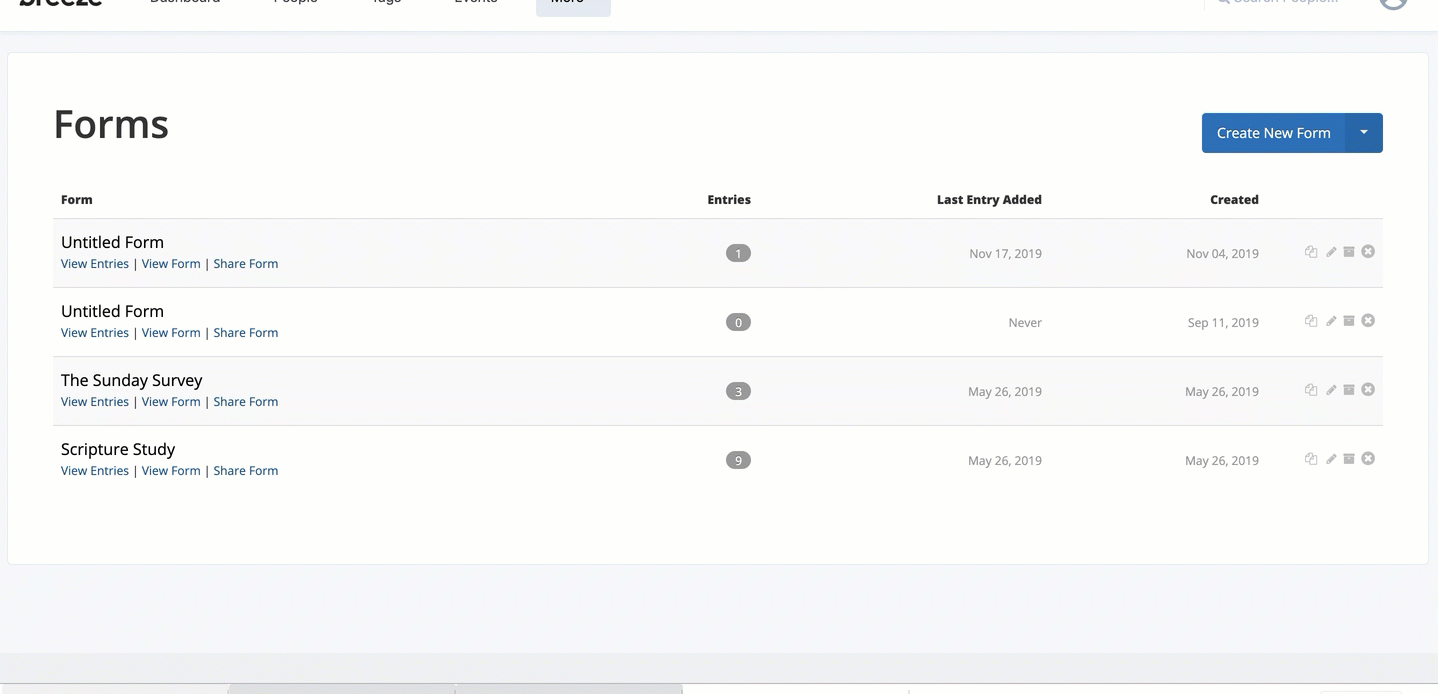 14. How to list cell phone numbers and home phone numbers
It can be helpful to list multiple phone numbers in your directory. Use the dropdown menu to select home phone and mobile phone to have them both listed. Note that it will automatically designate which number is which after running the directory.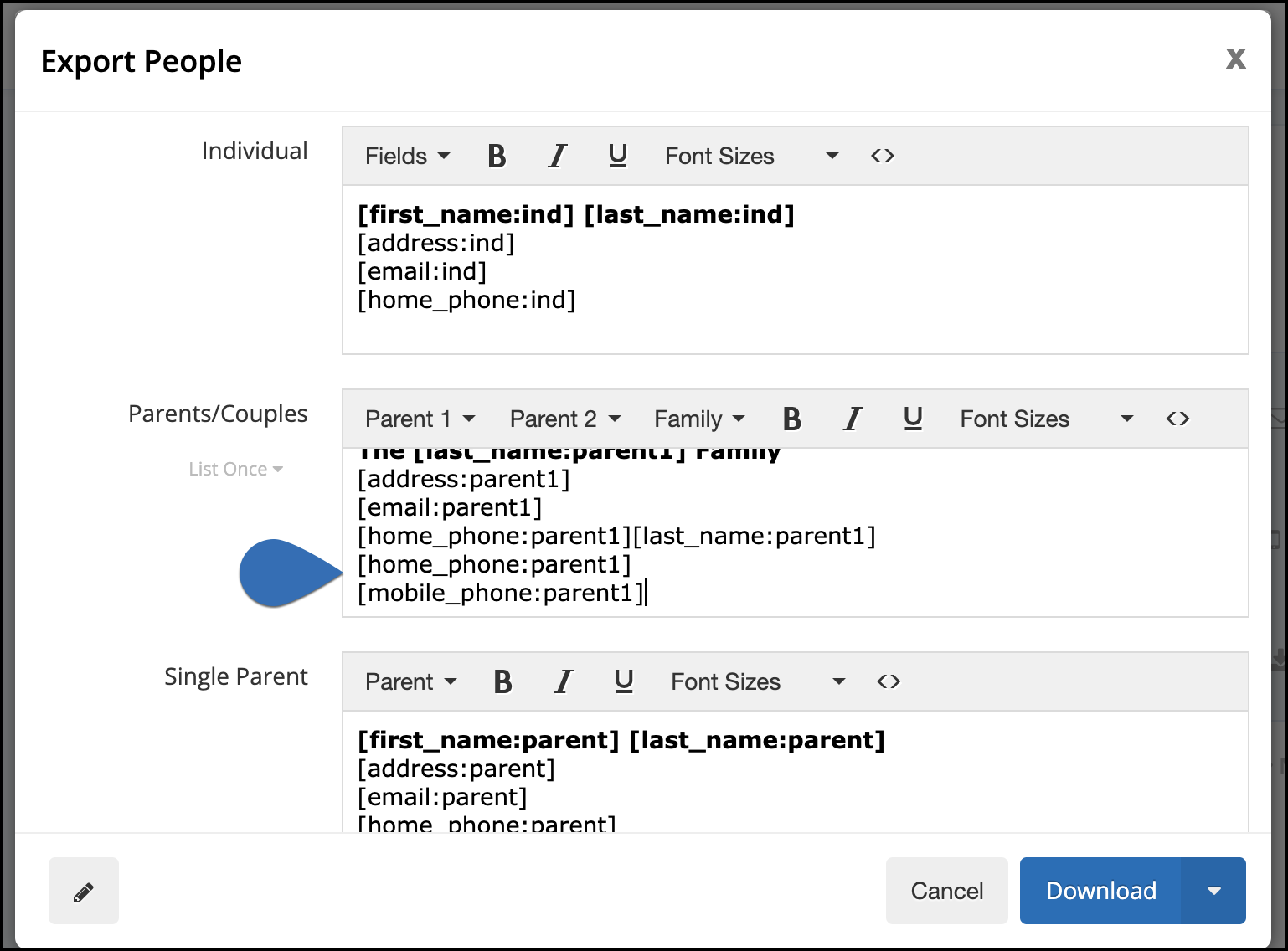 15. How do I show who's a member?
16. What does Grouping By Family do?
Grouping By Family allows for family structures within Breeze to show up under one section of the Directory Export!
If the option is checked, the Head of Household information will be the information displayed for the family such as, address, phone, etc.

Also, the option to Include Picture will pull from the Family Picture option under the profile. If no picture is available, the picture will pull from the Head of Household.

Grouped by family: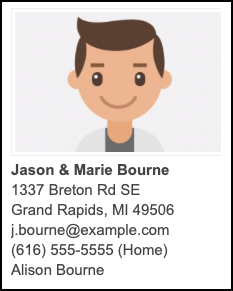 Versus By Individual: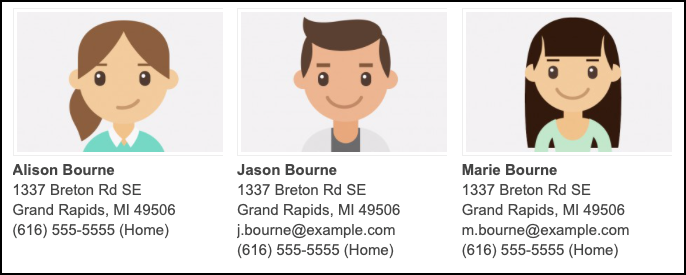 17. Can I save my directory as a Word Document?
If you're interested in turning your pdf directory into a Word Document, you're in luck!
After you've saved your exported directory as a pdf (which can be done in a number of ways, the most common of which is to save as a pdf from the print preview window by simply changing the "Destination" option to save as pdf), you can go to a converting site such as https://pdf2doc.com/ Upload your pdf into the site and choose to convert to a Word Doc.
Now your directory is in a Doc form that you can edit and customize further!
18. What kind of pictures should I use?
When uploading and exporting images for your directory, it's important to keep in mind the size of the images. Large images will often create unexpected results, so here are some general guidelines to use when handling photos in Breeze.
Format
When you save images, use PNG, JPG, BMP, or GIF format. You can use PNG format if you need to retain transparency.
File Size
It's best to avoid overly large images, both in file size and pixel dimensions. We recommend a maximum file size of 1MB for images. We don't recommend uploading images that are significantly larger than your content area or template.
Image Size
Your printed directory has a defined area for family photos. This area is a 3x2 ratio. Note: In order to optimize performance, load times, and storage for users, Breeze will downscale all profile pictures to 300x200 image resolution. If you wish to retain the original image size and quality of your profile pictures, we recommend storing those images either locally or in cloud storage (Dropbox, Google Drive, Onedrive...)
Additional Tips:
Color Mode or Profile
Colors used online are different from those used in print, so it's important to make sure the colors in your images are set correctly. Web images should be saved with the RGB color profile or mode. CMYK, which is what designers use for print, doesn't render accurately online and can sometimes break your embedded image.
Alt Text
It's a good idea to add alt text to your images. Alt text is essential for accessibility and for viewers who might have trouble downloading your images. It can also help with search engine optimization for your landing pages.
High-Definition Screens
Many smartphones, tablets, and laptops feature high-definition screens, such as retina displays, that offer a higher ratio of pixels per inch. This means that some images may appear fuzzy on these displays. To make sure your images appear clearly on all screens, you can use a higher resolution photo in an Image content block, and constrain the dimensions.
To discover how to add profile pictures see our article on adding profile fields.
19.
Can I Edit An Individual In The Directory?
There may be times, when after exporting your directory, that you notice some individual lines need to have additional attention given to them. For example, an email address is extra long, and does not fit on one line. By simply clicking on the area that needs to be edited, a new window will open up, containing the individual or family info, where you can then edit the line item that needs to be adjusted.
20. Can I hide Private Data
?
To Hide Private Data from appearing in the directory, you will need to click the pencil to customize the directory and then select the checkbox option "hide private data".
21. How do I share the template(s) I've created with other Users?
When creating the template, click the box that says "Make Available to All Users"
22. Why wont my directory export?
If you have Avast! Network Shield it will block directories from exporting. If you are noticing that other exports (such as Excel) are working but directories are not, check to see if you have Avast! installed. If so, find the Network Shield and disable it - this will allow directories to export as expected.