No more having to keep up with specific dates people can't work, and then trying to make sure you accurately schedule them around days they said they would be unavailable. Breeze now makes this incredibly easy for you when using Volunteer Management! In this article, you will find a thorough review of Blockout Dates, how to collect them from volunteers, how to edit them, and how they work with the system while scheduling volunteers.
How to Collect Blockout Dates
First, you may want to collect Blockout Dates from volunteers before you start to assign them. Volunteers will be able to block out their dates as far out as they desire using the blockout calendar. There are several ways to Request a volunteer's blockout dates:
Option One:
Navigate to your Event > Volunteers
From Assign Mode click the arrow beside "Send Schedules to Volunteers" and select "Send Blockout Date Request", this will allow you choose specific roles of volunteers you would like to request blockout dates from.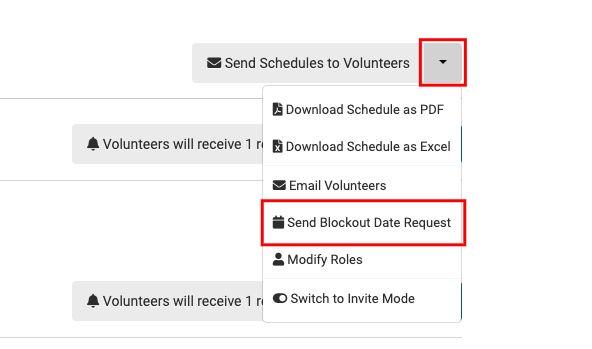 Option Two:
Send out an email from anywhere in Breeze using the action panel and selecting the Mail Merge option > "More Options" > "Request Volunteer Blockout Dates"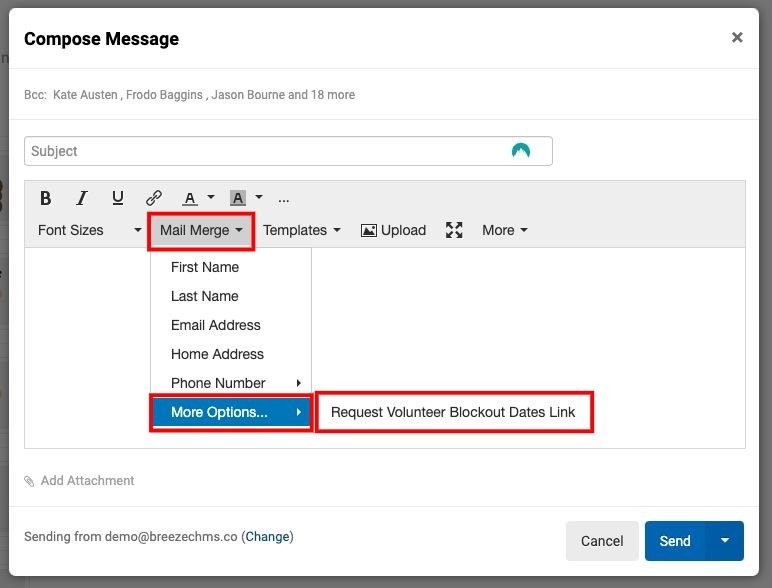 Option Three (If you already have a list of volunteer blockout dates, scribbled on pieces of paper, formated in an excel spreadsheet, or bouncing around in your head you can manually add these in for your volunteers to make your process that much more smooth) :
Navigate to a Volunteers Profile in Breeze > On the left-side click Volunteering > Click Manage Blockout Dates > Edit the Dates and click Save.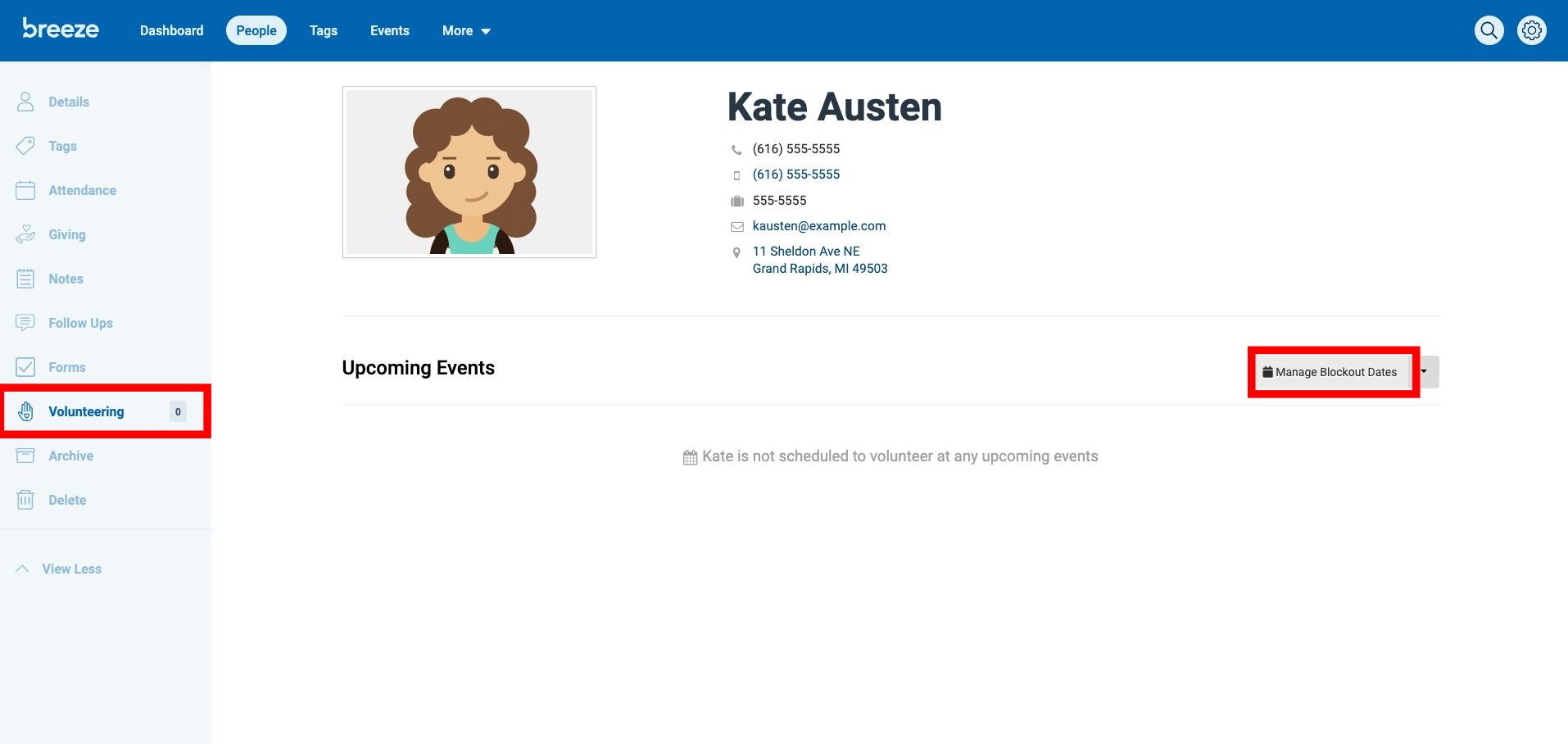 Option Four (If you would rather schedule your volunteers and then later revisit the blockout dates, this option is for you!) :
At the bottom of "Reminders" there is a built-in option that

allows volunteers to set their block out dates and mark themselves unavailable for future dates.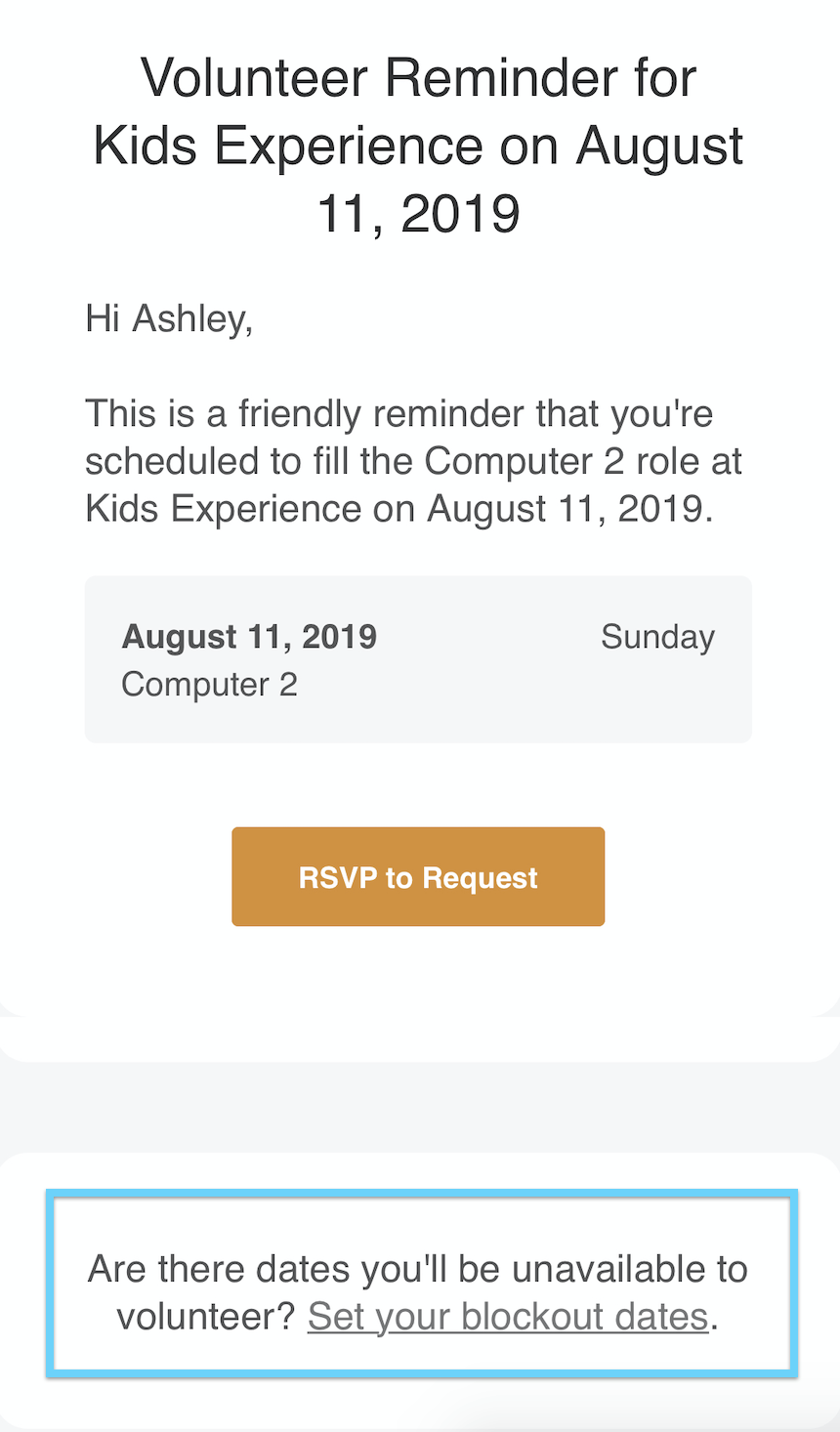 How to View a Volunteer's Blockout Dates
Now that we know what dates our volunteers are unavailable, here is how to View a Volunteer's Blockout Dates when you Add Volunteers:

Here is how to view a Volunteer's Blockout Dates while setting their recurring schedule:

Here is how to view a Volunteer's Blockout Dates while in Grid View: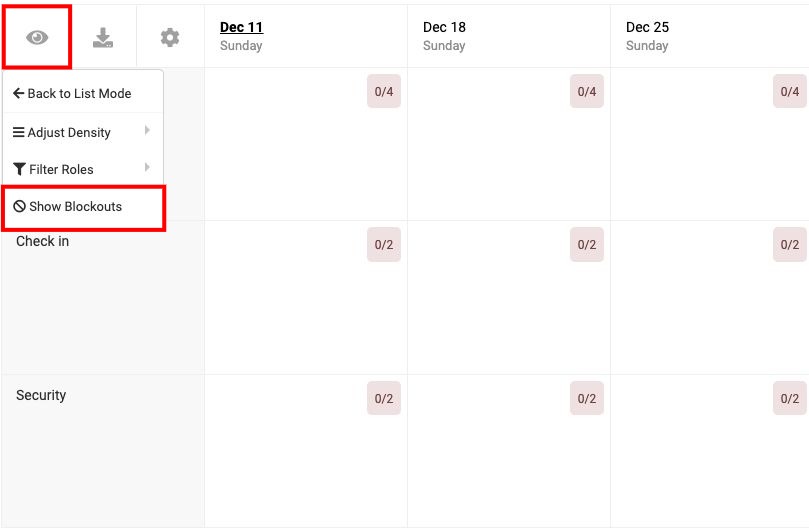 Volunteers will only show when selecting "Show Blockouts" for roles they have previously been scheduled for. If they have not been scheduled in a role, their blockout date will not show until you try to schedule the volunteer.
Managing Blockout Dates In "My Profile"
Breeze users who have access to "My Profile" can manage their own blockout dates, right within their profile by:
Navigating to "My Profile" > Volunteers on the left-hand side > "Manage Blockout Dates" > Make changes > Hit Save.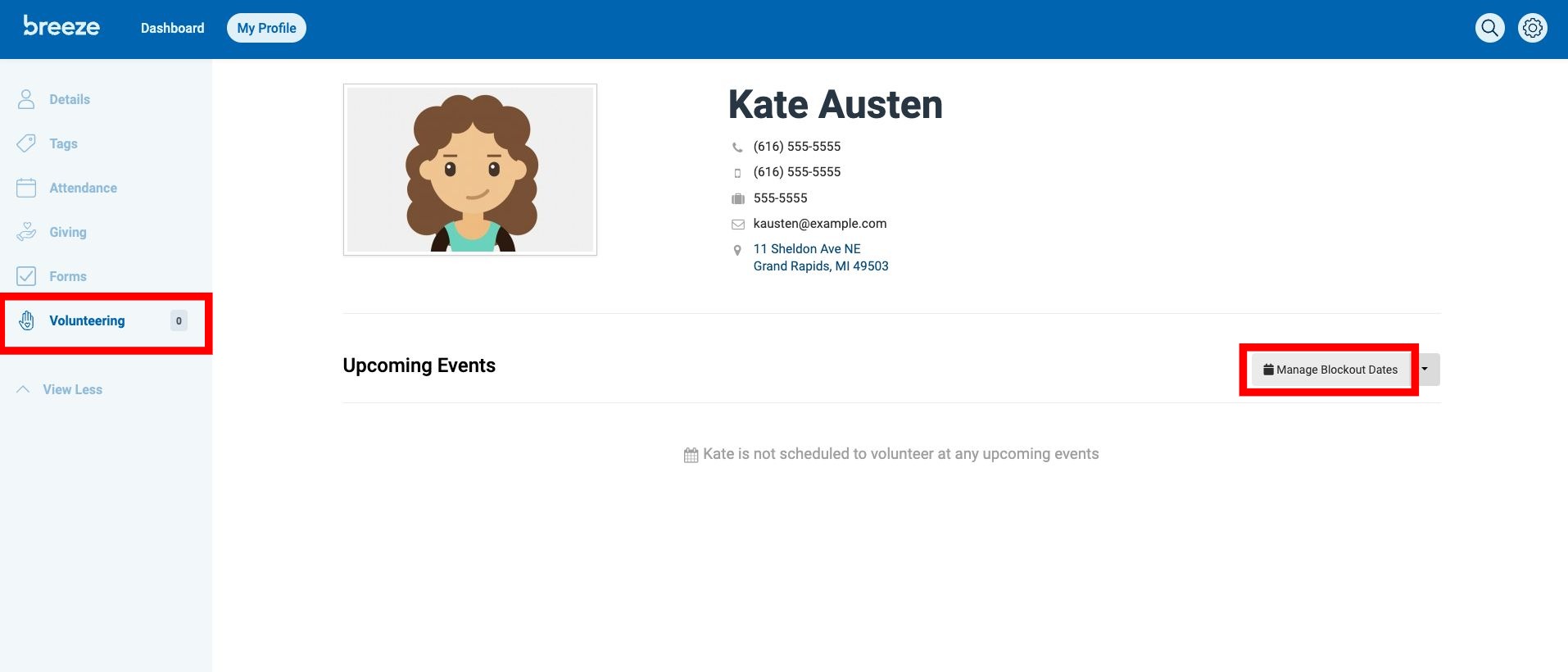 On a technical side, the Role permission would need access to "My Profile" and "View my Volunteer Schedule" to edit to manage their own Volunteer Blockout Dates within their profile.