Overview
Our mission at Breeze has always been to serve churches well. We hope rsvp.church blesses your church and helps you better serve your members in this unique season.
So what exactly is rsvp.church? In short, it's a simple-to-use registration form so that members can pre-register for the service time and/or room they plan to attend. (You can even use your Breeze account to email or text the link!).
These steps will allow you to make the most of rsvp.church and Breeze to successfully gather event registrations, check in attendees, and follow up with individuals at a later time.
1. Allowing People to Register for Events
The purpose of rsvp.church is to help make it easy to distribute your people across multiple services and rooms in order to adhere to social distancing guidelines. While we believe the free version will help you accomplish this
sufficiently, you may also be interested in the Pro version that contains more features.
With rsvp.church you can:
Create multiple service times and rooms

Set capacity limits

Generate a report of attendees

Automatically email members a confirmation of their selection

Allow them to cancel their registration
With rsvp.church Pro you can do even more:
Allow admins to enter and edit responses
Add custom questions
Customize the color/theme, title, and confirmation email
Download the responses as a CSV file
Hide future events until they are near
If you are a church admin using the free version of rsvp.church, but still want to register multiple people on their behalf, it is possible to use a private browser (or clear cache and cookies in between each registrant) to accomplish this.
One nuance to be aware of is that as long as an individual has the rsvp.church link open without refreshing the webpage, they will be able to sign-up as many people as were originally available at the time they accessed that link. In some circumstance, this may lead to the event becoming slightly over-registered.
2. Keeping an accurate record of those who attended in Breeze
Since rsvp.church is a standalone product, there is not currently a way to integrate it with your Breeze account. However, we do have a few suggestions on how you can easily keep a record of those who attended the event.
First, we recommend setting the Event Check in Eligibility to either "Everyone" or limiting down to tags of Members/ Regular attenders. This will ensure that anyone from your church who registers for the event will appear on the Check In Page.
Second, we also recommend having a greeter (or multiple greeters depending on the size of your church) with their cell phones Checking People into the Event. As much as we love self-check-in, this keeps people from having to touch a computer screen/device and elevates fear of germs. You may even be interested in printing or downloading those who registered from rsvp.church to compare with those who are arriving at the event for Check In.
Note: If you have multiple services/locations and you need to track who attended which service in what location you will want to Create an Event for each service you are having.
To check people into an event the Greeter would need either the Breeze App or the Breeze Check In App on their cell phone. Once logged in, they would:
Select the "Events" tab.
Click the event for which they'd like to check people in.
Click "Check In."
If new people who have never attended your church before register to attend a service, you can add a new person from the check-in page by following these steps:
On the check-in page, click the plus icon (+) in the top right corner to display the "Add Person" panel.
Enter the person's name (and other information if it's being collected1).
Click "Add"
1
You can specify what fields you want to show up when adding a new person from the check-in page. To specify the fields, see the
event's settings
.
Finally, we recommend having "Check in By Family" turned on for the event so that greeters will only have to click one family member's name, and a list of all members in that family unit will populate for them to check in only those in attendance.
Here is a sample of what settings we suggest: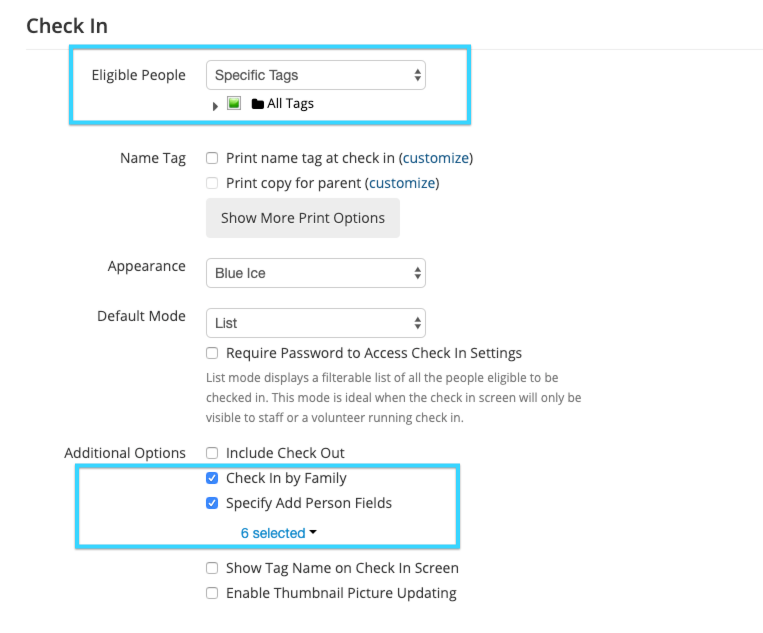 3. Running reports / contacting those who attended
Let's say you later need to contact those who attended on a specific Sunday for some reason. You can do this simply by using the Attendance Reports in Breeze.
To see and contact a list of people who attended a given event:
Select the "Events" tab from the top right.
Click the event for which you'd like to see details.
Click "View Details."
On the left, select "Attenders."
On the right-hand side use the Action Panel to communicate with those in attendance that day.
Getting Support for rsvp.church
We'd love to help! This product is supported via our rsvp.church Facebook User's Group. Ask any technical or best-practice questions you may have!