How your church can easily accept registrations for activities and events.
Hosting an event, such as a Vacation Bible School, and not sure how to go about registration and attendee management? No worries, we're here to help!
Having a central location to manage event registrations is important, as it minimizes errors, opens the line of communication with your registrants, and allows you to use gathered information most effectively.
With the customization options of Breeze forms you can gather any and all information you want, link responses back to a profile in Breeze, and even accept registration payments, all in one place!
Creating your Form
Whether the registration process for your event is simple and only requires basic contact information, or is more complex and needs to accept payments, Breeze forms are tailored to you -- giving you full control over the information requested.
Click Here for More Information on Creating Forms
Copying a Form for Later Use
After creating the perfect registration form, there's no need to have to start all over from scratch with the next event; you can simply find the form you'd like to replicate and then click the copy icon on the right-hand side.

Including Multiple Payment Options/Fields in a Form
Breeze forms allow for both multiple payment options and multiple payment fields, all in one registration form! This allows for a plethora of options during customization, such as allowing registrants to choose different event packages or multiple ticket types!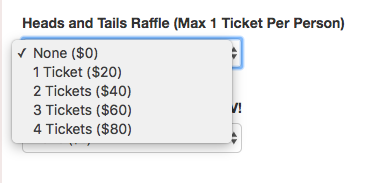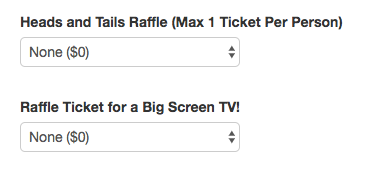 Recording Form Payments in a Specific Fund
It's important to differentiate between the funds you raise for registrations, and what comes in with your weekly giving! To help with this, you can choose exactly which fund you'd like form payments to go to by clicking "Go to Settings" in the bottom left of the Update Form page.
Additional Settings
By clicking "Go to Settings" in the bottom left of the Update Form page, and then clicking "Show More Options," you can access the additional, allowing you to: customize the confirmation email sent out to registrants; specify who (if anyone), is notified when a form entry is submitted; set max entries on the form (where it auto-disables after a set number of entries has been reached); customize the look of your form by setting a color scheme; and more!
Sharing your Form
After creating the perfect form for your event, you're then able to share it with your potential registrants via email or by embedding it directly into your site.
Connect Responses to Profiles
After word gets out about your event and the entries start pouring in, it's time to start organizing and linking your gathered information to profiles in Breeze! This will give you options later on for communication and people organization that you would not have otherwise.
Breeze will attempt to automatically associate a form entry with a profile, but if the system cannot find someone with the corresponding information submitted in the form, it will give you the option for manual association, where you are then able to connect them to someone already in your database or add someone new!
Here's an example of what this will look like: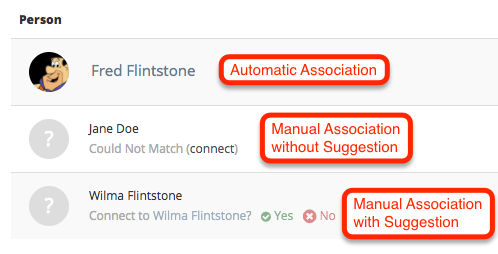 Communicate with Your Registrants
Great, so you now have all your people registered and linked with Breeze profiles -- now what? Chances are, before the time of the event you're going to need to contact your registrants, whether it be to send additional information or simply to verify a submission.
Contacting your registrants through Breeze couldn't be easier!
Simply navigate to Forms and select "View Entries" from your registration form of choice. Now that your registrants are all connected to profiles, you can easily text or email them using the Action Panel on the righthand side! If you prefer a more personal touch, you can even print mailing labels by clicking Export.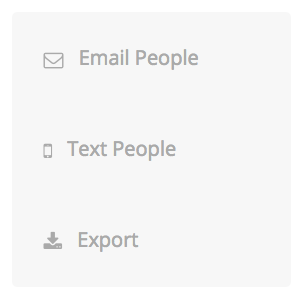 Note: In order to communicate through the Action Panel, the respective required information (email address or mobile phone number), will need to be in the profiles, so we recommend requesting this information in the form, just to ensure you have it on file! Note: To limit the amount of registrations, we simply recommend setting a max number of entries to reflect the amount of tickets, seats, etc.
Congratulations, you are now ready to manage your event registrations within Breeze!