Breeze gives you the options to check in and print name tags from Mac/Windows Computers, from Apple iOS devices such as iPads or iPhones, or even a combination of computers, printers and tablets by setting up "print stations."
Supported Printers by Check in Device
LAPTOP/DESKTOP (MAC/WINDOWS)
iPAD/iPHONE (iOS)1
ANY MOBILE DEVICE(S) + LAPTOP/DESKTOP2
DYMO Label 450 (Wired)

Brother Printer (Wireless)
Breeze supports only the
QL-820NWB printer and QL-810W printer.


DYMO Label 450 (Wired)2
DYMO Label 450 Turbo (Wired)
DYMO Label 450 Turbo (Wired)2
DYMO Label Writer (Wireless)3
DYMO LabelWriter (Wireless)3
*DYMO LabelWriter 5504
*DYMO LabelWriter 5504
1Please note that the Brother Printer will only print from iOS devices.
2In this set-up, printers must be connected to a Laptop/Desktop (Mac/Windows) and Shared via Breeze Print Station (see below) with any mobile device(s) or other computers.
3DYMO Wireless printers should not be plugged into a computer. You'll set them up using the Print Station instructions listed below.
4DYMO LabelWriter 550 is now being offered in a limited Beta. Please reach out to our Support team at support@breezechms.com to ensure this option will work for you before purchasing.
Discover the DYMO Printer Set-up
Our DYMO printer is our most common option, as it allows churches to use a single computer, multiple computers, or a combination of computers and tablets set up as print stations.
Click on the options below to reveal the answers to some commonly asked questions about the DYMO set-up:
Depends on your printer! There is not a limit as to how many DYMO printers that can be connected in your set-up but it's important to be aware of a few of these scenarios:
For DYMO Label 450 / Turbo 450's - We suggest that you connect 1 wired printer per computer.
For DYMO Wireless - have as many wirelessly connected as you want, as long as you have the print station tabs open for each printer.
We recommend not having a DYMO 450 AND a DYMO wireless connected to the same computer. This will cause both printers to print out labels at the same time.
In order to use a mobile device in your DYMO set-up, your printer must be connected (not necessarily plugged in) to a Laptop/Desktop (Mac/Windows) and shared via Breeze Print Station. This will allow the printer to connect to any mobile device or other computer. Use the section in this article, "Using Your DYMO Printer to Print From Mobile Devices (Print Stations)" for set-up instructions.
Check out our full documentation on our
Minimum System Requirements for Breeze
to make a well-informed decision on what we recommend to run Breeze on. If you're looking to set up a tablet as a print station, you'll just want to make sure the tablet can connect to the internet (we recommend Google Chrome).
While it is possible to use Breeze on a Chromebook, it should be noted that certain functions, such as printing name tags, cannot be performed directly from a Chromebook due to Chromebook's inability to install the print driver needed to print name tags. (Using Breeze on a Mac, PC, or Both)
The most wireless DYMO set up you could accomplish would be to use DYMO Wireless printers with tablets set up as print stations. This will require having one computer acting as the host for the DYMO software and the print station tabs open. Note that DYMO Wireless printers still need to be plugged in to a power source, though its printer connection will be wireless.
Discover the Brother Printer Set-up
Our Brother printer set-up is an alternative check in set-up that connects the Brother printers, iOS devices and our Breeze Check-in app (iOS devices only) for a simple and easy check in experience.
Purchasing your Brother Printers
Printer: Brother QL-820NWB Professional, Ultra Flexible Label Printer (Purchase on Amazon)
Labels: Breeze supports the following labels for the Brother Ql-820NWB: DK-2205 Continuous Paper Label Roll, 2.4" x 100 Feet (Purchase on Amazon)
Check In App: Breeze has designed a separate app to use for check in. You can download the Breeze Check In App on iOS devices that are running, iOS 12.1 or later here. Learn how to use the app here.
Using a Brother Printer with the Breeze Check In App
Setting Up Your Brother Printer
Before you begin, you'll need to set up your Brother Printer. Follow the directions found in this article to learn how to do that: Setting up the Brother QL-820NWB Printer
Important: Brother Wireless Connection
Your Brother machine operates exclusively on the 2.4 GHz wireless band and does not support connection to the 5 GHz band of your router. Please be aware that the Brother machine will not detect or connect to networks operating on the 5 GHz frequency. For further information regarding the compatibility of Brother machines with 5 GHz, dual-band wireless routers, or mesh networks, please refer to the official Brother support article here.
How To Use The Check In App:
You can download the Breeze Check In App on iOS devices here.
The first time you use the Breeze Check In App you'll be prompted to enter your subdomain.
Your subdomain is part of the URL that you use to log in. For instance, if you log in at cornerstone.breezechms.com, your subdomain is cornerstone. If you don't know your subdomain, please contact your church.
After entering in your correct subdomain, you'll be prompted to enter in your login information.
This will now bring you to an Events calendar within your Breeze account! From here, you're able to view the current events or select a different date from the calendar. After selecting the desired date, you are presented with all the events for that day.
Select the event for which you'd like to track attendance and you'll be brought into the Check In screen. From here, you can select the Gear Icon to change the Mode, Add Headcount, Add Filters, etc.
From this page, you are now free to begin checking people in! After selecting to check someone in, a popup will appear asking which Brother Printer you would like to use. This popup will only appear once per check-in session.
From this popup you will select your desired, AirPrint-supported printer and your name tags will immediately begin printing!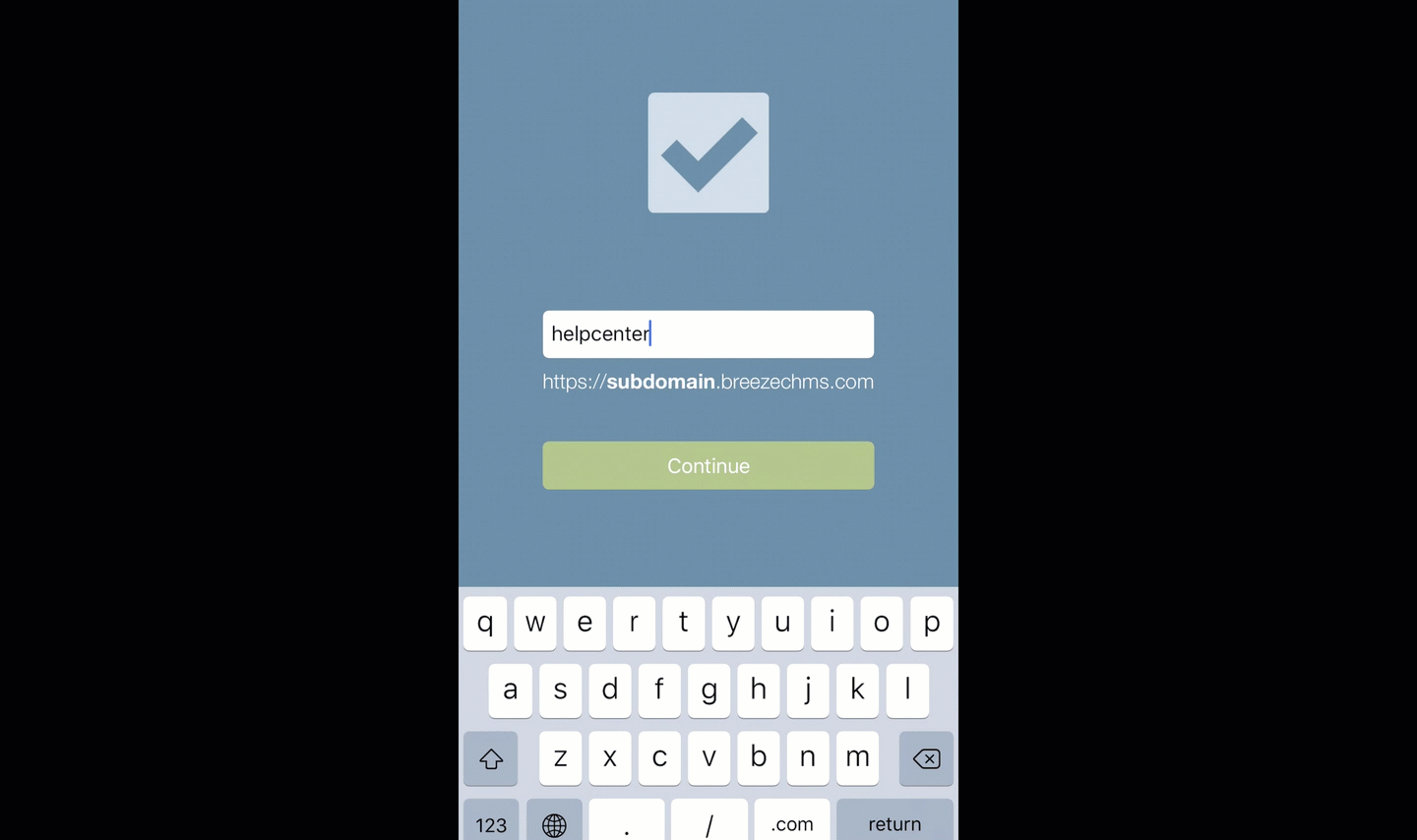 Click on the options below to reveal the answers to some commonly asked questions about the Brother set-up:
Nope! Brother printers connect through a wireless network through its Airprint technology. Compared to the DYMO set-up that requires print stations for tablets, the Brother printers connect directly to an iPad.
It is possible to connect the Breeze Check in app to a print station connected to a DYMO printer. When a print station is launched on the host computer, you should be able to find available print stations by going to the Printer Settings of your Breeze Check in app.
We totally understand this is not a fun place to be! First let's try reviewing the instructions for
Setting Up the Brother QL-820NWB Printer
. If you're still having trouble, feel free to reach us at support@breezechms.com for some help here!